I went a bit overboard over the holidays with LPs and LP leftovers (both official LPs and self-made LPs that some people put up from items they snagged from store sales). Most of this post is me realizing that being "good" and not ordering any LPs during summer is not the best excuse for over-spending this past New Years. X3

That said, I did snag some great deals, so take advantage of my shopping spree for some good prices on rare pieces. ^^


Paypal only please. No trades for the time being (I'm still desperately trying to clear out my wardrobe).

Feedback (and lots of it):

http://community.livejournal.com/eglfeed back/182948.html



First to invoice gets first dibs.
Holds only available with a non-refundable deposit of minimum $50US (sent as gift).
Preference will be given to buyers from USA/Canada.





Angelic Pretty Twinkle Ornament JSK in wine

$275US

(headpiece for $35US is SOLD)
Condition: New without tags (tried on once and snapped a pic while I was at it). Made from rich, thick velveteen with the print done in glittery gold. Brand new and in perfect condition. Also includes fabric swatch and replacement button from AP. The blurry photo is just blurry. The print is crisp and clean...my arm was just shaky and flash isn't mirror-friendly.
Bust: 33-36in (adjustable with partial back shirring and lace up)
Waist: 25-28in (adjustable with removable waist ties, partial back shirring and lace up)
Length: 35in
Shipping: $22US to USA and Canada (includes tracking and insurance). International, please comment for a quote. Priority goes to USA and Canadian buyers due to high international shipping rates.




Angelic Pretty Sweet Jam black JSK and matching headbow $225US SOLD


Condition: New with tags. Includes both the JSK and the hair bow. Both brand new and in perfect condition. Removable waist ties. Built in petticoat. Also includes fabric swatch and replacement button from AP.
Bust: 35in
Waist: 27in (adjustable with removable waist ties)
Length: 33in
Shipping: $22US to USA and Canada (includes tracking and insurance). International, please comment for a quote. Priority goes to USA and Canadian buyers due to high international shipping rates.




Angelic Pretty Rose Heart JSK in black $165US

SOLD
Condition: Used excellent condition. The big bow on the bottom at the back is removable. The buttons holding it on feel a bit loose, so I'd recommend reinforcing them a bit. The ruffles and bottom trim are made from a very soft tulle lace. Pearl chain on front bow is removable.
Bust: 35 in
Waist: 27in
Length: 35in
Shipping: $22US to USA and Canada (includes tracking and insurance). International, please comment for a quote. Priority goes to USA and Canadian buyers due to high international shipping rates.




Angelic Pretty Holy Night Story Skirt in pink and matching headbow $205US SOLD


Photo of headbow (on the left)
Condition: New without tags (tried on once and snapped the above pic while I was at it). Includes both the skirt and the hairbow. Both brand new and in perfect condition. Also includes fabric swatch and replacement button from AP.
Waist: 25-27in (partial shirring and adjustable with removable waist ties)
Length: 20in
Shipping: $18US to USA and Canada (includes tracking and insurance). International, please comment for a quote. Priority goes to USA and Canadian buyers due to high international shipping rates.




Alice and the Pirates Beauty and the Rose Promise rose pink OP $200US SOLD


Condition: New without tags. Removable waist ties. I bought it at a great price off Y!J (I think it might have originally been part of an in-store LP). I had plans to alter it, but decided against it, so I'm selling it.
Bust: 36in
Waist: 28in (adjustable with removable waist ties)
Length: 37in
Shipping: $18US to USA and Canada (includes tracking and insurance). International, please comment for a quote. Priority goes to USA and Canadian buyers due to high international shipping rates.




Alice and the Pirates Beauty and the Rose Promise ivory OP $200US SOLD


Condition: New without tags. Removable waist ties. I bought it at a great price off Y!J (I think it might have originally been part of an in-store LP). I had plans to alter it, but decided against it, so I'm selling it.
Bust: 36in
Waist: 28in (adjustable with removable waist ties)
Length: 37in
Shipping: $18US to USA and Canada (includes tracking and insurance). International, please comment for a quote. Priority goes to USA and Canadian buyers due to high international shipping rates.




Alice and the Pirates Double Breasted Strappy Coat $145US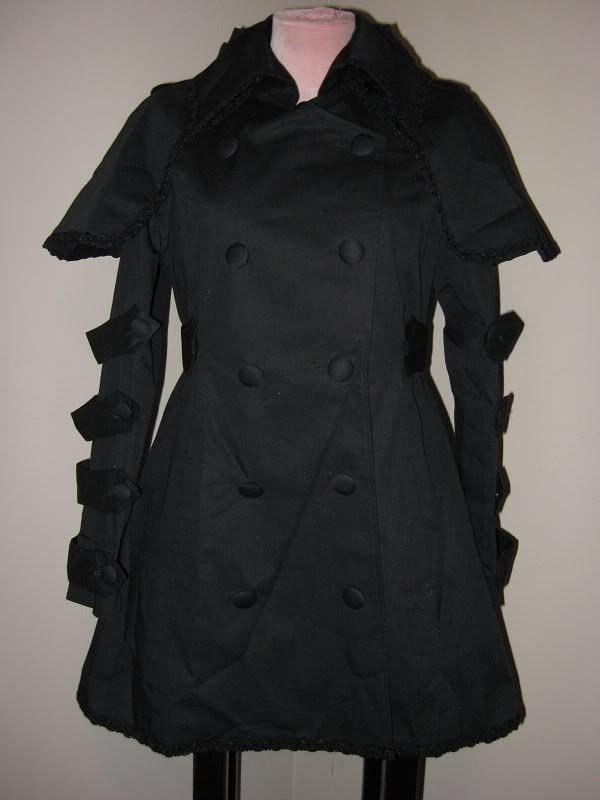 Back view
With capelet removed
Condition: Excellent used condition. Removable capelet. Includes extra buttons. The bottom is full enough it can easily fit over top of a loli skirt. Great worn on it's own or as part of an aristocrat or lolita coordinate.
Bust: 38in
Waist: 32in
Shoulder width: 15.5in
Shipping: $22US to USA and Canada (includes tracking and insurance). International, please comment for a quote. Priority goes to USA and Canadian buyers due to high international shipping rates.
First to invoice gets first dibs.
Holds only available with a non-refundable deposit of minimum $50US (sent as gift).
Preference will be given to buyers from USA/Canada.