PLEASE READ THE FOLLOWING
-Feedback: http://community.livejournal.com/eglfeedback/183713.html

-THE AUCTION WILL END FEBRUARY 13th, 5:00 PM PACIFIC STANDARD TIME. I might end the auction a little later or earlier but it all depends on when I'm able to be on the computer. Please note that auction times can end sooner or later in regards to the date and time so please check often. Bidding ends when I comment to the last bidder saying they are the winner.

-Items will most likely be shipped within the week the payment is received.

-If you want to bid privately, please create a sock account and PM me using the account you usually use for transactions on egl_comm_sales telling me your sock account.

-All prices are in USD.

-Trades > sale

-There are three ways you can pay for shipping.
1) Leave a down payment and I'll refund whatever is left over. The reason I do this is because I live sort of far from the post office and I need to take the bus to get there so it'll take awhile for me to get a shipping quote. For international shipping, I will only use EMS to send the package. If you are in the states, please tell me if you'd like tracking, insurance, or both (or none). Down payment amount for Australia: $50, Asia + Europe: $45, North America (excluding the US): $30. For US buyers, I will use the priority medium sized box with the price being $10.95. I think tracking is $0.70.
2) You pay for the item and then I go to the post office and get a shipping quote and invoice you that amount. Then the next week I'll ship off your item. Please know that this will take a longer time for me to ship your item.
3) You can do local pick up, only in that you come to my house and pick it up.

-***IMPORTANT*** When bidding, PLEASE PUT YOUR BID UNDER THE COMMENT THAT HAS THE TITLE OF THE ITEM. If another person is bidding, PLEASE BID BY REPLYING TO THE COMMENT THAT THE PREVIOUS BIDDER POSTED. My post may be moderated so please refrain your bids until you see my comments.

-I WILL NOT ACCEPT OFFERS FOR TRADE OTHER THAN WHAT I AM LOOKING FOR.

-Feel free to ask questions (click "reply" to the comment that says "Questions, etc")

-No refunds and returns. Once you paid for the item, you are responsible to pay for the shipping too. If you don't pay for shipping, I won't ship your item out and if I don't hear from you for a week, I will leave you negative feedback. Please do not bid for an item you cannot pay for under any circumstances.

-Please pay within 30 hours. If I don't hear from you within 72 hours after you've won an item, I will leave you negative feedback. Please do not bid if you cannot pay.

-Have your PM setting on so that we can communicate about shipping and invoicing.

-I will take payment plans but the minimum down payment must be $200.

-You will have to pay the extra "handling fees". International: 4.1% + $0.30 / Domestic: 3.1% + $0.30

-I only accept Paypal, money orders, and concealed cash. Please know that I am not responsible for lost money orders or concealed cash so I highly recommend Paypal.

-Minimum bid increment: 1 USD
---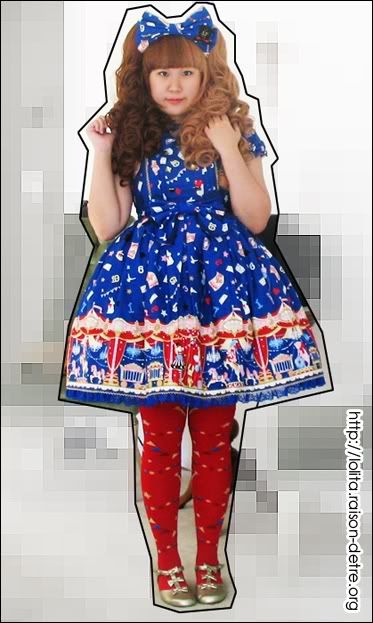 Official sizes according to lolibrary.org
90~100cm bust (I feel like it's more like 82~whatever though)
70-80cm waist
THERE IS PARTIAL SHIRRING FOR THIS OP. Picture of it below: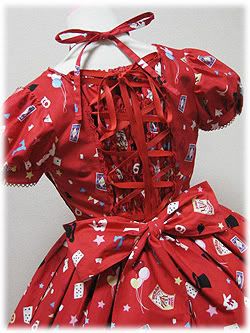 Missing eye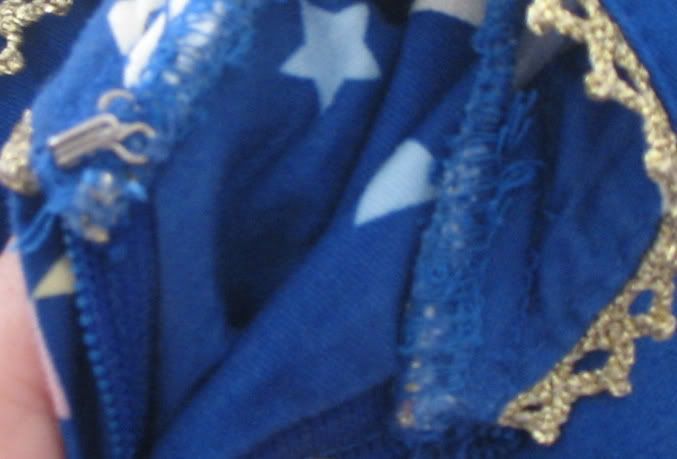 THINGS YOU SHOULD NOTE
-The dress is in very good condition. The only damages is that THE EYE IS MISSING (the hook part is still intact) but where the eye was, there is no damage that I can see. For the winning bidder, I'll be sending them a hook and eye; I decided to not repair it myself in case the person receiving the dress didn't like the way I fixed it since I'm not a good sewer.
-The dress does not come with the card+top hat brooch or waist ties. I can send the waist ties out at a much later date since I left them behind in my dorm, which I don't have access to until September.
-Not selling matching socks or headbow.
-Bodice needs some ironing. Here are pictures of where I pinpointed areas that needs some ironing: http://img.photobucket.com/albums/v314/mateki/Untitled-2.jpg

PREFERRED STARTING PRICE: $345 but willing to haggle and might sell for 28,140 yen
---

I WILL ONLY TRADE THIS OP FOR THE JSK IN BLUE. I MIGHT BE INTERESTED IN THE BUSTIER VERSION BUT MY FIRST CHOICE IS THE NORMAL JSK.