Feedback: http://community.livejournal.com/eglfeedback/1065554.html I had +14 or so positive feedback in the old dbs, I'm trying to get it transferred atm.
Feedback on ebay: http://feedback.ebay.com/ws/eBayISAPI.dll?ViewFeedback2&userid=yabe_niy&ftab=AllFeedback

Please note: The items are being shipped from Germany by my friend
medji. I recently moved to Los Angeles. If you have specific questions about items, like measurements, I would suggest that you ask her directly.

Size: The size of the dressform that I displayed the clothes on is 38/40. My measurements are: Bust 90cm / 36 inch, Waist 72cm / 28 inch, Hip 100cm / 39 inch and everything fits these measurements comfortably, unless otherwise stated (which is only the case with the black IW JSK which is too small in the bust). Also all items have some kind of adjustment, like shirring, waist ties, corset lacing, movable straps etc. As I said, I can not measure the items myself at the moment.

Payment: I accept Paypal (buyer pays fees), bank transfer to a German bank account, to an American bank account (I'm setting one up soon), or cash at meet-up in Düsseldorf or Los Angeles.

Buying/Trading: I'm open to haggling, trades, and partial trades. If two or more people are interested in one item, I will go with the best offer.

Shipping: INCLUDED :)

********************************************************************


SOLD THANK YOU! BTSSB Angel Relief JSK


My picture: http://i86.photobucket.com/albums/k114/real_geeny/sales006.jpg
Applique Detail: http://i86.photobucket.com/albums/k114/real_geeny/sales007.jpg
Back: http://i86.photobucket.com/albums/k114/real_geeny/sales008.jpg

This is not a print, it's appliques - so precious and delicate! The bodice is fully shirred, so it fits a wide range of sizes. It features detachable waist ties and corset lacing in the back to adjust it.
Worn two times over a blouse. Flawless condition.

250 € OBO



SOLD THANK YOU! Metamorphose Tiered Sailor Onepiece


My picture: http://i86.photobucket.com/albums/k114/real_geeny/sales012.jpg
Back: http://i86.photobucket.com/albums/k114/real_geeny/sales010.jpg
Flared out: http://i86.photobucket.com/albums/k114/real_geeny/sales/IMG_0115.jpg

Bought on Fairy Angel, worn two times. No visible flaws.
Buttons in front, shirring and corset lacing in back. Complete with white neck scarf. Unlined but heavy fabric, great for summer. The skirt part of this dress flares out a lot!

190 € OBO



Innocent World Pleated Flared JSK

Stock photo with bolero: http://i86.photobucket.com/albums/k114/real_geeny/sales/bk.jpg
Front bow detail http://i86.photobucket.com/albums/k114/real_geeny/sales002.jpg
Back: http://i86.photobucket.com/albums/k114/real_geeny/sales/IMG_8683.jpg

It's made of a heavy cotton fabric and it is lined, side zipper, corset lacing and shirring in back. The straps have movable buttons for size adjustment.
I loved how simple and elegant it is, but it is too tight in the chest for me :( Your bust size should be less than 90cm for this. The tag says size M. New and unworn, only tried on.

230 €



BTSSB Gingham Rose Onepiece


With sleeves: http://i86.photobucket.com/albums/k114/real_geeny/Baby/131326-b.jpg
Print: http://i86.photobucket.com/albums/k114/real_geeny/Baby/131524-kiji-b.jpg
My picture: http://i86.photobucket.com/albums/k114/real_geeny/sales018.jpg
Print detail: http://i86.photobucket.com/albums/k114/real_geeny/sales022.jpg
Worn: http://i86.photobucket.com/albums/k114/real_geeny/Baby/IMG_0342.jpg
Hello lace: http://hellolace.net/wardrobe/baby-the-stars-shine-bright/type/op/item/26/

Detachable long sleeves. Empire waist fits plus sizes too! Closes with zipper in back, detachable waist ties.
Worn two times, no visible flaws.

140 € OBO



Btssb Winter Tartan JSK

Stock photo in navy (note I'm selling the teal blue version): http://i86.photobucket.com/albums/k114/real_geeny/sales/blue.jpg
Stock photo of back in navy (note I'm selling the teal blue version): http://i86.photobucket.com/albums/k114/real_geeny/sales/blue5.jpg
Another view: http://i86.photobucket.com/albums/k114/real_geeny/sales/sales030.jpg
Hellolace (note that the color is different): http://hellolace.net/wardrobe/baby-the-stars-shine-bright/type/jsk/item/151/

The color of this one is so great, it's a tealish blue tartan, I've never seen it a second time. Made of a really nice soft and warm material - it feels like wool, but I'm not sure (can't read the tag). The lace looks more yellowish antique-white, I don't know if that's the design or if it's because of its age.
Scalloped hem, lacing in front, waist ties, shirred straps, zipper in back, functional front pockets!
Bought used, worn two times over a blouse.

90 € OBO



Alice and the Pirates Scoop Neck Blouse

Collar: http://i86.photobucket.com/albums/k114/real_geeny/sales/sales015.jpg
Sleeve detail: http://i86.photobucket.com/albums/k114/real_geeny/sales/sales016.jpg
Scarf: http://i86.photobucket.com/albums/k114/real_geeny/sales/sales017.jpg

Made of a very soft linen-like cotton material. It comes with a scarf / tie made of the same soft fabric. The buttons go all around the hem which is a nice detail. New and unworn, only tried on.

70 € OBO



Alice and the Pirates Skull Silver ring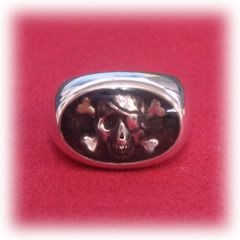 Worn: http://i86.photobucket.com/albums/k114/real_geeny/Baby/103P908-hand.jpg
Box & certificate: http://i86.photobucket.com/albums/k114/real_geeny/Baby/103P906-box.jpg
Another photo: http://i86.photobucket.com/albums/k114/real_geeny/sales/AC_2925_2.jpg
One more: http://i86.photobucket.com/albums/k114/real_geeny/sales/AC_2925_1.jpg
Inside: http://i86.photobucket.com/albums/k114/real_geeny/sales/AC_2925_3.jpg

Real 925 silver! Comes with certificate. New and unworn, only tried on.
Size 11

50 € OBO



SOLD THANK YOU!BTSSB Tiara Gobelin purse


Strap: http://i86.photobucket.com/albums/k114/real_geeny/sales/131016-h.jpg
My picture: http://i86.photobucket.com/albums/k114/real_geeny/Baby/IMG_0347.jpg
On a person: http://i86.photobucket.com/albums/k114/real_geeny/Baby/IMG_0341.jpg

The flap closes with a magnet. The detachable pearl strap makes it possible to wear it as a purse or as a clutch. New and unworn, never used.

45 € OBO


Hello Kitty Purse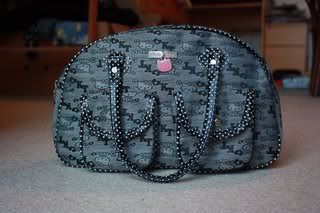 Inside: http://i86.photobucket.com/albums/k114/real_geeny/sales/IMG_0614.jpg I spotted a silver mark there.
Zipper: http://i86.photobucket.com/albums/k114/real_geeny/sales/IMG_0620-1.jpg

I got this one as a gift and I've never used it because it's not really my style. It looks really useful though, it has lots of different pockets.

40€ OBO


Dressy Purse


Made of fake leather. Unused.

20 €


Offbrand Mary Janes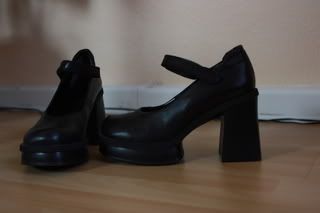 Another view http://i86.photobucket.com/albums/k114/real_geeny/sales/IMG_1934-1.jpg

Size 40.

30 € (shipping is kinda expensive)


Taking offers: Revanche de la Femme Overbust Corset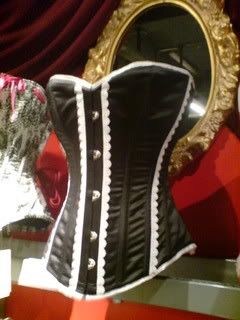 24 inch (size 36). Only worn once for a photoshoot. Original price was 269 € (Model M 2053 Sp), but I don't really know what to ask for here. Taking offers.



Also open for trades!


I'm looking for:

- classic Lolita tops, skirts, dresses, socks, headwear, jewelery, accessories - anything simple and elegant but not too sweet (no flower prints and no pink please)
- blouses, cutsews, cardigans - anything I can wear on a daily basis
- I like brands like Juliette et Justine, Mary Magdalene, Innocent World and Emily Temple Cute, but offbrand and replica is fine too, if the quality is good (ETC wouldn't fit me anyway, I'm afraid - I have a 90cm bust)
- corsets (24 inch)
- pieces featuring Keys
- pieces featuring Apples
- favorite colors: black, green, purple (but I'll look at other classic colors too)
- headpieces / hair accessories that work with short hair
- full-size hats
- a rusted mini crown, or anything rusted Suppurate System style (brand, offbrand, handmade, it's all fine by me)
- Mori girl and GRAMM
- Kodona


Thank you for looking!