Hello and welcome to my sales! Here's the link to my eglfeedback:
http://community.livejournal.com/eglfeedback/730469.html
Policy/General information
*I ship internationally
*All shipping within the United States comes with tracking (delivery confirmation) and shipping is usually done on a same day/next day basis, depending on the weather
*Payment: Paypal only
*If a supposed buyer does not pay within 24 hours, the item will go to the next person of interest
*I have one cat, he goes NOWHERE near my clothes, no worries.
*Please provide your feedback link if you have a feedback page.
*Shipping is NOT included in the prices below, please leave a comment including your zip-code and country, as well as your shipping preference, for estimates
*I'm willing to look at ALL offers, but please understand that I also have the right to say no, thank you.
*NO RETURNS or exchanges accepted
Hair Accessory: $10/OBO
Red and Black Lolita headband with adjustable flower

SOLD
Clothing:
Spider brand blouse and skirt (Hong Kong Lolita Brand)
Price: Make an offer; Does not have to be sold as a set-can be separated
Details:
MAX bust: 34 inches
Waist of top: 15 inches flat (should fit a 29 inch waist comfortably)
Skirt: 20-36 inches (fully elasticized waistband), Length: 18 inches
Condition: Gently used, great condition (2nd owner, traded off of the Comm. Sale)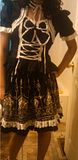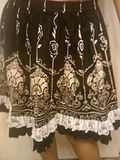 Kids Yoyo Flower Feast JSK
Price: Make an offer
Details:
Bust: 79cm

Max bust: 34 inches


Waist: 63.5 cm

Max waist: 29 inches


Length details: 48 inches long while worn (from tops of straps, all the way down)
Condition: Brand new without tags; never worn
SOLD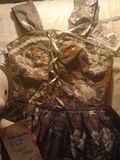 Bodyline blouse/jacket
Price: Make an offer
Size: M
Condition: Excellent, worn once

SOLD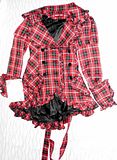 Punk rave over-skirt
Price: Make an offer
Max waist: 28 inches
Material: leather and other (unknown)
Condition: Excellent

SOLD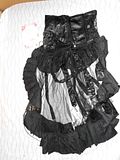 Dream of lolita capelet
Price: Make an offer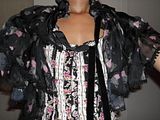 H.Naoto frill jacket
Price: $80 OBO

Details:
Max bust: 36 inches
Max waist: 29 inches
Condition: Brand new w/tags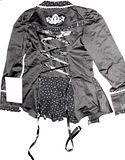 *Color is true black
An*tai*na Red Mary Jane style shoes
Price: Make an offer
Size: 26 cm
Condition: Brand new

SOLD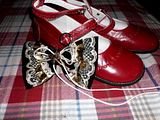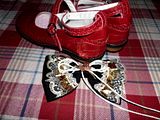 If interested in any of the above items, please contact me with information including your country and zipcode for shipping estimates! Thanks for looking!