Paypal only please.

No trades for this post.

Preference will be given to buyers from US and Canada due to long international shipping times.

Flat-rate Shipping (for any number of items, unless otherwise specified on the item description)
Canada:
$8US via Expedited Parcel (insured and tracked)

USA:
$11US via Small Packet Airmail (insured, no tracking)
$16US via Expedited Parcel (insured and tracked)

Other countries (shipping based on weight):
$9US via Small Packet Airmail (insured, no tracking) for UNDER 0.25kg only.
$17US via Small Packet Airmail (insured, no tracking) for OVER 0.25kg and UNDER 0.5kg only.
$35US via Small Packet Airmail (insured, no tracking) for OVER 0.5kg only.
Please comment with your country for quotes on anything else. Shipping can get expensive to far away countries. XpressPost (EMS) is usually around $60-70 (because Canada Post is really expensive).

Disclaimer: I cannot and will not be held responsible for parcels if no tracking number is purchased. If you want a tracking number, please request Expedited Parcel shipping.




Feedback (and lots of it):

http://community.livejournal.com/eglfeed back/182948.html





No holds. First to invoice gets first dibs.







Moitie Black Velveteen Stand Up Collar Coat $245US $195US SOLD


Condition: Excellent condition. Worn 4-5 times by the previous owner (I bought this off Y!J some time ago) and never worn by me. Thick velvet fabric with super soft blue satin lining. Metal buttons with the Moitie logo. Would be a great coat for guys and gals alike.
Shoulder Width: 16in
Bust: 38in
Waist: 33in
Length: 42n
Shipping: $18US within Canada, $24US to the USA (tracking and insurance included). $32-40US internationally by airmail (insured, but no tracking) please inquire with your country for an exact quote (only XpressPost/EMS is available if you want international tracking and that's about $60 to most countries).


Angelic Pretty pink Diamond Bunny JSK $160US $125US SOLD


Condition: Good condition, worn several times by previous owner, tried on by me. I have too much pink right now and I almost never wear pastels anymore. The large bow at the waist is removable.


Measurements
Bust: 32-37in (adjustable with back shirring)
Waist: 26-31in (adjustable with back shirring and waist ties)
Length: 36in
Shipping: $12US within Canada, $18US to the USA (includes tracking and insurance). $19US internationally by airmail (insured, but no tracking) and the only option with tracking is XpressPost/EMS, which is about $60US.


Milk Pink Cutsew $15US SOLD
Condition: Used, excellent condition. No stains or discolouration.
Shoulder width: 15.5in
Sleeve length: 23 inches
Bust: 34in unstretched, 40in stretched
Waist: 32in unstretched, 38in stretched


Length

: 21inches


BtSSB white Logo Blouse $60US $48US SOLD


Condition: Excellent condition, worn twice. Good basic blouse. It's been cleaned since it's last been worn although there's ever so slight yellowing on the front inside of the collar. It was from my make up (though I haven't tried using bleach to remove it, just regular detergent).


Measurements
Bust: 36-37in
Waist: 31in
Length: 23.5in
Shoulder Width: 15.5in
Sleeve Length: 26in


Meta white LP bloomers $30US $24US
Condition: Brand new, never worn.
Waist: 24-46in (very stretchy)
Length: 12in


Cornet Black Skirt with Built-in Petticoat $60US $48US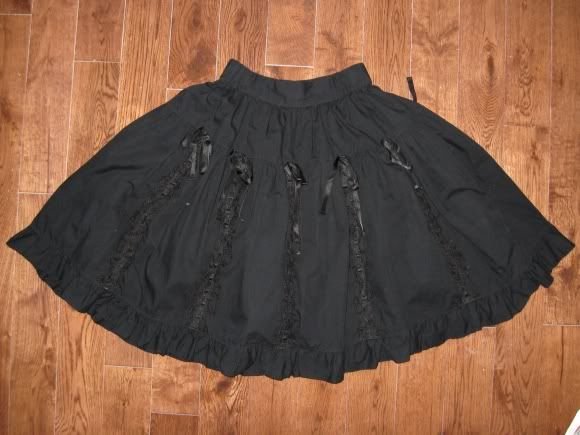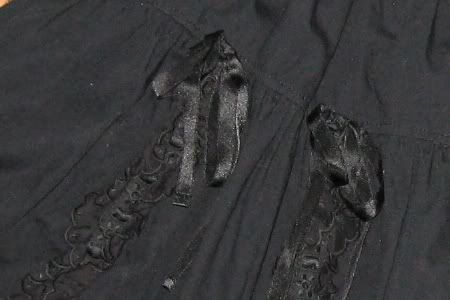 Condition: Used in good condition. Built in petticoat and lots of poof. Very cute basic black skirt.
Waist: 23in - 26in (slightly elastic on the sides)
Length: 21.5in
Baby the Stars Shine Bright red Alice in Ribbon Kingdom Skirt $105US SOLD

Condition: Brand new never worn. I was in LOVE with this print, but when I finally got the skirt in red, I realized I had nothing to coordinate it with (i own pretty much black/white everything). It's really been sitting in my closet doing nothing...not even removed from it's protective plastic as you can see in my photo...
Measurements
Waist: 24.5-27.5in (adjustable with waist ties)
Length: 21
Accessories
(Innocent World silver music note ring already sold.)
1. Suppurate System resin ring $25US $20US (new, removed from packaging only for photo)
2. Jane Marple gold basket ring (approx size 7) $20US $16US (used) SOLD
3. h Naoto Frill choker $17US SOLD
4. Putumayo blue guitar tab necklace $20US $12US (Shipping is $5US worldwide for this item because of it's compact size.)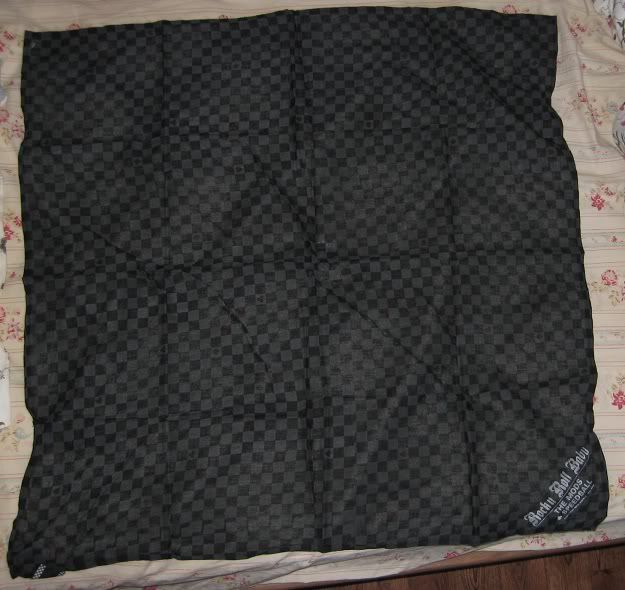 close up of print
5. h Naoto trump checkered scarf $15US $10US
Paypal only please. No holds, first to invoice gets first dibs.