* My feedback is located
here *

* I only accept PayPal in usd *
* No one smokes in my house
*
* Priority goes to whoever can pay first *
* I've never had anything get lost in the mail but I can't be held responsible.*
* I will consider a hold with a non-refundable deposit*
*shipping is included in a bubble mailer in the US*
*ask about international*

* I will only trade for black TM skirt, black TM accessories or Ritual print*

[proof photo]
[mermaid and a bit of the gold detailing]
I love the pattern on this skirt (its so detailed!
and has mermaids!
) it also has tiny bits of gold detailing that I could never see in the photos and its just gorgeous. but pink just doesn't look good on me ): Never worn by me, I don't think the original owner wore it much if ever either. I can't find any flaws.
I can't find the original measurements but the overskirt won't stretch over 27in
the underskirt however is elastic and can stretch a lot more than that.
$95 (or trade for one of the other colorways)
BTSSB Ribbon Heart JSK
size L
back
I love this but when I finally got it and tried it on, I realized that its was way too long on me.
brand new, never worn other than to try on
size L. Bust: 89 cm max (35 inches),Waist: 74 cm max (29 inches), Lenght: 89 cm.
$110
Funny Yumegati Lolita
print close-up
tag
small brand thats often seen on Y!J. I wore this for around the house a lot but it only went outside once. Nice and easy to takecare of, you can throw it in the washer on hand-wash setting. unlined. has shirring under the bust and around the top so it fits a variety of sizes.
clearly I had a hard time photographing it lol
$40
* Angelic Pretty Twinkle Mermaid Auction *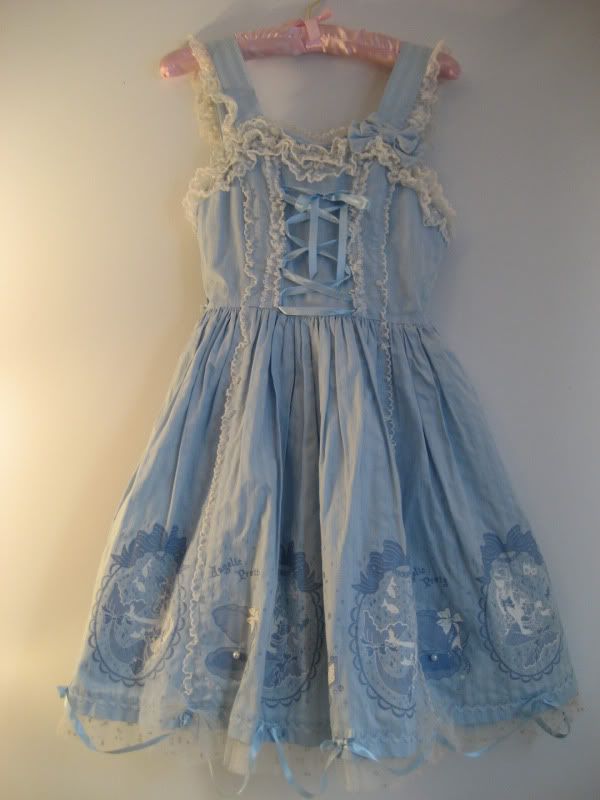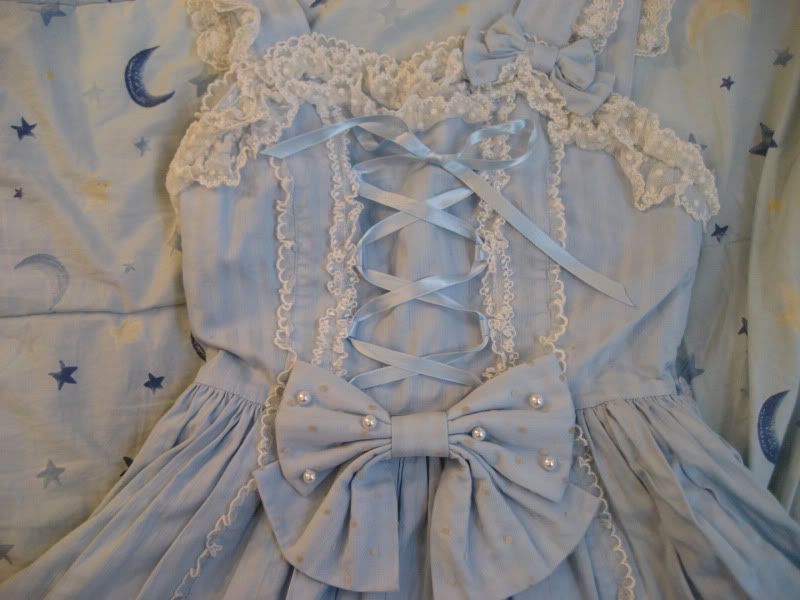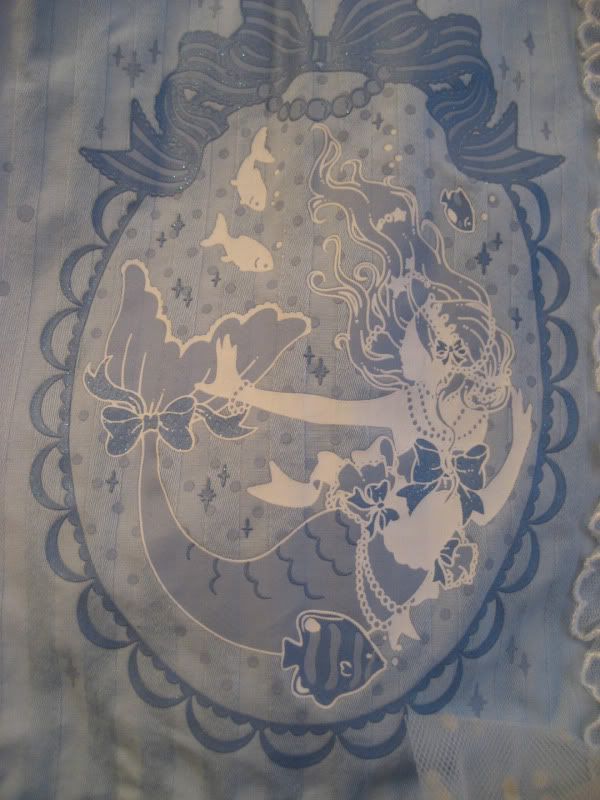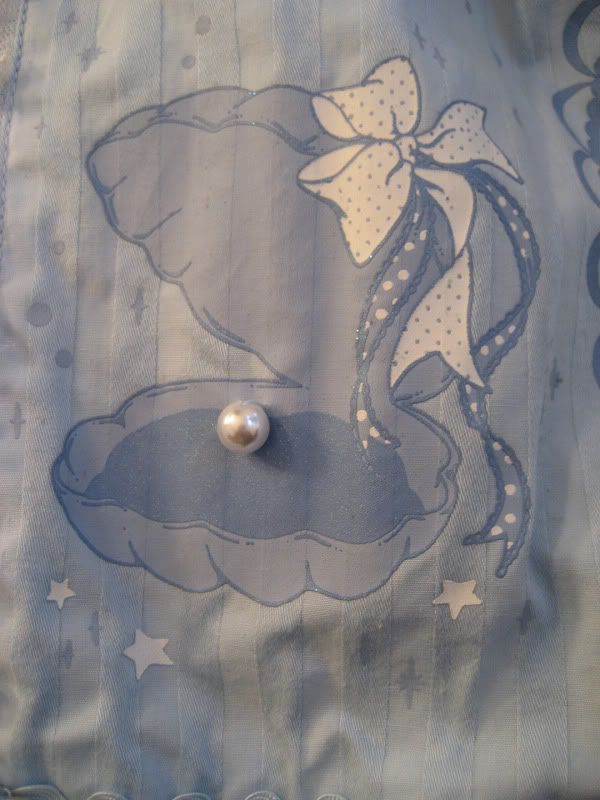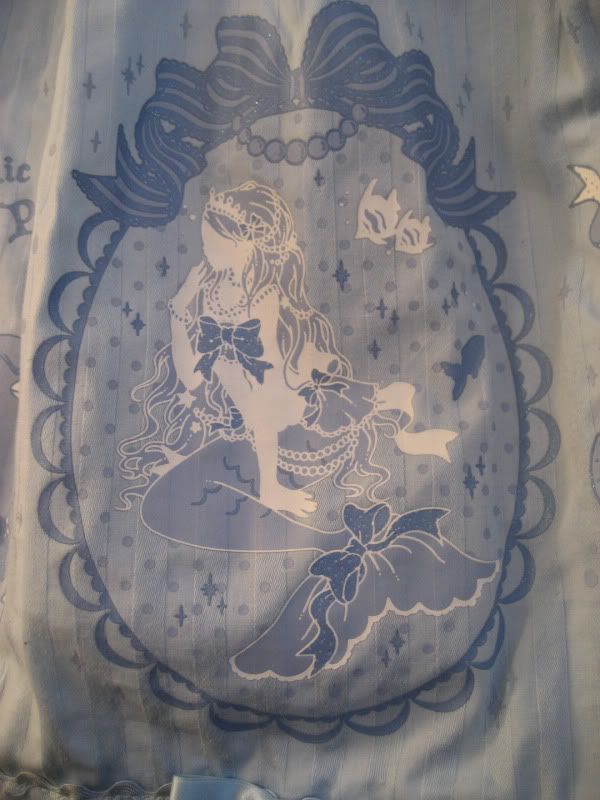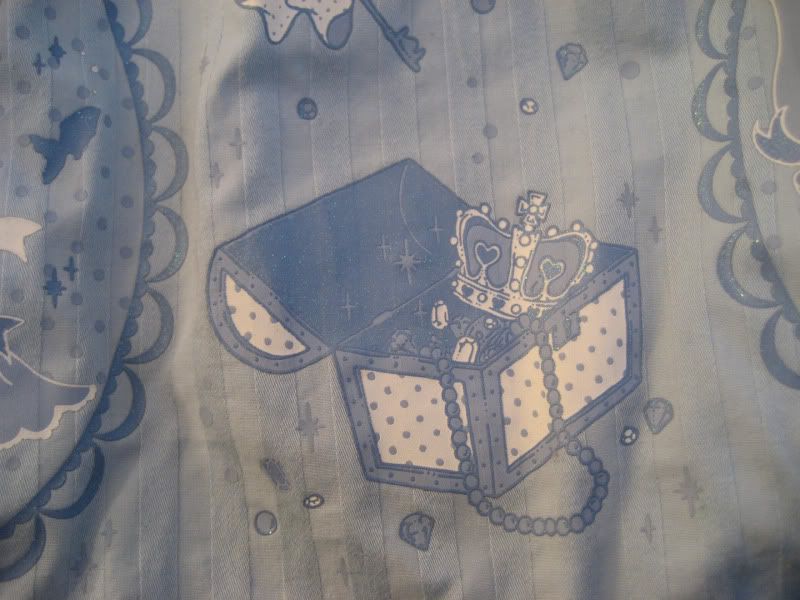 Stock photo
Back
Bow
Waist ties
Dot-tulle
Built in petticoat
I've only worn it several times since shortly after I acquired it I found my preferred colorway. Out of why whole collection it's been worn the least (it's been 3 years) and the screenprint is in the nicest condition. Its only of the most beautiful screen printed items I've seen, its very detailed, the print even has some very subtle glitter.
For the last two years its been stored in a drawer so it needs to be ironed, but it's in great condition for being so old.
The detachable bow that goes at the waist has left a few small holes (
see image
) and the detachable bow has a odd fading spot in the middle that isn't very noticeable, very hard to photograph you can almost see it in the photo of the bow. The dot-tulle that decorates it has started to yellow but that was the condition I received it in, and my other TM with white dot-tulle has yellowed as well, this is a known thing that happens with this series. I've never tried to treat it though.
I've really treated this like my baby, but I never wear it so it's time to let go.

Bust: 80cm~100cm
Waist: 60cm~84cm

Shipping: Priority included in the US,
I require priority for international so it can be tracked and insured, which I will split the cost with the buyer
If the buyer prefers I can split the total into several payments and I will ship after the last payment is made
(however I'm requesting the first one be send personal to avoid backing out)

buyer must have positive feedback

I will take bids by pm

Auction ends: Sunday Jan 30th midnight EST


Current bid: $380 by pm



Feel free to ask any questions
Thanks for looking!