Paypal only please. No trades for this post.

Preference will be given to buyers from US and Canada due to long international shipping times.

Flat-rate Shipping (for any number of items, unless otherwise specified on the item description)
Canada:
$8US via Expedited Parcel (insured and tracked)

USA:
$9US via Small Packet Airmail (insured, no tracking)
$15US via Expedited Parcel (insured and tracked)

Other countries (shipping based on weight):
$9US via Small Packet Airmail (insured, no tracking) for UNDER 0.25kg only.
$17US via Small Packet Airmail (insured, no tracking) for OVER 0.25kg and UNDER 0.5kg only.
$35US via Small Packet Airmail (insured, no tracking) for OVER 0.5kg only.
Please comment with your country for quotes on anything else. Shipping can get expensive to far away countries. XpressPost (EMS) is usually around $60-70 (because Canada Post is really expensive).

Disclaimer: I cannot and will not be held responsible for parcels if no tracking number is purchased. If you want a tracking number, please request Expedited Parcel shipping.


Feedback (and lots of it):

http://community.livejournal.com/eglfeed back/182948.html



No holds. First to invoice gets first dibs.



1. Chocomint ivory Tea Pot Ring (Approx size 8) $5US $4US (Shipping is $5US worldwide for this item because of it's compact size.) SOLD


2. Chocomint pink Tea Cup Ring (Approx size 8) $5US $4US (Shipping is $5US worldwide for this item because of it's compact size.) SOLD


3. Chocomint Large yellow Squishy (stress ball) Cup Cake Cell Phone Strap $5US $4US SOLD


4. Chocomint Large Chocolate Donut Ring (stress ball) Keychain $5US $4US SOLD




5. Swimmer Pastel bubble letters Headphones SOLD
6. Swimmer Strawberry Cord Winder $9US (Shipping is $5US worldwide for this item because of it's compact size.)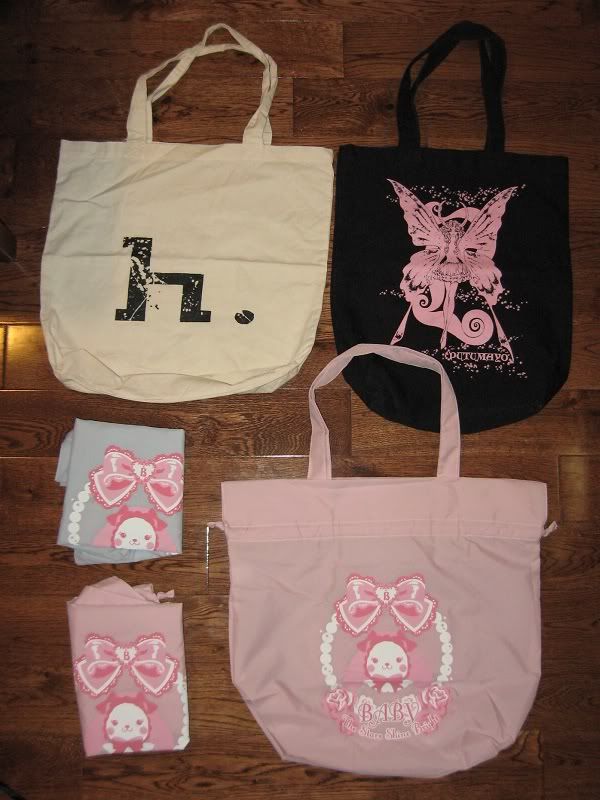 (Putumayo and h. Naoto totes already sold.)
7-9. BtSSB Usa-kuma Eco-totes $20ea (1 blue, 2 pink available)




(Innocent World silver music note ring already sold.)
10. Suppurate System resin ring $25US (new, removed from packaging only for photo)

11. Jane Marple gold basket ring (approx size 7) $20US (used) SOLD

(AatP black star socks already sold)
12. BtSSB strawberry cherry OTK socks $30US $25US (New)
13. Meta red/pink stripe dot OTK socks $25US $20US (New)
14. BtSSB flower and chocolate knee socks $25US $20US (New)
15. AP pink candy knee socks $28US $22US (New)
stock pic
16. Meta brown bear necklace $12US $10US SOLD
17. Meta pink bear on pom-pom necklace $15US $12US
18. Angelic Pretty pink Angel Pony necklace
$30US
$26US
19. h Naoto Frill choker $25US $22US SOLD

20. Putumayo blue guitar tab necklace $20US $17US (Shipping is $5US worldwide for this item because of it's compact size.)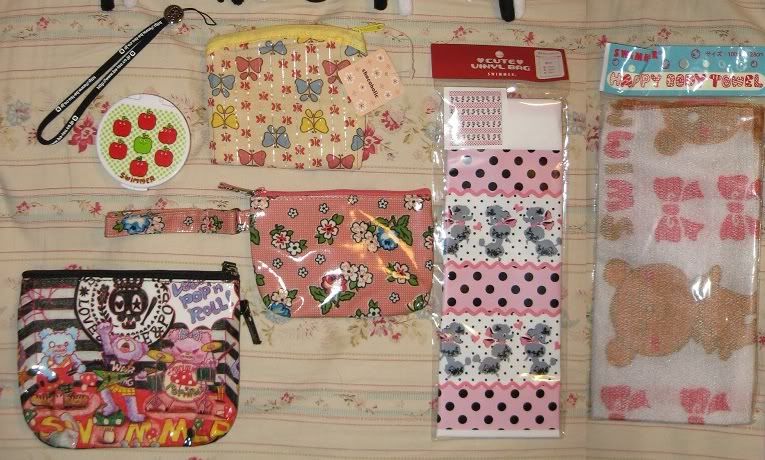 21. 7 piece Swimmer/Chocoholic/Ba-Tsu lot (3 pouches, 1 pill box, 1 cell phone strap, 1 plastic mat, 1 wash towel/scrubber) $20US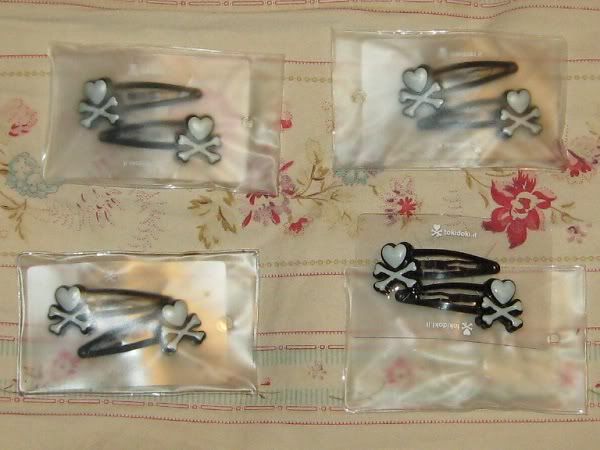 22-24. Tokidoki gothic logo hairclips $10US $8US/pair (I own a lot of Tokidoki...) 3 pairs still available. (Shipping is $5US worldwide for this item because of it's compact size.)


(Meta wristband already sold)
25. BtSSB black/white ribbon rose hair combs $15US $13US SOLD


26. BtSSB gold rabbit hairclip $5ea (2 available, both new) (Shipping is $5US worldwide for this item because of it's compact size.) SOLD


27. BtSSB catalogue $10US SOLD
28. h. Channel (h. Naoto sub-brand) convertible paw arm warmers (used) $20US SOLD




29. Meta white LP bloomers (new) $30US


30. h Channel (h. Naoto sub-brand) bunny purse $35US SOLD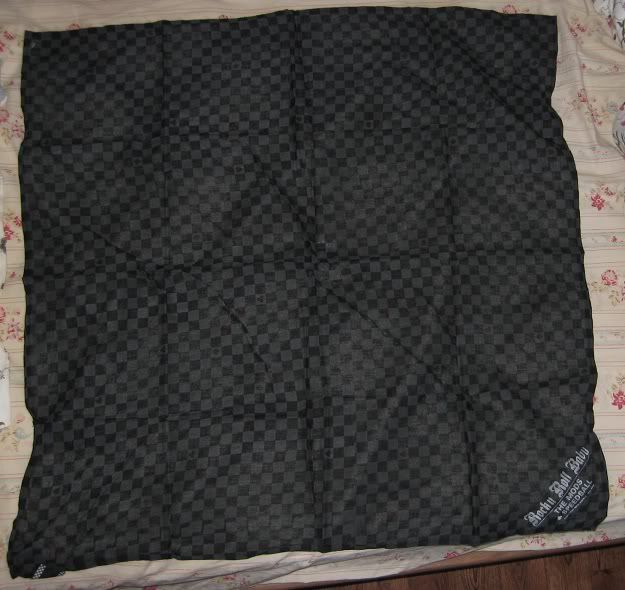 close up of print
31. h Naoto trump checkered scarf $15US


32. h Naoto graffiti scarf $15US SOLD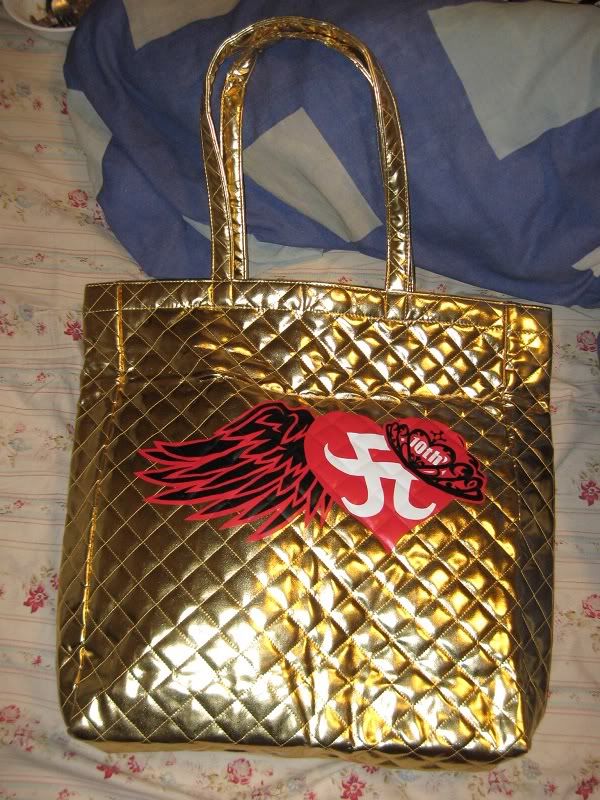 33. Ayumi Hamazaki gold quilted, padded tote bag (measures 19inx19in without straps...not intended for lolita, but I think it's got quite a gothic loli flair to it) $35US


Old sales posts:

AatP 2010 New Years LP



Brand OPs, JSKs, Moitie Jacket and Tokidoki purses


Paypal only please.

No trades for this post.
Please see top of post for shipping details.