♥ Please Read ♥
[FEEDBACK] I have feedback at my personal LJ Feedback Page, eglfeedback and Den of Angels.
[LOCATION] London, United Kingdom
[PAYMENT] I accept PayPal only. Fees will be added on top of item price (unless you send as Personal Payment)

[TERMS] Once item has been claimed, payment must be made immediately. No holds. If you've committed to buy the item and have paid for it, I cannot make any cancellations, refunds or exchanges. All sales are final.
[CONTACT] You may contact me at the following email address:
. Feel free to send me a PM, or comment in this post. Thanks!

NOTE: DON'T LIKE THE PRICE? FEEL FREE TO MAKE A REASONABLE OFFER. IF YOU'D PREFER TO COLLECT IN PERSON, THAT CAN BE ARRANGED. (LONDON, UK RESIDENTS ONLY)


♥ Angelic Pretty Light Blue Tartan Heart Pocket JSK + Headbow ♥
Stock Photo
(Photo of JSK & Bow being worn)
[Price]
£140
£112[Flat measurements]
Length of dress: 90cm
Width of bodice: 42cm
Waist: 36cm
[Condition]
Worn once in excellent condition. I heart this dress so much, it's cute and the colour is perfect but I can't see myself wearing it again since the style is too Sweet for me.
♥ Dear Celine Cinderella Poker JSK + Headbow ♥
Stock Photo

(Photo of JSK & Headbow being worn)
[Price] £100 £80
[Size]
Flat Measurements are:
Length of dress: 88cm
width of bodice: 42cm
Waist: 37cm
[Condition] Worn twice in excellent condition. One of my most well-loved dresses, I just adore the print so much! Sadly I have to let it go now as my wardrobe is bursting and I need space. Am asking quite a high price for it, since the headbow was commissioned separately to MATCH with the JSK print and the bespoke item was quite pricey so please take this into consideration but feel free to make offers.
♥ Ballet Flat Shoes UK 6 / 24.5cm (Light Blue) ♥
[Price]
</b>
£20[Condition]
Brand new in box. Tried on once, never worn. A super lovely light blue (like a duck egg shade), very cute and hard to find colour!
♥ Gingerbread Man Acrylic Alice Band (Mint x Pink) ♥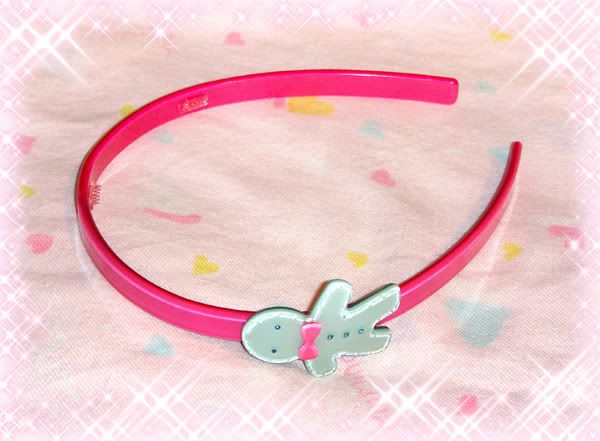 [Price]
</b>
£15
£12[Condition]
Brand new, never worn. Love the design of this so much but I just never wear it as it doesn't really match anything in my wardrobe.
♥ Black x White Striped OTK Socks ♥
[Price]
£8
£6[Condition]
Worn once for a fashion catwalk in good condition. Signs of wear on the soles which you can see in the photo.
♥ h.NAOTO x Hello Kitty Figure Keyring ♥
[Price]
£7
£5[Condition]
New in HK capsule. Am selling h.ANARCHY (punk).
♥ Dream Tale Kitty: Alice in Wonderland / Little Red Riding Hood Card Album ♥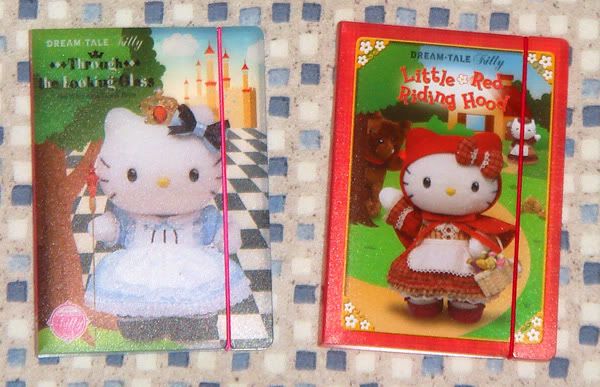 [Price] £3.50 £2.80 EACH
[Condition] Brand new in packaging. Each album has 20 pockets and holds cards 3.5 inches (9cm) high and 2.5 inches (6.5cm) wide.
♥ Fake Nails with Glue ♥
[Price]
£5
£4[Condition]
New, never worn. Bought from egl_comm_sales, has been sitting in box ever since so decided to sell these.
♥ SWIMMER Present Box Bag (Mint) ♥[Price]
£60
£50
(with FREE First Class shipping in the UK)
or
£67
£57
(for Special Delivery Next Day - trackable in the UK)
For International shipping rates, please ask. I am no longer selling to buyers in Italy or Germany, due to problems with shipping in the past.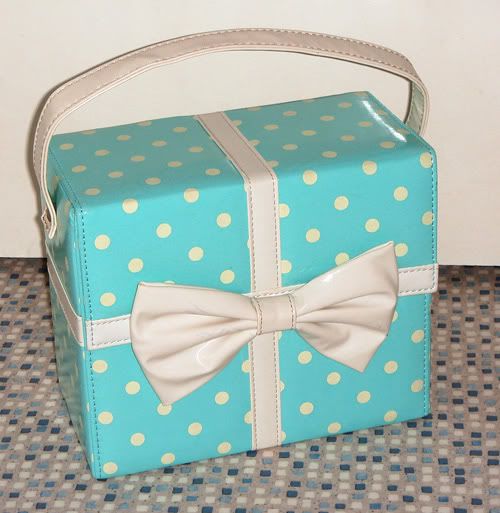 Minor Flaws

[Condition]
This has been used by the previous owner. It is in very good condition, with some minor stains. I have tried to show this as clearly as I can in the pics, but they are not so noticeable in real life and really didn't bother me (the yellowing is on the base anyway so will not be seen most of the time). I haven't tried to remove the stains, just in case the damage worsened.
Inside Details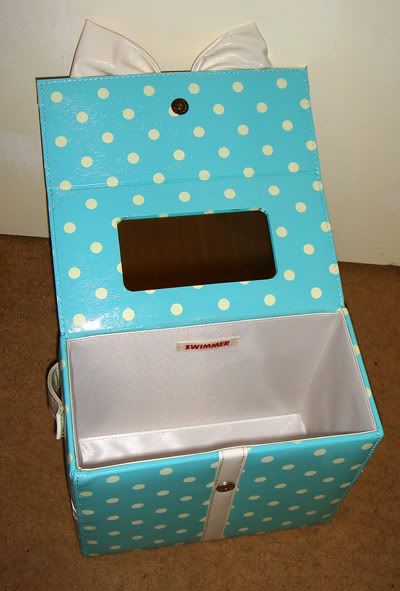 [Measurements]
Length - 21cm, Width - 10cm, Height - 17cm