Note: US buyers preferred for the larger two items since customs forms and shipping them are a pain! I will ship the clips internationally, however. :) Did a little bit of research after my first group of sales last week so the altered prices should be fairly accurate. :)
All items will be shipped first-class and will reach anywhere in the US within 3-7 days, on average (unknown, internationally since it depends on where you live). I will begin mailing these out on Tuesday, January 18th (due to P.O. holiday on Monday). PAYPAL ONLY! I will invoice you :). The fees are already included in prices listed below.

Please be patient with my responses! I will try my best to respond as quickly as possible and assure you that the item is yours, if you posted first that you want it.
Feedback page: community.livejournal.com/eglfeedback/947787.html


Bodyline – pink cherry JSK size M
Bow is detachable. Lacing on the back looked cheap and so the previous owner removed it. I agree with her and I think it looks much better without it. No flaws that I could find.

US buyers only!!! $40 shipped w/confirmation.

Measurements from the site (pretty much true to size):
Length 90-94cm
Bust 86-96cm
Waist 68-78cm
Stock:




Worn:
(Sorry, I don't have better pictures--- I only tried it on once. xO)





Close-up of true color, print, and lace:

img.photobucket.com/albums/v304/Twilight_Madness/Stuff/laceclose-up.jpg

Another [horrible] picture for length comparison. I am about 5' 7''.

img.photobucket.com/albums/v304/Twilight_Madness/Stuff/Christmastimeandlolita023.jpg


Burgundy wig (non-heat resistant) – Like new!
I only wore this once to try on and my little sister wore it once for a short photoshoot in our back yard. I haven't brushed it or done anything to it (it came with the fringe already cut). It's just like most other wavy non-heat resistant wigs so it tangles regularly but can be brushed out/trimmed with time. It has been safely stored since wearing. It's seriously beautiful great considering the price but I have nothing to go with it and would like it to go too a nice home where it will be used. x3

US buyers only!!! $25 shipped w/confirmation.

Stock: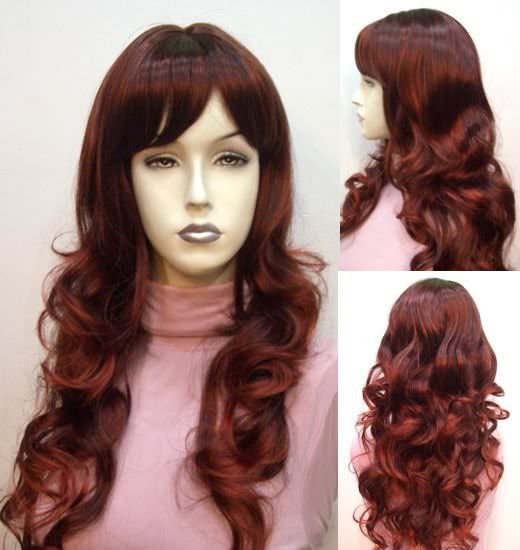 Stock pictures of the true color:
img.photobucket.com/albums/v304/Twilight_Madness/Stuff/Burgundywigstockpicture2.jpg
img.photobucket.com/albums/v304/Twilight_Madness/Stuff/Burgundywigstockpicture3.jpg

Worn (by my little sister):


Chocomint star clip - Pink (re-listed due to failed payment)

$18 shipped in US, $20 shipped international
Available: SOLD! Thank you!

Chocomint flower clip – Light pink (re-listed due to failed payment)

$13 shipped in US, $15 shipped international
Available: SOLD! Thank you!



Thank you and have a wonderful day! :)