- Feedback: 36+ positive, no negative or neutral
- I take paypal only
- Prices are in USD
- All items come from a smoke-free and pet-free home
- Shipping+tracking is included for USA residents; international, please inquire.
- I'm also interested in trades/partial trades for cardigans. (preferably brand)
- I am not responsible for any damages taken place during shipping.
- Items will be shipped out as soon as possible (usually 2-4 days), and you will be notified when I do.
- I will describe each item's condition the best I can, and I am happy to take more photos upon request.




Alice and the Pirates Rose Marine skirt (pink)

*SOLD*


Stock photos: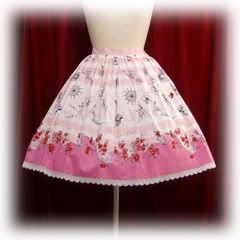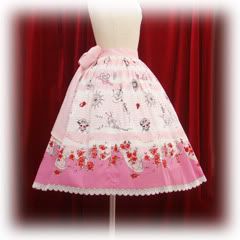 My photos: One | Print closeup | Mark | Back | Built in petti
Measurements: 55cm long, waist: 68cm MAX (~27") - Moving the button might give you an extra inch of room.
Condition: Worn twice. I am the second owner. Partial shirring in the back. Includes detachable waist ties and slight built-in petticoat. Has one very small mark (see photo), and has a few wrinkles that need to be ironed out, but other than that there are no flaws that I can see.
Reason for selling: Just don't wear it enough to justify keeping it.

Price: $75 shipped (US)
------------
Innocent World Sailor Blouse (black)
(no stock photo available, but it's a pretty basic design)
Sorry about the crappy photos; it's overcast and rainy outside right now, so I couldn't get any good light. ;;;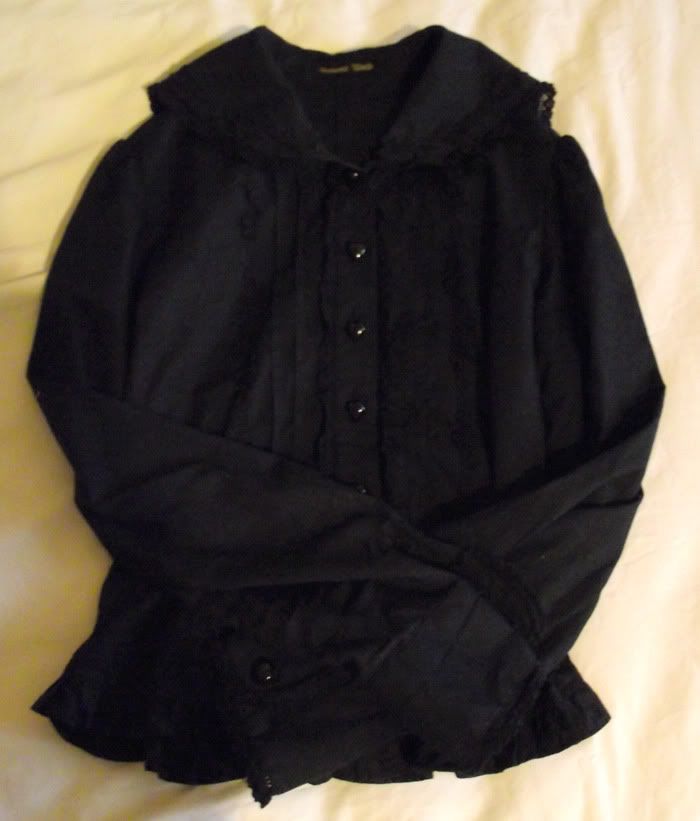 Additional photos: Back | Button detail
Measurements: IW size L (according to their site, that's usually: B: 100 cm, W. 78 cm. This would be the GARMENT'S SIZE, so you should be about 5 cm less than that for it to fit comfortably.
Condition: Worn twice, no pilling, stains, rips, or discolouration. Has detachable waist ties, and a cute sailor-style collar. Buttons are shaped like hearts. Has a few specks of lint on it from being in my closet so long.
Reason for selling: Bought it to go with the AatP skirt above, but since I'm selling it, I don't need the blouse.

Price: $70 shipped (US)
------------------------
Candy Violet Paris Chic skirt (pink)
Stock photos:


My photos: One | Print closeup | Lining | Lace

Measurements: Size M (length: 20" | waist: 27"-28"), but personally I think it would fit a 28"-29" waist better. If worn a little higher, waist can be up to 30". (this colourway in this size is no longer available on their site)
Condition: Worn once. No flaws that I can see. This type of skirt has a yoke waist, which lets you wear cutsews/tshirts with it, so it's good for a casual-sweet co-ord.
Reason for selling: Gothic/classic colours suit me better.

Price:$40 shipped (US)
---------------------

If you have any questions, feel free to ask, thank you!