Conditions:
+I DO own both a cat and a dog. They are not allowed in my room/where the clothes are kept, but I think this would be best to mention.
+all items come from a non-smoking home.
+my feedback page is: here
+no trades please.
+PayPal only
+All prices are in USD and include shipping and paypal fees (to US only)
+I ship from the US
+I prefer to ship to America, and American customers will take priority. I do and have shipped internationally, but please be aware that shipping will be extra. I will ONLY ship a package internationally with tracking, which again will cost extra. Please inquire for prices.
+The person who offers the most money has priority. If more than one person offers the same price, than both parties will be given a chance to bid; otherwise, the person who leaves/PMs me their PayPal address first has priority
+Feel free to make reasonable offers
+Please, after an item is sold to the buyer, do not drop off the face of the earth. Please leave me feedback, and I would like to leave the buyer feedback as well
+If you need anything else, feel free to ask! I can always take more pictures, and I will do my best with measurements.

Tops:

Angelic Pretty White Long-Sleeved Cutsew




$45
Mint condition, only tried on and washed by me. A little bit big on my 34" bust, 27" waist. VERY stretchy material. Should probably fit around a 36" bust, maybe a 30" waist. Slightly short, would look good over or under a long-waisted skirt. If you have long arms the sleeves may not reach to your wrists.


Metamorphose Hoodie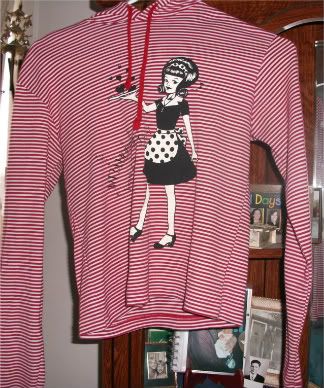 print close-up:




$40
Adorable hoodie bought off ebay. Looks to be mint condition. Never worn by me. Thin material, would look good over a skirt or JSK. Again, cut slightly short. Should fit around a 35-36" bust, 29 to possibly 30" waist. VERY stretchy. Would look great with the AP top above and the AP skirt below. Also, if you have long arms the sleeves may not reach to your wrists.

Skirt:

Angelic Pretty Skirt mint with tags!




$70
I believe this skirt is new, or in mint condition. I bought it with tags and have only worn it once. Fits my 27" waist perfectly, may fit a 28" waist but no more. Color is slightly darker than captured. Would match wonderfully with the AP cutsew and Meta hoodie posted above. Made of a very thick material, would be good for colder weather.

JSK:
Metamorphose Lucky Pack JSK:




$120
Meta music note JSK in the white x pink colorway. Has shirring in the back, should fit a variety of sizes. Very pretty, a little too cute for my taste. In very good condition.