I'm posting all these together to avoid making multiple posts~

Guidelines:
~ Feedback: http://community.livejournal.com/eglfeedback/1051770.html
~ Asking price does not include shipping (PM for quote)
~ I will ship the same day payment is received or the next day the post office is open
~ I ship from Kanazawa, Japan
~ I take paypal only. Paypal fees, if incurred, are the responsibility of the buyer
~ I am open to negotiation and partial trades
~ I am looking to trade for JSKs or skirts, preferably in classic, sailor, or Gothic style. Any brand is fine.

TRADED For sale/trade:
1). 1 pair Alice and the Pirates pants *TRADE PENDING*
Condition: New from LP, only tried once
Length: 1 meter (100 cm) from waist to bottom (24 cm from waist to crotch seam, 76 cm from crotch seam to cuff)
Waist: 36 cm (taken as flat measurement). Probably ~70 cm around.
Color: Black
Material: Not cotton, but it is a very soft, flexible fabric that doesn't wrinkle. It has some texture and weight, but flows more softly than a regular pair of dress pants.
Other: There are 11 total buttons on the front of the pants, all working, and the two straps on the side are detachable by hooks. These straps can be worn up as suspenders, or down for a more edgy look. Perfect for kodona, gothic, or punk.
Asking price: $100 or trade with item of similar value (partial trades also acceptable)
Pictures (click for larger image):


Full view of the pants.


Zipper ruffle detail on the bell of the pants.


Zipper is hidden by a button up front panel.


Buttons on the front of the pants.
TRADED
2). 1 Alice and the Pirates Vest
Condition: New from LP, only tried once
Waist: My ribcage is 78 cm and it is just a smidgen too tight. I'd say it would fit ~74-75 cm comfortably.
Color: Black
Material: Heavyweight cotton.
Other: The vest is backless, and features a bow on the back with two decorative, but working buttons with crowns on them. The front has a single crown button. It is a really smart looking vest that would work well in kodona or aristocratic lolita.
Asking price: $110 or trade with item of similar value (partial trades also acceptable)
Pictures:


Front of vest.


Back. you can see how the entire thing is backless. When I went to try this on for the first time, I actually had to stop and figure out how to wear it correctly! XD


Bow detail. The buttons match the one on the front.

I am willing to sell them together as a set for $190 (not including shipping) or trade them together for item(s) of similar value.
My hand made bunny serves as proof I own these: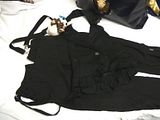 And as a bonus, if you buy the set together, I'll throw in the keychain I also received in the LP:


The tote pictured on the left is NOT for sale. Charm traded

I am also looking to buy my dream print, the Alice and the Pirates Sleeping Beauty in Ivory.
I am willing to buy the skirt, JSK, or OP, although I would rather buy the dresses over the skirt. It's because of this print that I decided to get into lolita, so I hope someone can help me find my dream!
OP version:


JSK version:



Thanks for looking!