Baby, the Stars Shine Bright Bunny Ears Cutsew Coat - White
I purchased this cutsew coat brand new from BABY, the Stars Shine Bright and only tried it on a couple of times, as I rarely wear lolita out (let alone in the winter!) As such, it's sat in my closet in mint condition and still has the tag. I guess you can say that I'm more of a closet collector than anything (pretty unfortunate), so this adorable coat is up for sale!

The hood is detachable and it features soft, furry (and rather oversized!) bunny ears. This is more of a springtime coat or later winter coat, as it's not as thick as their regular wool or acrylic ones. Coat has a gathered waistline style, so you still have 'shape' at the waist rather than some other styles that just drape down the front of your dress. The pom-pom ties at the front thread through the hood so it can be detached with the hood. The pockets at the front are real working ones.

Also, the color is not pure white like a blouse. It's more of a soft vanilla white -- NOT off-white or kinari, though!

Measurements:
Length: approx. 37 inches long
Across waist: approx. 15.5 inches
Across bust: approx. 18 inches
Sleeve length: approx. 24.5 inches

*Note: This cutsew coat is made of a thick furry knit-type material so it has a little bit of stretch to it. The measurements above were taken of the garment unstretched, laying flat.

Price: $250 USD SOLD

Shipping: $11.40 USD via Priority Mail + Delivery Confirmation within the U.S.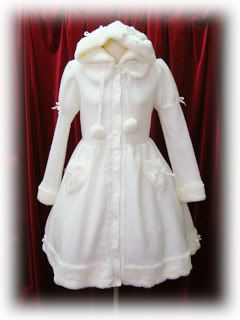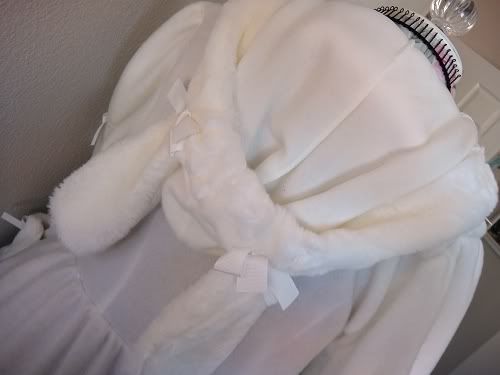 Detailed stock photos of the pink version: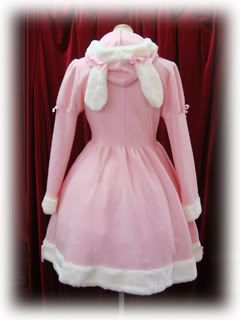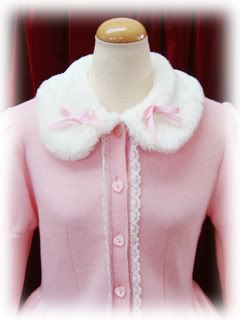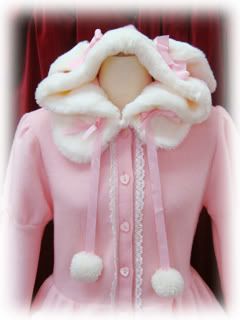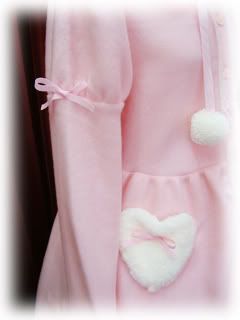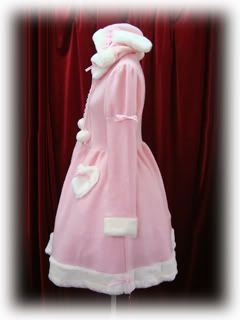 Jane Marple Short Wool Coat + Cape - Black
This beautiful classic-styled Jane Marple coat is reminiscent of the styles of Mary Magdalene and Victorian Maiden. It is made of thick wool and trimmed with black faux fur. The cape is detachable and can be used for other outfits if desired. Faux fur collar and cuffs on the actual coat are not detachable.

This item has been gently used several times by me for short periods of time. It is in *excellent* condition without pilling, damage or stains. This coat is a great deal if you are looking for a Japanese-branded classic lolita coat since they usually run $300-$500+. For reference, this coat is approximately the same length and size as the new Angelic Pretty short coats.

Measurements:
Length: approx. 20 inches
Sleeve length: approx. 26 inches
Across shoulders: approx. 15 inches
Bust: approx. 18 inches across
Waist: approx. 16.5 inches across

Price: $125 USD SOLD

Shipping: $11.40 USD Priority Mail + Delivery Confirmation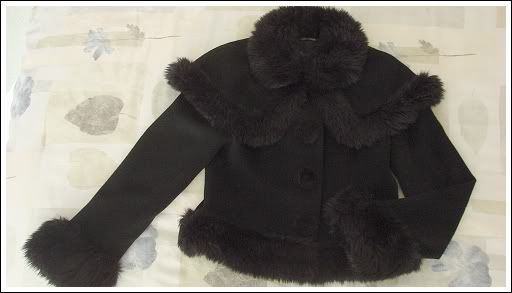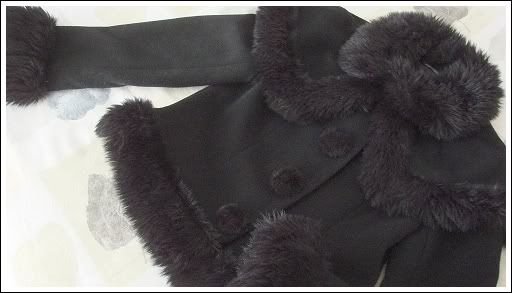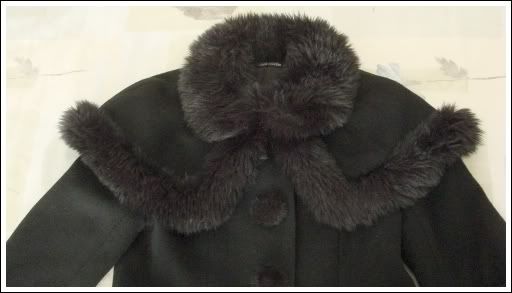 Closet Child recently had the same coat up for sale with some photos with the contrast manipulated to show the detailing. (Note: The coat is indeed black!)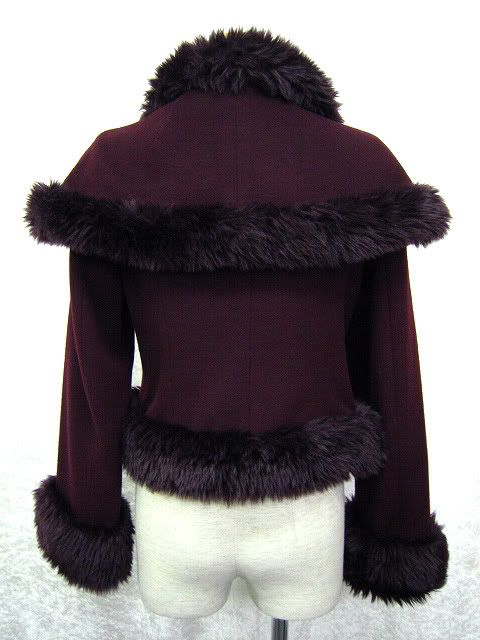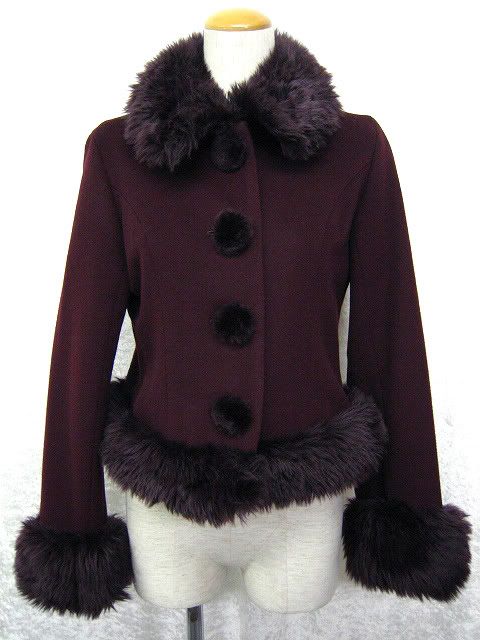 Angelic Pretty Fancy Melody Parka - Red
Like new Angelic Pretty Fancy Melody parka in red. This was purchased brand new from Yumemiru Musical Paradise from the AP Boutique. It was worn once over a longsleeved cutsew for a few hours. As such, this parka is in perfect like new condition. Features detachable pearl chains on the pockets and cute melody embroidery on the front. This parka is a thicker than the Spring/Summer parkas that AP offers.

Price: $120 USD

Shipping: $5.65 USD Priority Mail + Delivery Confirmation within the U.S.

Measurements:
Length: approx. 20 inches
Across bust: approx. 18.5 inches across
Sleeve length: approx. 24-3/4 inches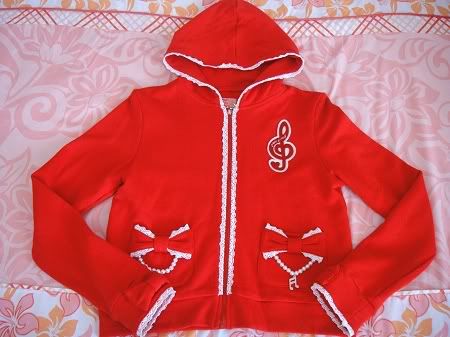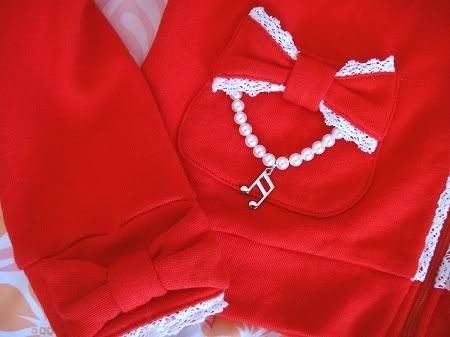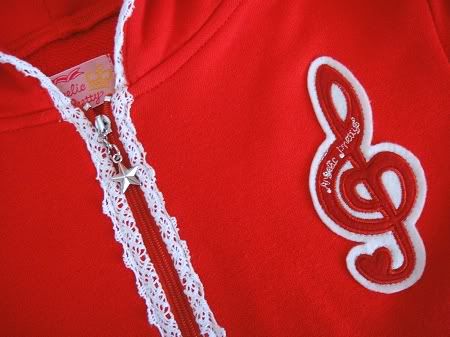 Tokyo Fashion Co. Skirted Coat - Pink
I purchased this brand new coat on YesStyle and hoped that it would look great as part of an Emily Temple Cute inspired coordinate. However, it is too short on me so I recommend that any potential buyer be less than 5'7" tall for this to look like the stock photo.

This double breasted coat is lined and would look great as part of a casual coordinate or even something GAL-styled.

Price: $37 USD

Shipping: $11.40 USD Priority Mail + Delivery Confirmation

Measurements:
Length: approx. 30 inches long
Across bust: approx. 19-1/2 inches across
Across waist: approx. 17-1/2 inches across
Across shoulders: approx. 15-1/2 inches across
Sleeve length: approx. 25 inches long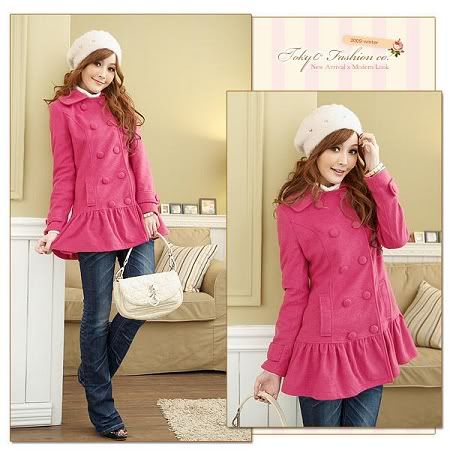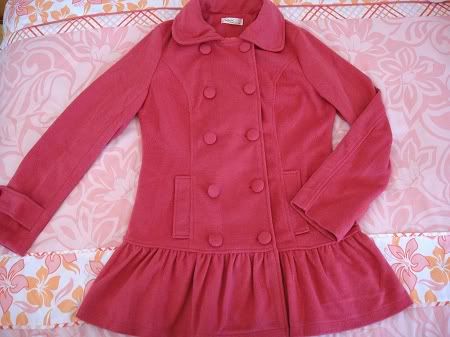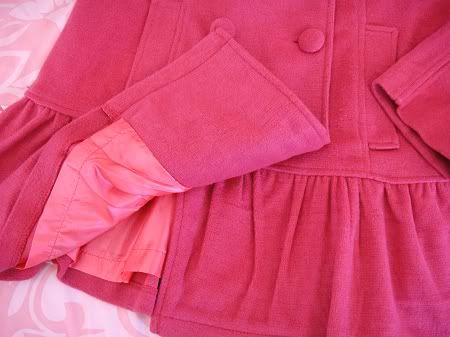 ------------

YES, I COMBINE SHIPPING. JUST ASK!

Payment types: Paypal ONLY!
Credit card Paypal'ers are responsible for 4% PP 'handling' fees.

Buyers outside of the U.S.: I ship internationally but only by Priority International. Please let me know where you need an item shipped to so I can calculate costs! All packages shipped outside of the U.S. will be sent out on Saturday!

NO HOLDS OR TRADES! NO LOCAL PICKUPS!

Please note: The buyer who can first commit to purchasing an item has priority in the sale of said item.

Feedback: http://community.livejournal.com/eglfeedback/204485.html