♥ Payment: Paypal ONLY

♥PRIORITY GOES TO:
First one to leave paypal addy!

♥No haggle
( Please respect this! I do not charge PP fees, traveling to the post, or any extra fees, my shipping is included world wide and the shipping already includes tracking)

♥ I shipp from China useing China Express.
I supply tracking: ( tracking does not effect over all cost of shipping)

♥Takes 7-20 working bussness days to recieve.* not including weekends, or holiday.*

♥Not responsible for lost or stolen packages. !!!
( Altought it has never happened!)

♥ I live in a smoke free home!
But have Two cats! But I keep them away from clothes.

♥ SHIPPING INCLUDED on all items WORLDWIDE!
I offer discounts on orders of 3 or more items.
( excluding SS socks)

♥Paypal ONLY
NO PAYPAL FEES.
I shipp within 2-4 days of recieved paypal payment.
I EMAIL you tracking!


Update for the Holidays: These items have a chance of NOT arriving before christmas.


Huge MOVE sale:

Im moving back to America for good!!! Please help me clear out this stuff I already have 5 suitcases!!! ( im not kidding) and I need to narrow it down to AT LEAST 3 .
ALL purchases help go towards the plane flight back home =T.T= !
These items need to go, I will NOT be bringing these items back home with me.
( if they do not sale i will end up having them mailed back to me and the prices will be much higher then they are now to help cover my costs)
World wide buyers! Now is the chance to get great deals on everything!! Once I go back to America I will NOT be able to offer over seas shipping due to I have no car yet XD !!!
And shipping over seas from America is more costly, so get it at this great rate now!


My sales all end January 15th !!!


BodyLine Pink AP/ Baby replica Skirt:
Brand new never worn with tags
flawless!
A very descent skirt!
Great quality and Lace!
Selling cause i want the black one/or authentic.
Size: M
Length 57cm
Waist 64 -76cm
$50 shipped world wide
$35 shipped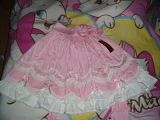 H. Naoto replica jackit:
worn maybe once
just not my style anymore
size M

bust: 32-35
waist: 23-26

asking $20 shipped

Bodyline cat beenie:

never worn ! one size fits most!
$10 shipped

West Mend Black Baby Doll JSK
BEAUTIFUL multi layered JSK
embroyder roses and bead work
brand new with tags:

Fully lined

bust: 32-34
waist: 23-28
$65 shipped world wide
$50 shipped



West Mend Pink Classic Sweet Lolita OP:
Adorible dress!
new with tags never worn
Size Small: 160/ 84A
bust: 32-34
waist: 23-26
$65 shipped world wide
$50 shipped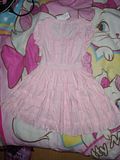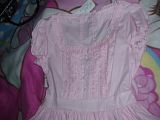 Victoria Maiden high bust skirt
brand new never worn except for sample:

Fully lined

best fit:
waist: 23-26
$60 shipped world wide
$40 shipped

Black/ Grey WestMend lace coller JSK:
Fall 2010 release:
Size s-m ( corset lace back for adjusting!)
Bust: 32-36
Waist: 23-28
brand new with tags: beautiful !

Fully lined

removable pearl decals on coller:
$75 shipped
$60 shipped


White WestMend Blouse:
White long sleve blouse: with tags:
brand new never worn
ruffle ( super soft) coller: removable ribbon

Size: small 155/80A
Bust: 32-34
Waist:23-28
Sleve length: 24
Length:20
$45 shippe
d

$35 shipped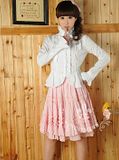 White West Maiden Blouse:
White Long sleve blouse: with tags:
brand new never worn
ruffle ( super soft) coller: removable ribbon
Size: small 155/80A
Bust: 32-34
Waist:23-28
Sleve length: 23
Length:23
$45 shipped
$35 shipped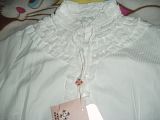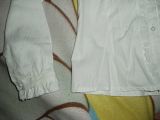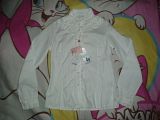 GLP: Purple skullez

Busstle fish tail back:
Never worn:
Brand new:
Size: 23-27
Strech Waist: and has adorible skull details!
$25 shipped
$20 shipped
GLP: Red Cardigan Top:
Brand new never worn:
Bust: 32-34
Waist: 23-25
$20 Shipped
$15 shipped
Ribbon Key Earings:

Hook ear ring:
Brand new never used or tried on:
$8 shipped each
OR
2 for $10 shipped

1
2
Harajuku Lovers LAMB REplica Bags:
Found these in Thailand and thought you guys might like!

All include the special inside print:
tags, labels, keychain, zipper details.
Very well made replicas.!

LAMB Sweet Kanji:
They are dressed in Lolita and harajuku street fashion !
Deff my fave one XD !!!
$25 shipped world wide:
$20 shipped



All bags have this inside detail.
LAMB Aloha Girls:
Cute cute cute hula girls! XD
$25 shipped world wide:
$20 shipped

LAMB Mermaid Girls:


$25 shipped world wide:
$20 shipped



LAMB Lovers Street
London girls ! so freaken cute XD !
$25 shipped
$20 shipped world wide:

Backpacks:
Perfect for college! Holds lots of books, supplies and much more!
These are MY LAST ONES!!
These will NOT be restocked!!!
Last chance to get one of these.

Retail in Japan
6,999 Yen

Asking: $35 shipped world wide each

Size detail:
1sold


2
3
4
Surface Spell UnderBust JSK:
This was sent in the wrong size :/
Im reselling so i can buy one in the right size:
Bust: free size cause it is a under bust:
Underbust: 24-26in max
Waist: 28-30in MAX ( corset lacing back)
Length: 36in
Price: $120 shipped world wide
$95 shipped world wide

West Mend Yellow Flower JSK:
Brand new with tags
Never worn
one layered material.
A line cut.
no shirring in back
Bust: 32-34
Waist: 23-26
$70 shipped world wide
$55 shipped
WestMend Black JSK
This was requested and buyer backed out at last min.
( very rare and hard to get: not on website)
Size: M
Bust: 36 max
Waist: 28 max
Great for a TALL lolita of 5'5 +
$75 shipped
$60 shipped world wide
WestMend Black Blouse:
Black long sleve blouse: with tags:
brand new never worn
Peterpan coller: removable bow
Size: small
Bust: 32-34
Waist:23-26
$50 shipped
$40 shipped
WestMend Kodona Velvit Shorts+Borleo:
VERY lovely!
Soft veltiv outside, silk/ satin inside.
Fully Lined
Brand new with tags:
Crown button details! super cute!
( WILL NOT split the set)
Top:
Bust: 32-34 max
$130 shipped
$75 shipped SET

Shorts:
Size: small:
Waist:23-24
Hips: 32-34

Milky Chan Replica Wrist cuffs:
Brand new never worn:
$17 shipped each
$12 shipped each

1 Sold

2 sold
Rare BodyLine Pink OP
This is the first dress I ever bought!
this i ssold out and I have never even seen it online!
Soooo cute!
Angelic Pretty Replica maybe?
Saddly only worn once for 3 hrs or so for a photo shoot.
Sherring in back
Bust: 32-26
Waist:23-28
( Paid 5,000 yen)
$75 shipped world wide ( HEAVY)
$60 shipped

Bodyline Cat Jackit:
Fleece jackit:
well worn! i love this but i must make a choice :/
size M
bust: 32-35
waist: 23-26
includes detachable tail and ear hood.
asking:
$20 shipped
G.L.P Red Skirt/ Petty

Size: 23-27
strech waist:
Includes attached bloomers! XD !
Brand new never worn...
Makes for a Fantastic petty ( that wont go flat)
Or wear as a skirt.
$35 shipped
$25 shipped
White West Maiden Blouse:
White short sleve blouse: with tags:
brand new never worn
ruffle ( super soft) coller: removable ribbon
Great lace and stiching detail
Size: small 155/80A
Bust: 32-34
Waist:23-28
Length:20
$45 shipped
$35 shipped
Secret Shop socks:
Brand new in package:
OTK: 165 cm under
UTK: 170cm+
$15 Shipped EACH
$10 shipped each world wide.
( no shipping discount on multi order of this item.)


1sold

2sold


3sold

4 sold

5sold

6 sold

7sold

8sold

9sold


10 sold
11sold

12sold
13sold
AC/CD rag candy JSK
size:
Bust: 32-34
waise: 23-26
corset lace back
worn only once for a photo shoot
flawless
$50 shipped
$40 shipped