Hello everyone, I have a few pieces I need to clear out of my closet.

Rules are as follows:



Feedback

: http://community.livejournal.com/eglfeedback/366389.html
Domestic USA only, sorry
Payment: Paypal only.
I prefer money but will consider Brand trades only.
Prices include shipping by USPS priority mail and will ship from North Carolina, USA.
Items will be shipped within 48 hours after payment clears.

Due to the Thanksgiving holiday this week it may delay my trip to the post office but I will notify the buyer of any issues.





Any questions please feel free to PM me.



1.

Metamorphose March of the Ducks Fully Shirred Skirt and Matching Headbow: $130




I bought this skirt on reservation directly from Meta when it was released. I have only worn it a couple times and recently had it dry cleaned. It is fully shirred and will fit over a 33 inch waist. This is the mini length. I do love the print but just don't wear it often enough to keep it. I really am hoping to find the jumperskirt version.


2. Metamorphose Fully Shirred Lucky Pack OP in White: $75-
SOLD
I bought this OP a couple years ago here on the comm sales brand new. I have only tried it on. It is fully shirred so it will fit a variety of sizes. It is also a longer length. I am 5'1" and it comes down quite a bit past my knees.


3. Bodyline Forest Fairy Skirt in Blue: $22-SOLD
This skirt is brand new from Bodyline. I bought it recently, removed the tags and tried it on. I then decided I didn't like how it fit. The measurements on the site show up to 29inches in the waist but it will go a little bit more a bit uncomfortably at about 32 inches. The bow is removable and just pinned on.
4. Bodyline Fruit Parlor Replica Skirt with Matching Totebag: $50
SOLD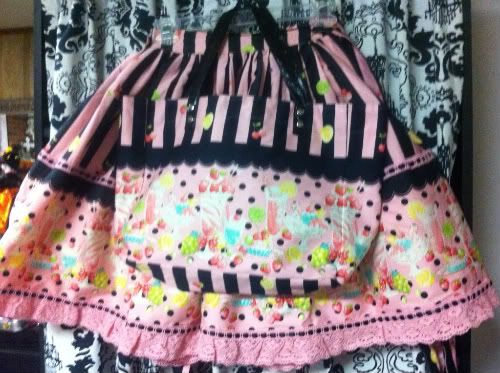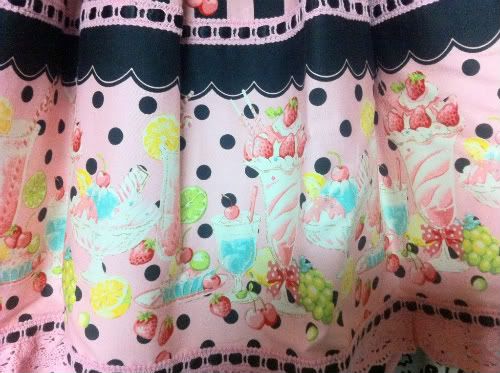 I am the first owner of this skirt and tote. I bought it directly from Bodyline and have worn it a couple of times. It is one of my favorite pieces but I have decided to let it go. I did remove the little bow off the front of the waistband but it is included with the skirt. It is also listed at around a 29inch waist but will fit snugly at 32 inches.

5. Metamorphose Over the knee winged cross socks: $15
These are brand new only tried on. The tags have been removed.

6. English Gothic and Lolita Bibles Vol# 1-(sold),3,4,5: $25 each
These copies still have their patterns intact and are the English language versions.

Thank you for looking. ^_^