Feedback; here

I'm running a little more than low on money, so I'm working on projects with fabric and stuff I already have and posting them here to see if any of you lovely lolitas want them. I hope to give my handmade things to good homes, with girls [or boys~] who will love them and cherish them. Here is the first of my projects, and I have enough fabric to make three or four of these. I almost forgot to add a price. If you want one of these purses it will be $20. If you like the way I made the purse but not the print you can reply or pm me and we can talk over using another fabric.

I'm in Richmond Virginia, so shipping will reflect that.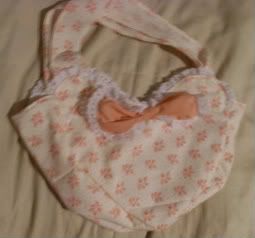 My camera likes to focus more when I use flash, so here it a flash picture. This one is lighter, so it's not quite color accurate, but you can see details better.