Hello, I'd prefer TRADE but a direct sale is fine as well. Hope you find something you're interested in!

NOTE:
- I ship from the United States (*Please post your location for shipping calculation)
- I use Paypal only (the 3.9% fee has been accounted for in the prices)
- Clothes come from a non-smoking and no pets environment.
- I am not responsible for lost packages so if you want tracking/insurance tell me!
- Don't be afraid to discuss PARTIAL TRADES or prices : )

FEEDBACK: http://community.livejournal.com/eglfeedback/488959.html

Here we go : )

Pink Rakuen JSK set (JSK, Bolero w detachable sleeves, Headdress): SOLD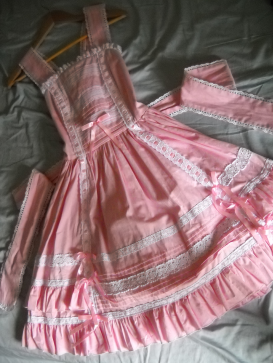 - Worn about 3 times; In good condition
- Front bows have been carefully removed
- Small chocolate stain on dress (post-clean; I highlighted the stain in an image below)
- Size M: (Bust 36-37, Waist 29-32, Hip 40)
* Also the back is shirred so this dress can fit a multitude of sizes.

ORIGINAL DRESS: http://rakuen.trauma-radio.net/catalog/dresses/r72p.html
[ worn ][ stain ][ back ][ where bows were removed ]
Price: $90

Socks: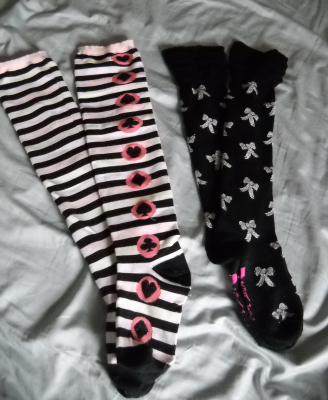 Bodyline Trump Socks: $11
Betsey Johnson Silver Bow Socks: $13 SOLD
Bodyline Pink Ribbons & Dots Socks: $11
- All socks have been worn once and washed.

Angelic Pretty Black & White Dress and Bolero: SOLD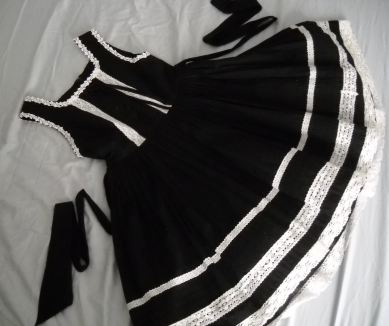 - Only tried on once
- NO SHIRRING (so this dress probably won't fit a large bust)
[w/ bolero][close up of bodice]
Price: $90

Metamorphose Cat Border Print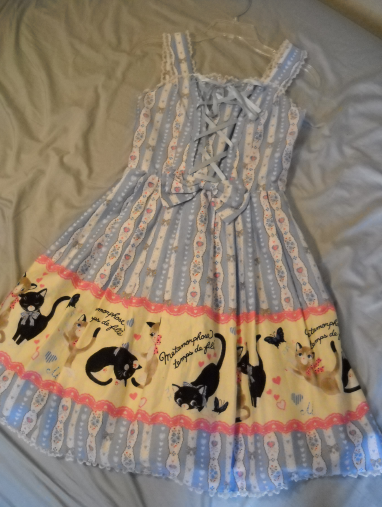 - Worn once; in great condition.
- Should fit a wide range of sizes; has shirring in the back.
[worn]
Price: $110


Disney Princesses Caplet: SOLD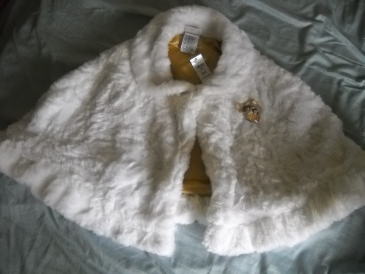 - Super soft cute capelet
- Worn once; too sweet for me x3 (It still has the tags on it!)
Price: $20


Trades:
- I generally like more muted colors and light pink, bright red (think Jane Marple/ETC/Meta/IW/Baby...) Very classic/sweet.
- My Shoe size is 7.5 in US sizing and I'm interested in SS heels.
- My measurements are: 36 - 27 - 41 (lol x3)
- I'm pretty much open to any article of clothing.


Thank you!