Rules
-I ship from Burlington, North Carolina
-First to leave Paypal address AND can pay today will get the item. The soonest I can ship is tomorrow!.
-I am not interested in trades thank you!
-I will do holds, but only with a non refundable deposit. If you choose to do holds I will let you know the soonest I can ship after you paid. I can not make emergency trips to the post office so if you need it by a certain date LET ME KNOW. And I will see if I can work it out for you.
-Shipping is NOT included in the price. Please let me know your zipcode so I can calculate shipping for you.
-All sales are final. I am not responsible for lost,stolen or damaged packages
-I have two dogs they do sleep in my room, all items will be lint rolled before shipped out to get all the pesky hair that happens to float around so people will allergies beware!




My feedback: http://community.livejournal.com/eglfeedback/567734.html
(Click on the link to my eBay feedback)

---


Baby,the stars shine bright parfait skirt in off white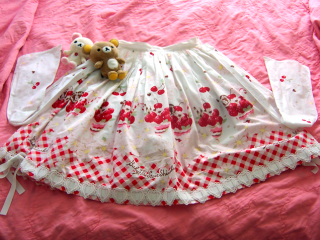 Measurements According to Hello Lace:55cm length, 62~64cm waist


I'm selling my beloved Btssb skirt to pay for Christmas gifts. I am the 2nd or 3rd owner of the skirt. It's in used condition. The red in the print has bled. I have washed the skirt with woolite in cold water and have removed most of the discoloring, but the discoloration that was already on the skirt when I received it haven't changed. They are VERY unnoticeable and are hard to catch on camera. The only reason I noticed was because I was at the doctors office in super bright lights looking at the print.

Asking Price:$130+ Shipping

Thanks for looking~!