-Shipping with USPS
-Can ship tomorrow
-Willing to ship worldwide (but priority goes to buyer within US unless international buyer wants to purchase tracked shipping)
-Insurance not included but may be purchased, please ask
-I have lots of positive feedback at eglfeedback (+55) and in my journal (+21)
-Priority to whoever can pay the full price or highest first
-I ask that the buyer pay the $3 PayPal fee (~= 4%)
-Asking questions doesn't guarantee your spot, location + Paypal address does (unless there is a higher offer)
-Please do not leave your Paypal and disappear!
-Extraneous comments will be deleted
-Questions? Please don't hesitate to ask! :)

SOLD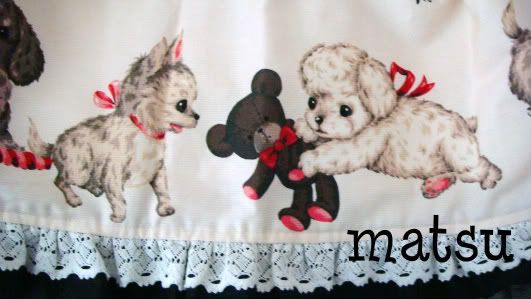 Like-new condition, I've only worn this once after buying it on the Innocent World website. This skirt is very cute and the quality is amazing. The fabric is nice and thick, and the print is adorable.
Size, medium.

more of the print
back bow

Asking Price: $95 $76

Shipping within the US (w/tracking): $8
Shipping worldwide: please inquire


Thank you!