Hi :))

So I really really need money, as I lost my friend's camera so I need to buy him a new one :/ Also, in my room there isn't any space anymore!! Please help me!!




Some important stuff...

- Only Paypal accepted. You aren't ought to pay the fee.

- Shipping is from Czech Republic, EU.

- Prices EXCLUDE shipping!

- No holds! Sorry, I need money as soon as possible.

- I ACCEPT OFFER FOR MULTIPLE PURCHASES!! really need money TT~TT *sobs*

- Amateur measures (or some are simply googled)
.


- Not responsible for lost or damaged packages. I will of course try my best to help you.

- No refund no return. Exception could be possible made after discussion.

- Quickest payer gets the item.

- Shipment will be made in the next working day after the payment if possible. If not, I will let you know.

- Ask for shipping quote. Choose EMS or priority. Ask for insurance. Tracking number is included. :) Ask for additional photo, proof, ask me whatever you want. :D

- Feedback can be found at

community.livejournal.com/eglfeedback/977072.html


A first time buyer, so I would really appreciate a feedback! Thank you!

----------------------------------------

----------------------------------------

-------------------------------------

1.

AP Sweet Jam Skirt- Yellow 125 USD

- brand new with tag, I've purchase it straight from the English site. Never worn.

- W- elastic- ~70cm L:~50 cm
proof
img689.imageshack.us/f/090220101616.jpg/
2. Baby Angel Relief Skirt- Navy 70 USD
-
My fav
. bought worn, but it's in a like new condition. Never worn too, too long for my liking. What a pity :/
W- ~max 67 cm/ L: 59cm
I could not find any stock photo :/ Please look at my proof photos.
img31.imageshack.us/i/angelrelief.jpg/
img405.imageshack.us/i/angelreliefback.jpg/

3. Bodyline AP Fruit Parlor replica-

Black/Pink

35 USD

- a very nice quality! Previous owner said that it was not worn by her and I didn't either. This length just isn't my thing. I'm so tiny TT~TT
- W:max ~72cm, L:~60cm
Stock is in PINK/WHITE BUT I AM SELLING THE BLACK/PINK VER.
:)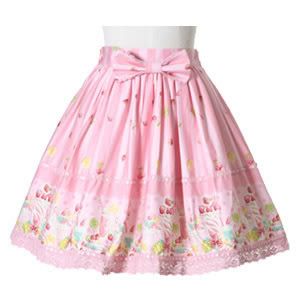 proof: img594.imageshack.us/i/fruitparlor.jpg/



4. Anna House white cape 25 USD

PENDING



- the most precious thing ever! I had it ''bespoken'' like this, because the white makes it all so princess-y!!

STOCK IS IN BLACK/WHITE, BUT MINE IS ALL WHITE




PROOF: img412.imageshack.us/img412/663/capem.jpg
img412.imageshack.us/img412/663/capem.jpg

5. Putumayo OP 50USD

- Bought straight from their website, worn once. Wanted to try punky-kodona :D


no stock again, please take a look at my proof

img412.imageshack.us/i/pututop.jpg/