Important! Please read:

- I accept paypal
- I accept payment plans
- All prices listed are negotiable; please make me an offer. I will accept the highest offer; whoever can pay and give their PayPal first will get the item.
- If you do not want tracking all responsibility is yours. If you do want insurance/delivery confirmation/tracking please make sure that you tell me.
- Items comes from non-smoking environment. I do have a cat and dog. However, items are stored away from them.
- Please do not waste my time; if you do not want the item anymore, please let me know.
- Once I invoice you, I will wait for 12 hours before going to the next interested buyer. Also, I will leave you a negative feedback if you leave me hanging without any sort of explanation after I invoice you.
- If there is ever a problem, please let me know so that we can work something out!! ^^
- I have every right to refuse a sale if I do not feel comfortable proceeding with you.
- I will ship internationally! Shipping for outside of Canada depends on the weight, speed, tracking, etc that you choose to get.

Feedback:
EGL: http://community.livejournal.com/eglfeedback/753227.html

DoA: http://www.denofangels.com/forums/showthread.php?258025-Feedback-for-Iules
ebay: http://myworld.ebay.com/iberlo22
etsy: http://www.etsy.com/people/iules/feedback




Angelic Pretty Miracle Candy Polka Dot JSK + Head Bow + SS Socks in Black - $250 USD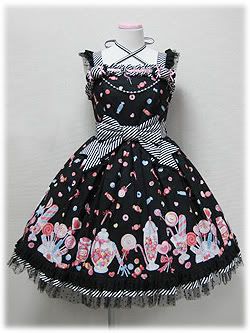 Recently bought, only tried on once by myself. No visible flaws except that it is missing the two neck ties. It came to me this way from its previous owner, who said that it got sent from Japan this way. The waist ties are detachable. There is also a built in petticoat and the dress is fully lined.
The socks have never been worn.


Proof: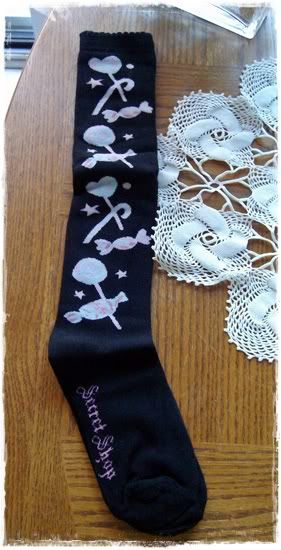 Information from hellolace:

MIRACLE CANDY POLKADOT TULLE JSK
MIRACLE★CANDYドットチュール ジャンパースカート

Brand: Angelic Pretty
Release Year: 2009
Price: ¥24,990
Available Colors: Saxon Blue, Red, Pink, Black
Measurements: 79cm + 9cm (frill) length, 87~97cm bust, 68~78cm waist
Materials: Original broadcloth print (100% cotton), striped broadcloth (100% cotton) and dot flocky tulle (100% nylon) fabric, cotton lace, satin ribbon
Additional Information: The cotton lace has a candy pattern. The neck ties, candy pearl brooch and the back ribbon are detachable. The dress has back shirring.

I am asking $250 USD + shipping for the set.