- Please note that I have a kitten. While I do keep him away from my closet and lint-roll all my items before shipping, please be wary that I may accidentally miss some if you have allergies.
- All prices are in AUD and do not include shipping. Please tell me your location and I will calculate shipping for you.
- Items will be shipped once money has transferred into my bank account, up to seven days. I will ship within a week regardless of if the money is in my bank or not.
- PayPal and bank deposit only (bank deposit only if you're within Australia)
- PayPal fees are included in the price.
- I can do local pickup if you live in Brisbane.
- All measurements are amateur.
- All items are cleaned before being sent out.
- Feel free to make offers if you think prices are too high. If there are multiple people interested in one item, it will go to the highest offer. If higher offers are made, sales will not operate on a first come, first serve basis.
- I can do holds but only if there is no one else interested in the item in question and if you put down a 20% non-refundable deposit. In short, no deposit = no hold!
- Invoices must be paid within one day unless something else is arranged. If you commit to buy something and ignore the invoice, I will leave neutral or negative feedback, depending on the situation.

I'm not looking to do trades at the moment unless it's for gothic brand items. I will not trade with anyone who has little to no feedback.

My feedback is located here: http://community.livejournal.com/eglfeedback/356838.html (+36)

AP Sweet Ribbon Strawberry OP + matching headress - $160 OBO - Sold!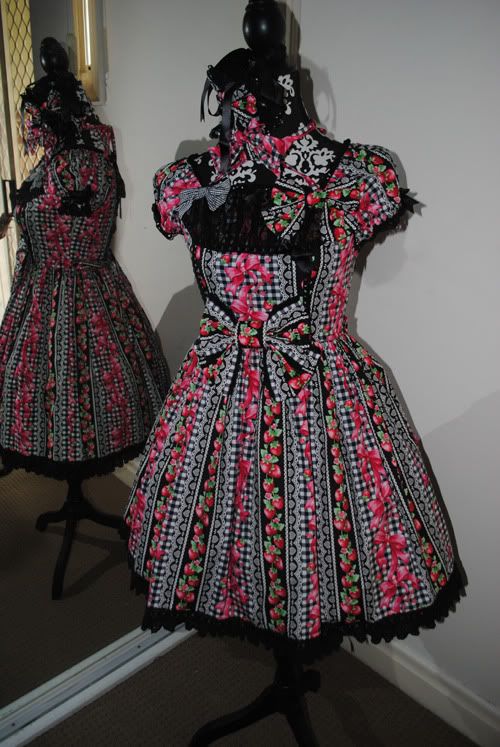 Bust 80-98cm, waist 66-80cm, length 76cm. New without tags. The waist ties are removable, but none of the bows are. Measurements may go a little higher, there is a panel of shirring at the back that has quite a bit of give.

AP white sailor OP - $88 Sold!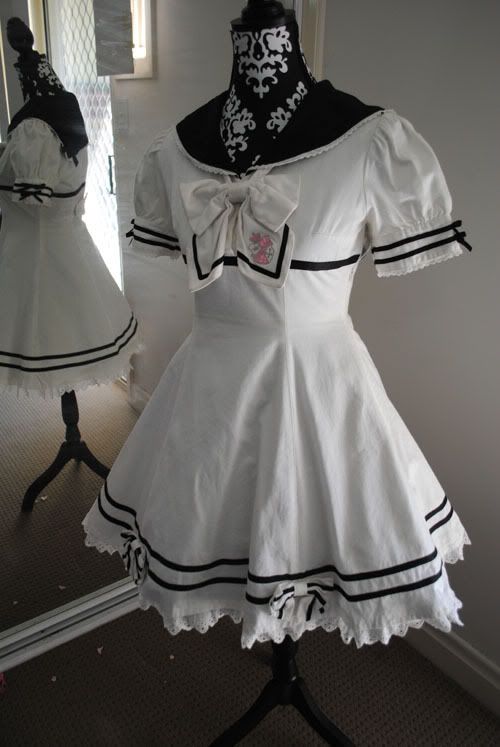 Bust 84cm, waist 68cm, length (from the middle of the neckline at the front to hem, not including shoulder straps) 75cm. Missing the detachable panel behind the collar (here's the black version for reference). There is a small tear beneath the zipper along the seam, although there is no damage to the fabric itself (photo here), it just needs to be stitched together again. I can do this for you or leave it if you prefer.

BtSSB green tartan JSK - $88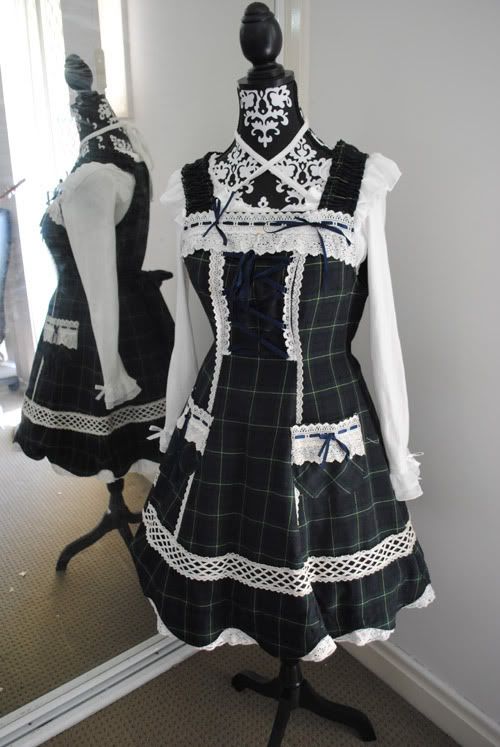 92cm bust (due to the shirred straps, the bust measurement is a little forgiving), 76cm waist and 79cm in length, worn a few times by both me and the previous owner, but still in good condition. There is some slight pilling, but I'll give it a once-over with a lint shaver after I buy a replacement for the one I lost tomorrow.

BtSSB red tartan JSK - $88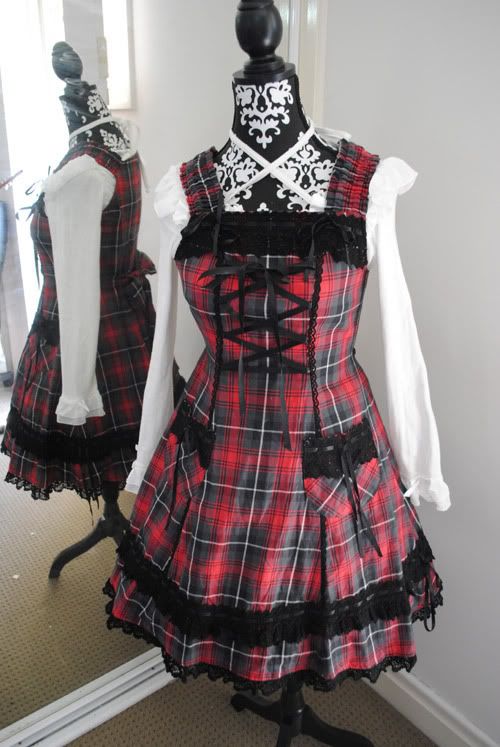 90cm in the bust (like with the JSK before, the bust measurement is a little forgiving with the shirred straps), 77cm in the waist and 78cm in length. Worn a few times, in good condition.

AP Candy Pop skirt - $80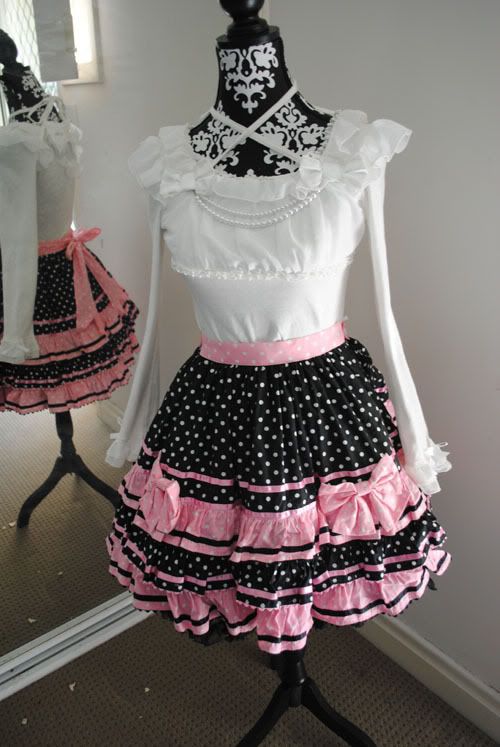 62-68cm waist, 47cm length. Bought off of y!Japan, never worn by me and in like-new condition.

AP Sailor items - Jacket - $60, Beret - $32 or both for $85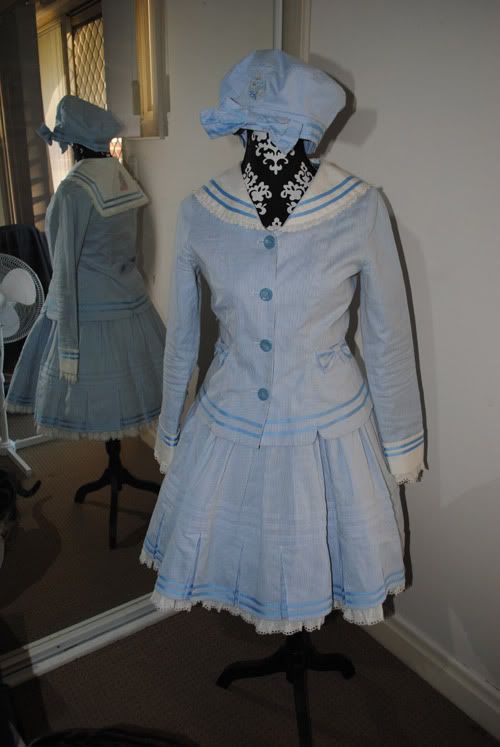 Jacket measurements: Bust 90cm, waist 82cm, sleeve length 57cm. There is a mark on the jacket just above the left pocket (picture). Please note that the JSK has sold and is not included in this set.

Meta Glitter Bag - $24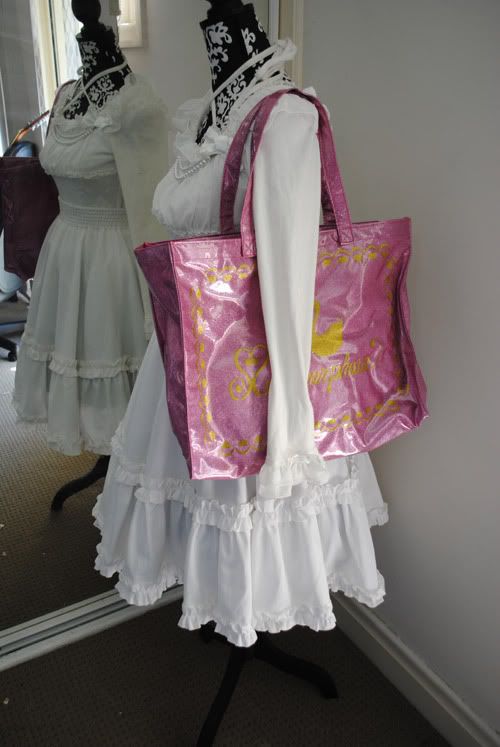 Used once to take a few packages to the post office, in like-new condition. Please note that if this has to be shipped, it will be folded, but the plastic can be reshaped.

If you have any questions, or would like any additional photos, feel free to ask and I'll do my best to help.