Rules and Conditions
-All prices are in USD
-Unless otherwise stated, prices do not include shipping.
-All shipping is USPS. Any 'shipping included' price does not include insurence. I ship worldwide.
-I do not charge buyers for Paypal fees
-Once an item is out of my hands I do not take responsibility for it
-All items are sold AS IS
-I reserve the right to refuse sale to anyone for whatever reason
-You are free to make an offer, and I am free to refuse it
-You are free to offer trades, and I am free to refuse them
-I prefer not to trade internationally but will ship worldwide

Feedback: +37


Please be prompt in your replies and I will be prompt in mine!

*
H. Naoto Deconstructed JSK

Long Jsk, slightly offwhite. Only tried on by me, but I did wash soak it in Oxyclean and it brightened up to a typical H. Naoto slightly-offwhite color. Has a couple small dark spots on the skirt (two that I found, the size of a pinhead, but I don't have my camera to photograph them.) White-on-white patterened guaze overskirt, plain white guaze underskirt. Some tulle ruffles at bottom for a deconstructed look. Invisible ziper in back (seriously hard to see).
Bust: 34"
Waist: 30"
Length: 52" (shoulder to hem)

Worn over AatP blouse:



Fabric upclose:





Price: $90 shipped domestic!



*

Dear Celine Misty Morning JSK with Detachable Capelet in Black x White

Heavy fully-lined piece made of sturdy poly-cotton blend with velveteen accents. Corsetting up the back, no elastic. Invisible side zipper. Fully lined (bottom ruffle attached to lining.) Capelet buttons on under collar. Very good condition. Heavy enough for winter. Worn once. I guess there was a bow on the front but it wasn't there when I got it so I have no idea.

Bust: 32-36"
Waist: 24-30"
Length: 38" (Shoulder to hem)

(Note: I am 34" bust 26" waist, 5'3" tall.)

Worn without petticoat: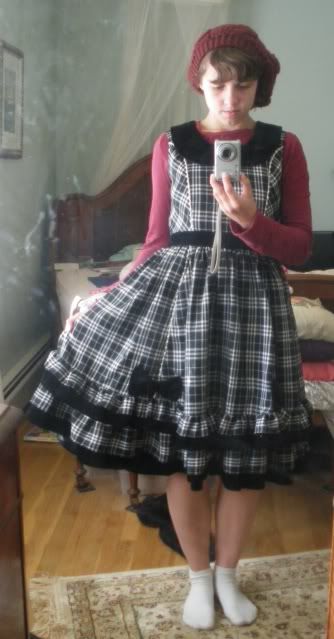 Back



With capelet:






Price: $85 shipped domestic!



*

Victorian Maiden Off-White Ruffle Skirt

Bought this skirt second-hand, never worn myself but seems to have been worn before. I have soaked it in oxyclean and it brightened up a bit. No shirring in the waist, but corseting in the back (front? idk), zipper on side. Tons of details, very beautiful. In great condition, no flaws that I found. Lined, built-in waist ties.

Waist: 24-27





Price: $100 shipped domestic!

*

Meta Girlynote Skirt

Hot pink and slightly off-white skirt perfect for casual and sweet-punk coordinates (I paired it with a Putumayo cutsew). Partial elastic waist, waist ties, invisible zipper. Lined, built-in petticoat. Worn once by me and washed, not worn by previous owner. Lace has tiny music notes on it (only visible upclose.)

Waist: 25-30"




Price: $60 shipped domestic!

*

Peace Now Sweater Cutsew with Detachable Collar

Bought this sweater off the sales comm, worn it myself once or twice. Has a button-on detachable collar, screenprint in good condition. Has eyelet lace around collar and diamond pattern woven into fabric. Fabric is thin but pretty warm.

Bust: no bigger than 36
Waist: no bigger than 29
It's a knit but it's really not that stretchy. Those are definitely maximum measurements.




-Upclose of print



Price: $30 shipped domestic!



*

Putumayo Sailor Blouse

White cotton sailor-style blouse with pink detailing. The pink is more of a peachy pink. No shirring, ribbon in front attached. Bought at a second hand shop, not worn by me., signs of some wear though (light).

Bust: 35"
Waist: 31"




Price: $30

*

Trades: I will look at most anything, but I love Angelic Pretty, Putumayo, and especially H. Naoto. Try me though, you never know! I am also searching for men's Moi Meme Moite clothing if you are willing to trade that! I will only trade with people with positive feedback.

*

Thanks for looking!