Feedback can be found here.
You have a choice of paying me in US Dollars or Australian Dollars, not much difference these days :)
Prices do not include shipping, but are inclusive of Paypal fees (I will make it cheaper if you want to pay my Australian bank account).
I am not responsible once items leave my hands. If you want registered/express post, please ask, as it is quite expensive.
I am not particularly interested in trades, I am only looking for some items, and don't have a wishlist up yet. Sorry!
I am, however, looking for suitable pastel OTKs/tights, and am wanting this (red) and this (black) for my friends.
Prices are negotiable.
I reserve the right to sell to who I like, and show fairness to tentative buyers who have questions.
Thumbnails are clickable. I have a new phone, and the pictures look okay on there, but not on my monitor. My computer is on its last legs, so I can't edit photos, either. Very sorry! ; ;
If you'd like to keep an eye on what I have for sale on Etsy and other places, please follow my facebook page! :D
Innocent World Scarf - $40
SOLD!

It's practically new. Only worn for a short time, but decided it wasn't my style, nor was it that cold. Brand new condition, but I can't find the tag, so I can't remember how much it costs.
Alannah Hill headbow - $35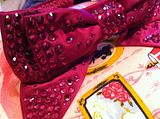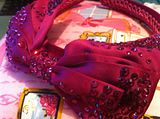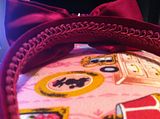 Lots of photos, because they all seem terrible! ;A; For reference, I have this rested on a Meta room print cushion and Peace Now Eevie tie (second pic). I bought this ages ago, because it reminded me of something from AP! Little did I know, I'd find out she rips off brand, haha! It's got a couple of Swarovskis missing, as shown in the third pic. Selling because I don't like how it looks on me ):


Handmade Earrings - $8 SOLD!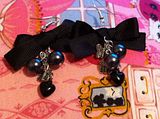 These have hearts, pearls, grosgrain ribbons and butterflies.


That is all I have for now, but there will be more soon! Thanks for looking ♥