After much himming and hawing, I have decided to sell this dress.
It was one of my first items, worn out a total of three times.
(It was tried on a handful of times, before being stuffed back into my closet so I can wear something else.)
I just don't ever wear it enough, and I hate the way it looks on me.
Hopefully, it can make someone else frilly and happy. :3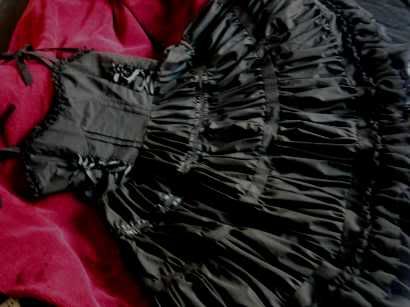 It is not lined (F+F made it this way), and the straps tie at the shoulders.

Link on my poupeeguuurl~ http://pupe.ameba.jp/item/qMcSK_QthiJd/lQrBwjnwtHt-/

F+F's link~ http://www.fanplusfriend.com/servlet/the-215/Dolly-Gothic-Lolita-cln--Double/Detail

Worn: http://i3.photobucket.com/albums/y70/Kumo_Hime/DRESS-1.jpg
*Apologies for the crappy phone photo. I attempted to lighten it to show the details.

Link to my feedback: http://community.livejournal.com/eglfeedback/691360.html
(I do not think I've done any business on EGL since getting my feedback page. :|
This is only my second time selling.)


This was custom made for me, with my measurements.
Bust: 42.5inch ; Waist: 36inchs.
Hips are -free- sized, as this skirt is **super full**.
(Seriously, I'd recommend a monster-petti for this sucker.)


I'd like 70$ U.S. dollars shipped for this.
****Payment Pending.****
(I may be willing to haggle, but I paid a good 100$/115$ for this. :P )


I will accept Paypal, or concealed cash or check, at your own risk.
Items will ship from Las Vegas, Nevada.
(I will box it up prettily, and safe, no extra charge.)


Some key points to take into consideration:


- I have a cat.
Try as I might, he has a habit of finding his way onto my clothes.
Please consider carefully before purchasing, if you have allergies.


- I do not drive.
The nearest post office is 5 miles from my house, and I work 35~40 hours a week.
However, I will do my absolute best to ship in a timely manner, and will keep you updated on any situations, should they arise.
*You pay me for goods+service, it is my duty to deliver! ♥*


- I have removed the -shiney awful ribbons- that F+F attached around the skirt, and -resewn- the side.
I am not an experienced seamstress, but I did my best with a sewing machine.
**If you would like a photo of what I've sewn, do not hesitate to ask. :) **
The bow on the bodice has also been removed.
The ribbons lacing upwards *below the bust* were replaced with other -less shiney awful ribbons-.



Thank you!