Rules and all that boring important stuff!
1. I only accept paypal
2. All items shipped from the United States
3. I will ship to overseas buyers but please inquire for shipping
4. Item priority goes to the first person who can pay full item price
5. All items fit 34-28 bust-waist measurements and size 24.5cm/L shoe
6. For min and max measurements items are measured flat then doubled
7. I can always take more pictures if you would like- don't hesitate to ask questions either!
8. All items shipped in the US come with delivery confirmation (tracking/insurance is extra for international buyers)
9. As per rules my feedback is here: Feedback Page
10. Trades: I am currently looking for pink brand socks, OTK or knee socks; Pink, Sax Blue, White, or Black brand boleros; Large Bunny bear bag in BlackxNavy; medium sized brand sax blue headbow/side headbow; Pink or sax blue hairbows; anything on my Wishlist




BTSSB JSK



Price: $108 $87+ $8 shipping
As someone who has never used the Baby Shopping cart system before apparently I messed up and ordered the pink version of the JSK that I wanted instead of the Navy version. I paid exactly $108 for this dress including shipping.

Super cute JSK Pink in size M: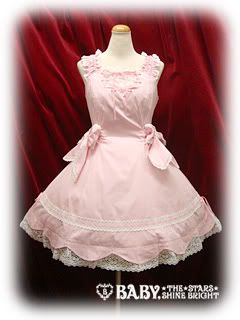 JSK will come in original box with the shopping bag and hanger Baby gave me as well!

Proof: Pic 1 Pic 2






Black Bunny-bear: Mini Size



Price: $55+ $8 shipping PENDING PAYMENT




Never been used the poor cute little guy is just sitting in my closet looking sad, I really want the super big version of this bear and so the mini one doesn't quite do it. This is the smallest size of bunny bear bag you can get without it being a cellphone charm!
Back: Here





Baby Light Blue double side headbow



Price: $30 + $5 shipping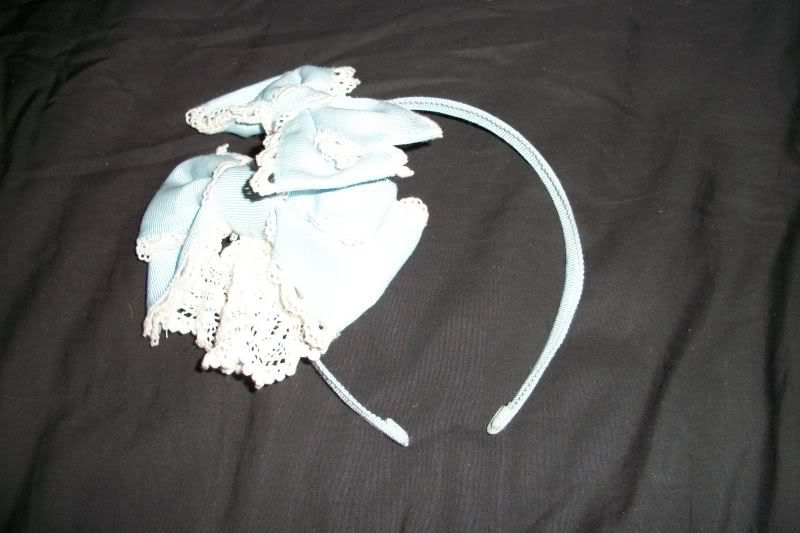 I bought this headbow for $35+shipping from someone on the comm sales but I just don't think it fits with my style. It did have a small flaw on the lace when I bought it I have tried to circle it in red and it's not viable when worn at all! (it's on the back side) Otherwise in very good condition!


Flaw: top underside
Without Flash: Here





Innocent World Navy Hairbows



$18 + $4 shipping

With flash



Without flash:

Super cute bows on tiny clips these are smaller than your average haibows they are only about 5 1/2 centimeters long! The true color is a darkish but not back navy color





Black x pink Putumayo Skirt



$35 + $5 shipping




Waist: 27 inches

This skirt is in used condition but still very cute! There is some black bleeding faintly on the pink ribbon at the bottom and when I revived it I had to re-sew in one side of the zipper. A few of the prints of the crosses and flowers are cracking a bit but it's not noticeable when worn.




Bodyline Skirt- h.Naoto replica



$20 $16+ $5 shipping




Sold out on the website! Super cute h.Naoto replica I've only worn this skirt twice I just don't have the clothes to co-ordinate it well.

Waist: 28 inches max
Length: 14 1/2 inches





Black An*Ten*Na Shoes



Price: $35 $28+ $12 shipping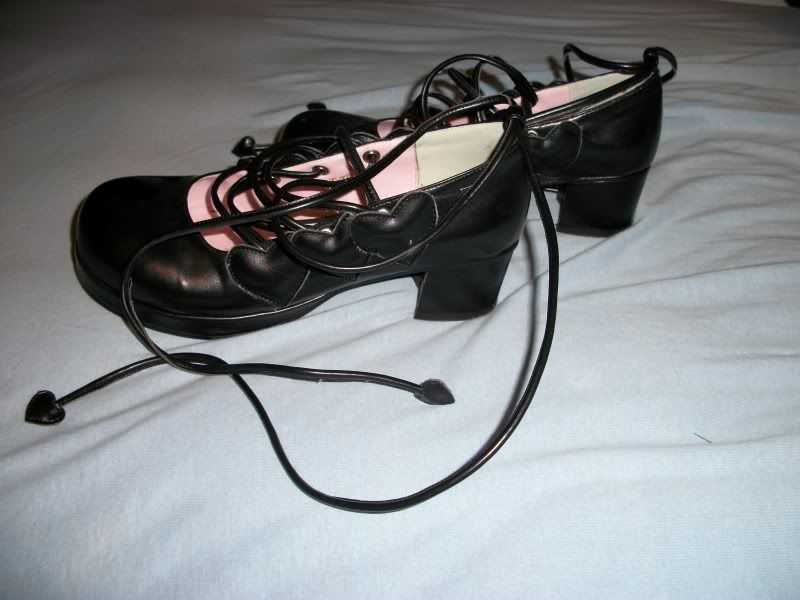 Size: Japanese size L
These are real An*Ten*Na shoes, not replicas! Super cute ballerina style lace up shoes with cute hearts on the sides! I really like these shoes but they don't really wear them, I've worn them maybe 3 times for a few hours each time. No visible flaws.




Thank you for looking!