-Prices are in USD
-Shipping within the U.S. is included in the Price
-I accept Paypal only
-I reserve the right to refuse buyers with negative or neutral feedback.
-No holds.
-Item goes to who can pay for the item first.
-When the payment has cleared and transferred into my account, I will ship the item the next morning.
- Prices include shipping in the United States. International buyers please inquire for shipping and I will calculate it for you. If you want Tracking, please let me know.
-I am not responsible for items once they go into the hands of the United States Postal Service.
-I do have a cat, but he is kept away from my walk-in closet. =)
-Comes from a Non-smoking home
-No returns! Please read the description of item carefully before purchasing.
-I am open to reasonable offers~!!
-Questions? Please ask!

My EGL feedback: +4 http://community.livejournal.com/eglfeedback/851886.html
My Ebay Feedback: +27 http://community.livejournal.com/eglfeedback/851886.html

Here will be my seller proof. =) Pokemon Plusle and my Owl stationary.



And onto the sales!

Item 1: Bodyline Black x White polka dot JSK


Bodyline's Picture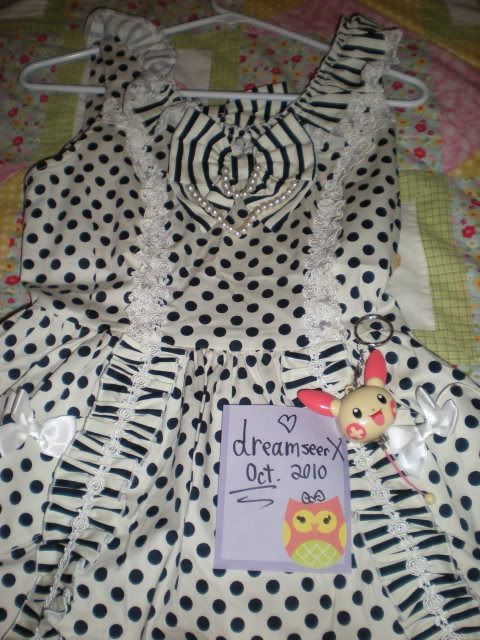 Front of JSK.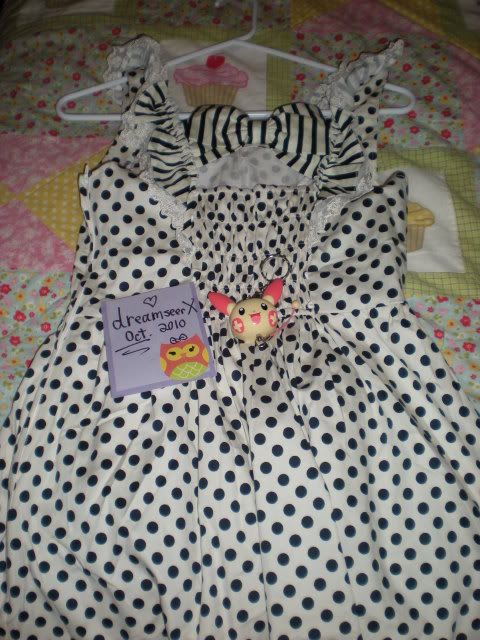 Back of JSK

This JSK is very cute and the back is adorable! Unfortunately it didn't fit me as well as I wanted it to. I just purchased it over a week ago, so it is brand new with the original wrapping. Bodyline's Measurements: Bust 36 inches, Waist around 30 inches

Price: $30 Shipped OBO


Item 2: Bodyline Cream OP SOLD


Bodyline's Picture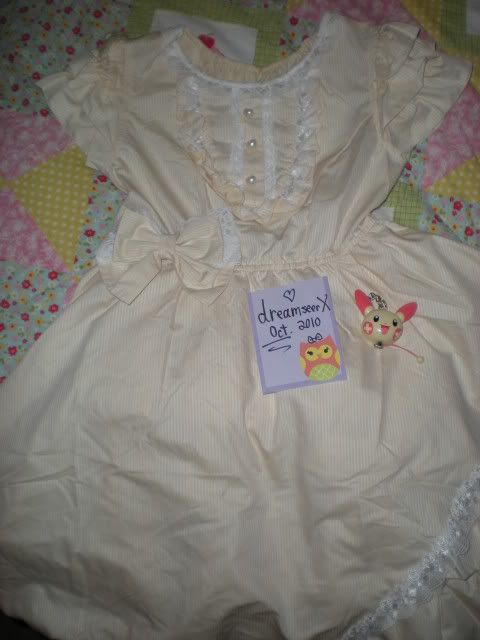 Front of OP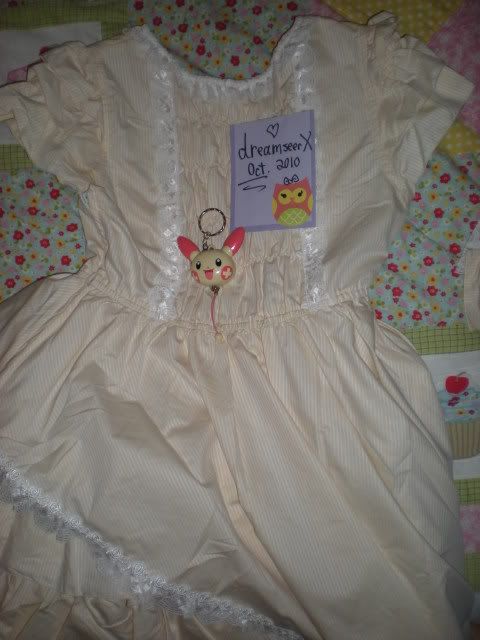 Back of OP

Also a very cute OP, but it doesn't fit me right in the bust. It is adorable and the color is a really dreamy cream. n__n Brand new with wrapping. Bodyline's Measurements: Bust 37 inches, Waist 31 inches

Price: SOLD


Item 3: Bodyline Princess styled OP (black x white with pink accents)



Bodyline's Stock Photo (the Op is no longer sold on the website)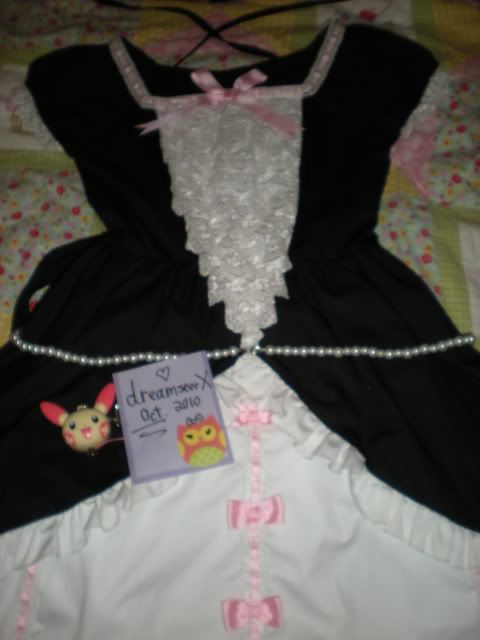 Front of Dress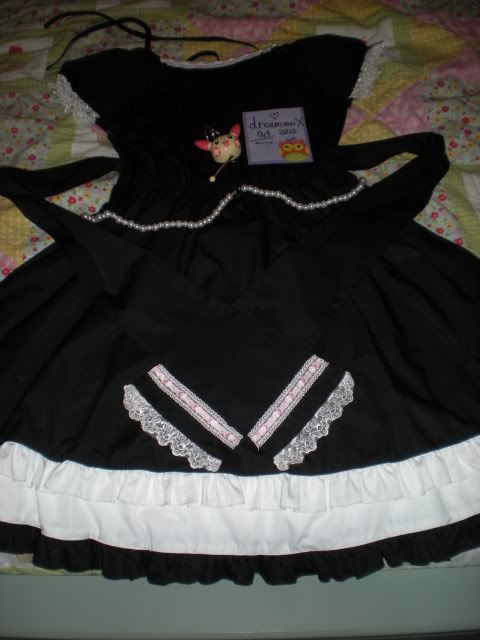 Back of Dress



Bodice Detail- the lace is very soft and nice



Bottom of dress detail

I purchased this OP just a few weeks ago from a seller on the community. It's a really pretty princess-styled OP and in my opinion, one of the better quality OPs of Bodyline. The pearls are removable on the waist. Selling the dress since I bought another in a similar style in a different color. Measurements: 36 inch Bust, 31 inch waist

Price: $40 Shipped OBO

Item 4: White Metamorphose Lucky Pack OP SOLD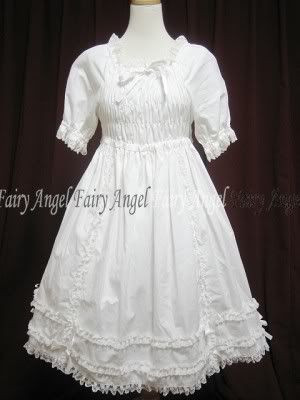 This is the only stock photo I have of the dress.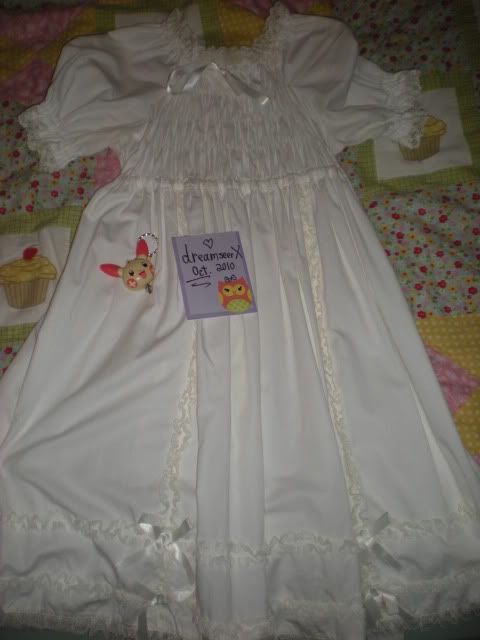 Front of OP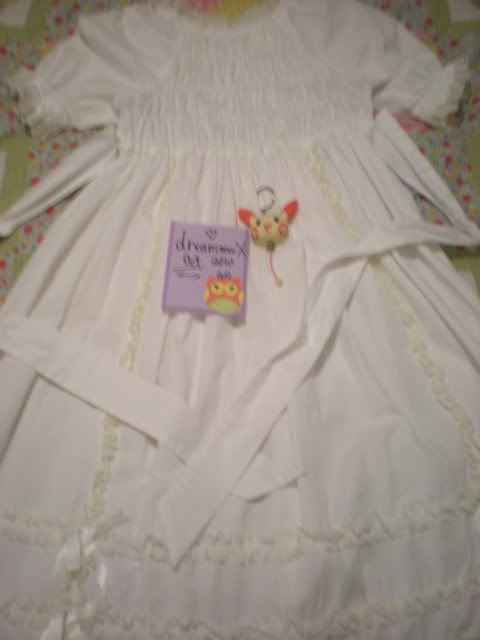 Back of OP

This is a very beautiful snow white OP that is great for a variety of bodytypes! It is an empire waist OP with removable waist ties and full shirring on the back and front. This was in Metamorphose's Winter Lucky Pack in 2007 (I believe) and I am the second owner. Only worn once to a dessert date with a friend. There are two small tan stains on each of the waist ties, but they should come out with a little Tide bleach and love.

Price: SOLD

Item 5: Alice Temperley Aatp Kodona Styled Shorts


Front of shorts



Back of Shorts



Button details at bottom of shorts

These are adorable and I'm sad to see them go! Only worn once for a meet up. Very Alice & the Pirates with adorable button details and pockets. These shorts are extremely comfortable and prince-like. They are a Women's size 5. I'd recommend no more than 35 in. at the hip.

Price: $20 Shipped OBO

Item 6: Alice Temperley Aristocrat Aatp styled Pants


Front of pants.



Back of Pants



Waist details.

Also very Alice & the Pirates. Great for Aristocrat and Kodona styles. These pants are very classy and have been worn once with an Aristocrat coordinate. They look a lot like the pants Aatp released for their winter Lucky Pack a year ago. Measurements: Women's size 5. 32 inches max at the upper hip below the navel

Price: $20 Shipped OBO

Item 7: Jovovich-Hawk Cream OP SOLD


Front of Dress



Back of Dress



Front Detail



Some of the little lace got pulled on the upper right side, but can be easily fixed.

This is a gorgeous summer dress that reminds me a lot of Emily Temple Cute. It is very comfortable and versatile in coordinates. Measurements: Women's size 7, 36 inch bust Max, 29 inch waist Max.

Price: SOLD

Item 8: Offbrand Black OP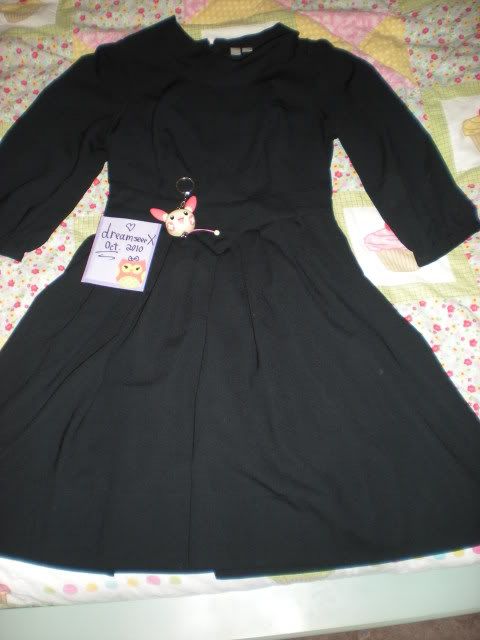 Front of OP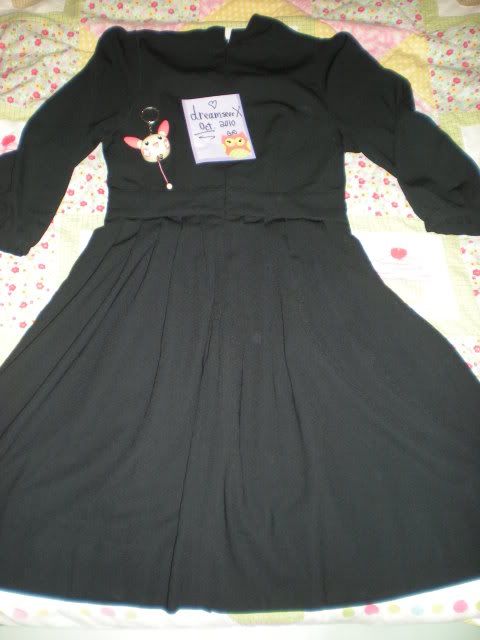 Back of OP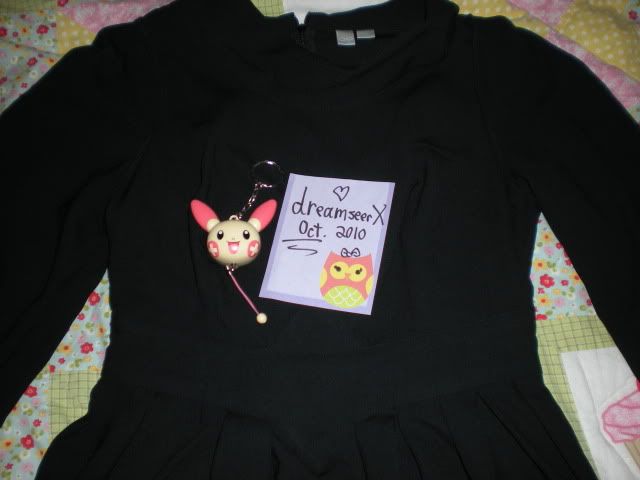 Front Detail

Very cute Gothic OP. It is simple but the pleating in the front and the styling is very cute for Autumn/Winter. It can support a small petticoat for extra fluff. =) Measurements: Women's Size 7, 36 inch Bust max, 29 inch waist max

Price: $15 Shipped OBO

Item 9: Offbrand Black Button-up Coat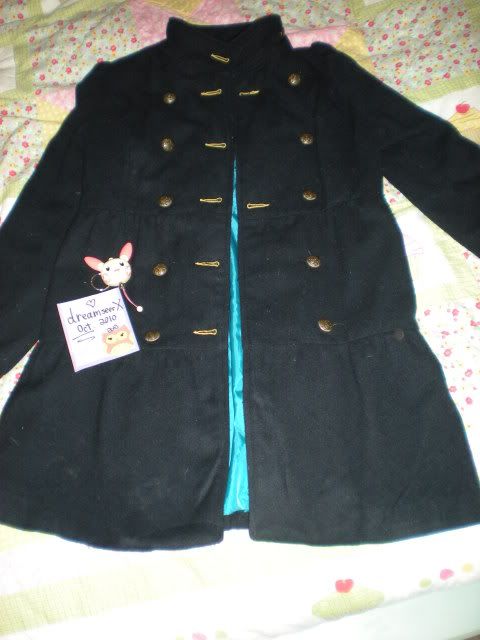 Front of coat



Back of Coat



Front detail

This is a very comfortable and warm coat! I wore it a year ago on my trip to Paris. The inside lining is a pretty blue and the outside is made of a thicker wool-like material, but is soft to the touch. This coat can support coordinates with a little fluff in the petticoats. It also has pockets! n__n Measurements: Women's size Small, Bust 34 inch, Waist 30 inches

Price: $30 Shipped OBO
The coat is heavy so it costs extra to ship~


Thank you very much for looking and please feel free to ask questions and make offers!