ITEM 1: Handmade Heart Cupcake Cell Phone Strap
ITEM 2: Handmade Pink Cupcake Cell Phone Strap
$8 shipped in the USA each/$13 shipped in the USA for two
SOLD


ITEM 3: Handmade Red Bow Girl Necklace - $10 shipped in the USA
ITEM 4: Offbrand Came Necklace - $5 shipped in the USA


ITEM 5: Sax Blue Rhinestone Crown Ring
$10 shipped in the USA
SOLD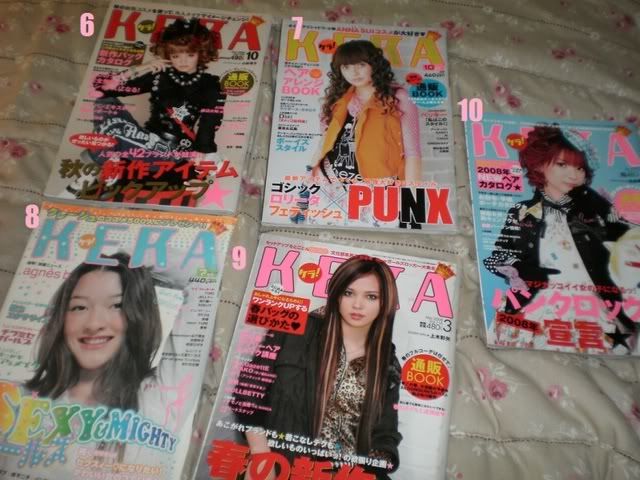 ITEM 6: KERA magazine Vol. 134, October 2009
ITEM 7: KERA magazine Vol. 79, October 2004
ITEM 8: KERA magazine Vol. 46, July 2002
ITEM 9: KERA magazine Vol. 116, March 2008
ITEM 10: KERA magazine Vol. 114, January 2008
$8 shipped in the USA each




ITEM 11: Handmade Double Scoop Icecream Earrings - $5 shipped in the USA
ITEM 12: Handmade Blue Lolipop Earrings - $6 shipped in the USA
ITEM 13: Offbrand Gold Cupcake Earrings - $4 shipped in the USA
ITEM 14: Handmade Single Scoop Icecream Earrings - $5 shipped in the USA




ITEM 15: Rakuen White Plus Sized Blouse
Bust: 34-40 inches
Waist: 32-36 inches
Back has a lot of shirring and holes for corset lacing, though I don't have a ribbon strung in it.
Additional Photos:
Detail
Back
Worn (untucked) (I'm 5'5; 39" bust, 32" waist)
$25 shipped in the USA SOLD




ITEM 16: Offbrand Creme Bolero
Bust: 38-45 inches
$15 shipped in the USA




ITEM 17: Handmade Sax Blue Skirt
Length: 21 inches
Waist: 24-40 inches
Purchased this item handmade from
sgtspud. Beautiful skirt, but it looks a bit weird on me, so I'm selling it. There are some stains near the bottom of the skirt on the back side, which I pictured (and priced for).
Additional photos:
Damage
Worn (blouse untucked; I'm 5'5 with a 32" waist)
$25 shipped in the USA


ITEM 18: Altered Bodyline Innocent World Puppies Skirt
Length: 19 inches
Waist: 23-55 inches
The waistband and lining have been removed and a pocket added.
Additional photos:
Print
Waistline
$35 shipped in the USA
SOLD


ITEM 19: Short White Bloomers
Waist to crotch (back): 12 inches
Waist to crotch (front): 8 inches
Waist/Hips: 28-36 inches
Thighs: 22-30 inches
$15 shipped in the USA




ITEM 20: Long White Bloomers
Waist to crotch (back): 11 inches
Waist to crotch (front): 7 inches
Waist/Hips: 29-40 inches
Length: 29 inches (waistline to bottom of leg)
Knee: 6-9.5 inches
$25 shipped in the USA




ITEM 21: Black, Pink, and Green Skull Knee Socks - $5 shipped in the USA
ITEM 22: Black, Pink, and Green Star Knee Socks - $5 shipped in the USA
ITEM 23: Pink Angelic School Bears Replica Over the Knee Socks - $10 shipped in the USA
ITEM 24: Bodyline Blue Bow Knee Socks - $8 shipped in the USA


ITEM 25: An-ten-nai Blue Tea Party Replicas size LL/25 CM
I bought these in a very used condition and I've never worn them. Since this sale is urgent, I'm pricing them for their damage in hopes to get rid of them quickly. I wear somewhere between a US 8.5 and a 9.0 and they fit perfectly when I tried them on.
$30 shipped in the USA
SOLD


ITEM 26: Gothic Lolita Bible Vol 11
ITEM 27: Gothic Lolita Bible Vol 16
ITEM 28: Gothic Lolita Bible Vol 35
ITEM 29: Gothic Lolita Bible Vol 22
ITEM 30: Gothic Lolita Bible Vol 23
ITEM 31: Gothic Lolita Bible Vol 26

$15 shipped in the USA each/$25 shipped in the USA for two


ITEM 32: Bodyline Moitie Replica Blouse
Bust: 35-37 inches
Waist: 25-35 inches
I only wore this blouse once and bought it new.
Additional Photos:
Worn
$25 shipped in the USA
SOLD


ITEM 33: Bodyline Pink Polka Dot JSK
Length: 36 inches
Bust: 33-37 inches
Waist: 27.5-31.5 inches
Bought this a long time ago and have worn it many times. The dress is in good condition, although it could use a decent ironing, but is missing the detachable bow. Priced for this.
Additional Photos:
Bodyline stock photo
Worn
$25 shipped in the USA




ITEM 34: Bodyline Simple Red Skirt and Matching Red Headbow Set
Length: 21 inches
Waist: 22-34 inches
This came from a bodyline set that I ended up only liking for the blouse. Comes with the headbow. Bodyline stock photo is most true-to-color.
Additional photos:
Bodyline stock photo - blouse not included.
$30 shipped in the USA

xx

* Feedback: http://community.livejournal.com/eglfeedback/644311.html
* I ship Tuesdays and Thursdays. I live on a college campus, and our post office is closed on Saturday and Sunday.
* I use USPS only.
* I use first class mail for items under 13 ounces, priority for items over 13 ounces, and media mail for publications. If you want a different shipping method, or want tracking, ask for it.
* I will ship internationally, inquire for rates.
* I combine shipping.
* I don't do holds.
* I do trades/partial trades! Show me what you have :)
* I don't smoke or live with any pets.
* Prices don't include paypal fees, which the buyer pays. To avoid them, you can send the payment to me as a gift if you'd prefer.