Rules

- Shipping is from Japan. Methods include EMS, Airmail and Economy Airmail (SAL). Prices EXCLUDE shipping!

- No holds! Non-refundable deposit is acceptable for larger or multiple purchases.

- Not responsible for lost or damaged packages.

- No refund no return

- Nervous buyers are advised to refrain, since used items might have signs of wear

- Quickest payer and highest offer gets the item

- All types of Paypal payments are accepted. For Sweden and European countries, bank transfer is also accepted. (European transfer fees must be paid by the buyer)

- To check what the items cost in your local currency, please log into you Paypal account. Choose the "send money" tab and write in the sum, choosing Japanese Yen. After clicking "process", the amount should be written below in the currency of your primary balance.

- All measurements are flat and amateur

- Payment must be made within 3 days unless otherwise has been discussed

- All prices exclude shipping. When making an offer, please exclude shipping

- Feedback can be found here and here.


Let's go on to the items!



Angelic Pretty Pretty Girl coat in pink SOLD!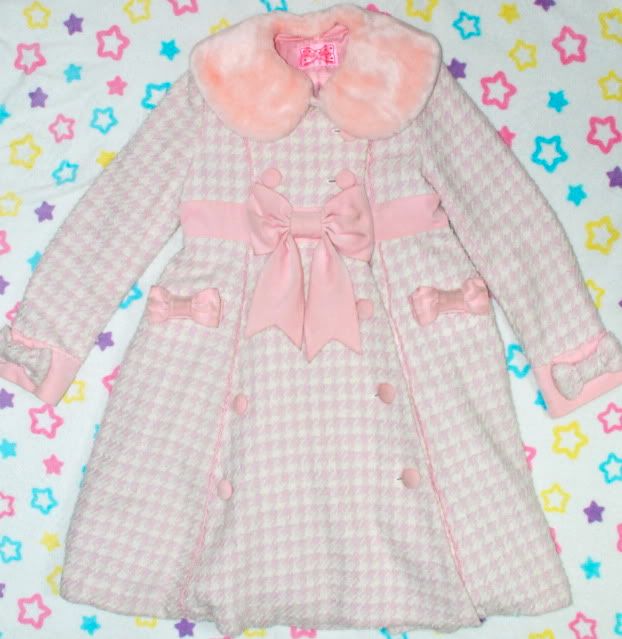 Worn:



Info: Was used last winter and has been dry cleaned! No signs of wear and tear or dirt spots. Incredibly pretty coat with lots of room for layers under. The fur collar is detachable.
It is now much cleaner than on the picture and looks like new!
Original price: 40,740yen

Links from blog:
Pink
In dressform

Measurements:
Length 93cm
Shoulder width 37cm
Waist 83cm
Bust 94cm
Sleeve length 60cm
Sleeve opening 29cm

Price: 30,000yen OBO

Angelic Pretty Dreamy Doll House headbow in lavender SOLD!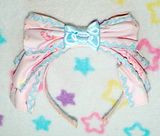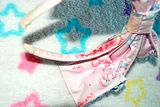 Info: Looks a bit dirty on the inside, but otherwise in great condition. Has actually been used very sparingly, 2-3 times. Too afraid to wash it, very sorry.

Price: Make an offer in Japanese Yen excluding shipping


Angelic Pretty pink headbow SOLD!





Info: Very versatile headbow, great for winter coordinates! In good condition.
Price: 2,500yen OBO


Angelic Pretty black/pink heart turtleneck knit SOLD!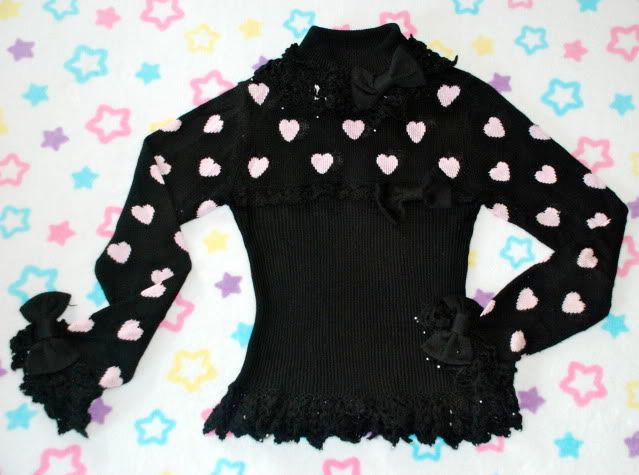 Info: Used twice. In great condition. Original price around 12,000yen.

Measurements:
Length 54cm
Shoulder width 32cm
Garment width 32cm flat (Bust approx. 90cm stretched)
Sleeve length 56cm
Sleeve opening 10cm
Measured flat. Very stretchy horizontally.

Price: 6,500yen OBO

Angelic Pretty Melty Chocolate ring SOLD!




Info: Allergic :/ The gold layering has come off a little. Otherwise in great condition.
Price: 700yen OBO


Baby the Stars Shine Bright pearl necklace white SOLD!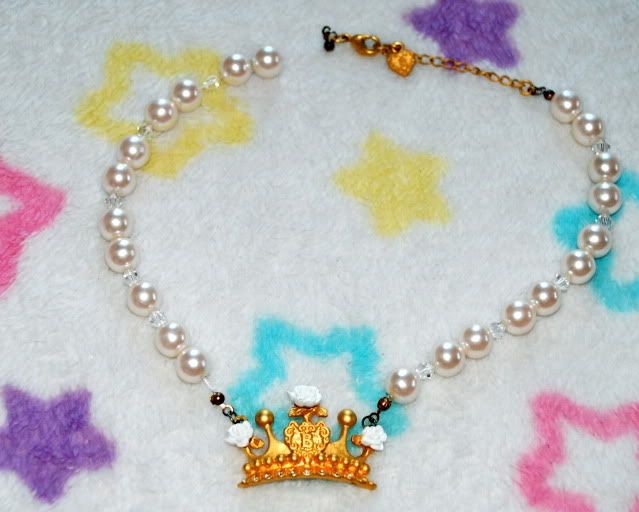 Info: Needs a crafty person! It was broken once and mended, but now it is broken again and I just don't have the heart for it anymore. Would be best if the threat was changed. Very pretty and princessy.

Price: 600yen OBO

Alice and the Pirates striped male set in navy SOLD!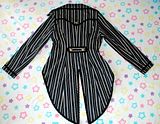 Info: Used once. Too awesome. Very stylish with lots of beautiful details. Great for dandy or even pirate style! Has been made smaller by a professional seamstress. This is male size!

Measurements:
Pants:
Length 99cm
Waist 80cm

Coat:
Shoulder width 40cm
Sleeve length 57cm
Sleeve opening 19cm
Length 106cm incl.tail

Price: 19,000yen OBO


Alice and the Pirates white male blouse SOLD!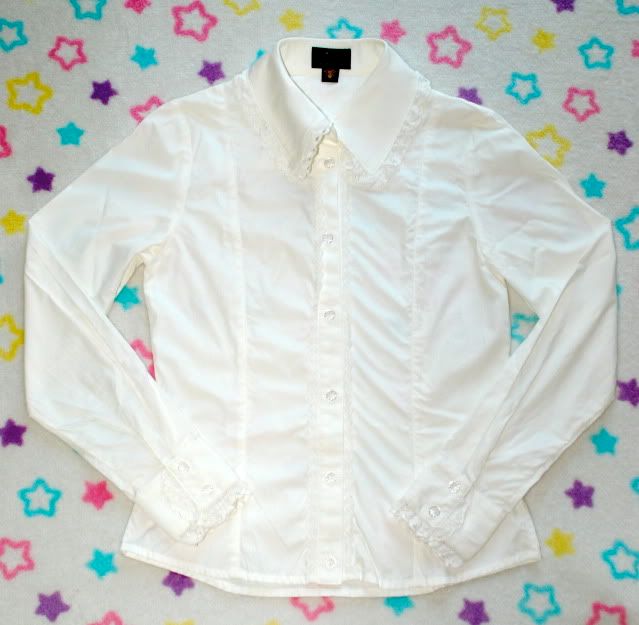 Info: Used once, washed and ironed. Male size!

Measurements:
Shoulder width 41cm
Length 67cm
Bust 96cm
Waist 80cm
Sleeve length 50cm
Sleeve opening 21cm

Price: 5,500yen


Gadget Grow white vest




Info: Unused without tag. The material is thin and flowy.
Sub-brand of Peace Now! Designer of Plastic Tree's clothes~

Measurements:
Length at the back (shortest) 93cm
Width 57cm flat
Sleeve opening 32cm
Freesize

Price: 4,000yen OBO


Stigmata white blouse SOLD!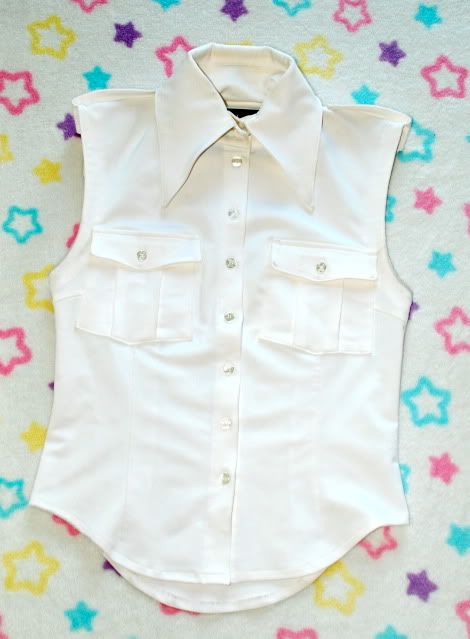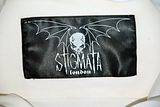 Info: Unisex. Used often and is slightly discolored inside the neck and sleeve openings. Bleached and washed.

Measurements:
Length 58cm
Neck 34cm
Bust 86cm
Sleeve opening 21cm
Waist 76cm

Price: Shipping only!



The rest of the items will be posted as soon as possible! The items are very random. It is possible to wait with shipping until the second post has been viewed :D

List of items for pt.2:

Dr.Martens 14 pink boots with lace
Angelic Pretty Dreamy Doll House OP in mint
Alice and the Pirates white baretta
Angelic Pretty Ribbon Decoration skirt sax/pink
Nile Perch Heart necklace
Baby the Stars Shine Bright parasol white
Angelic Pretty Sweet Jam yukata set + additional items
Male yukata set
h.Naoto Sixh white cutsew
h.Naoto Sixh black cutsew
Alice and the Pirated black pants male
Gadget Grow cap
Angelic Pretty Tea Party shoes pink LL

Thanks for looking!