Feedback
Items go to highest offer.
US Preferred.
Paypal Only.
Paypal Fees and Priority USPS Shipping and tracking are included for US.
Prices are in USD.
All prices are OBO, make an offer.
I have pets.
I ship on Friday/Saturday.
I am open to trades, but dark colors please. I'm trying to move away from sweet.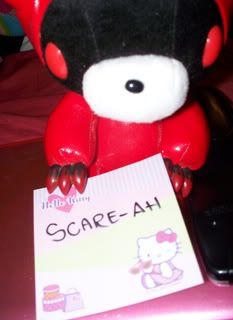 SOLD

Mini Mini Usakumya
Perfect condition.
His bow looks funky in the proof pic but it's only the angle of the photo.
Pics: Proof
$60

Wonder cookie Replica
Pics: Front|Back|Proof
New with tags.
Length 34.2" /(87 cm)
Shoulders 16.5"(42cm)
Chest 28"~37"
Waist 24"~32"
Shirring + Lined
$79 $55, or make an offer.




Tartan Check Mini Sleeve JSK dark pink
Pics:proof
Bust ~47"
Amateur measurements.
Great for plus size.
Bought new, worn twice.
Shirred, lined.
Color is closer to my proof pic.
$140 OBO


WTB: Red Hooded bolero/capelet
Like this
In solid wine, or deep red. Doesn't have to have sleeves, just a hood.
Prefer off-brand because I'm on a budget.


Any questions, feel free to ask.