You can find my EGL sales feedback here: http://community.livejournal.com/eglfeedback/261080.html

*Prices do not include shipping: please inquire with your location and I will give you a shipping quote.

*I DO ship internationally.

*I'm happy to provide more pictures if you ask.

*Feel free to make offers.


Innocent World One Piece Dress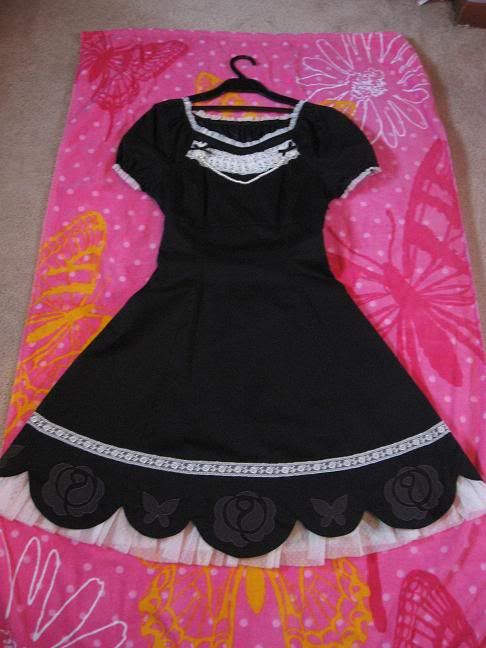 Close up of lace and pearl detail: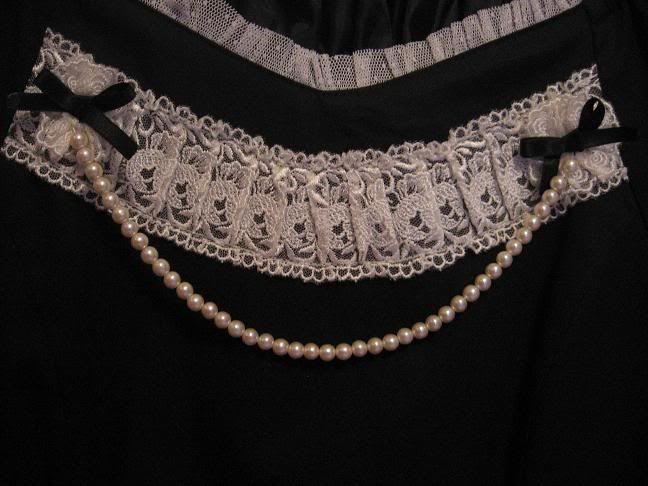 Condition: Worn once, like new
Size: IW M-size... I have a 34" bust and the bust was loose on me, but the waist fit perfectly at 27", so take that into account.
Description: Black a-line dress with dot-tulle trim and flower and butterfly appliques on the scalloped bottom. Detachable waist ties in the back, a small panel of shirring in the back and around the neckline, and detachable pearl and lace detail.

Price: $100 OBO

SOLD Innocent World Flower Knee-High Socks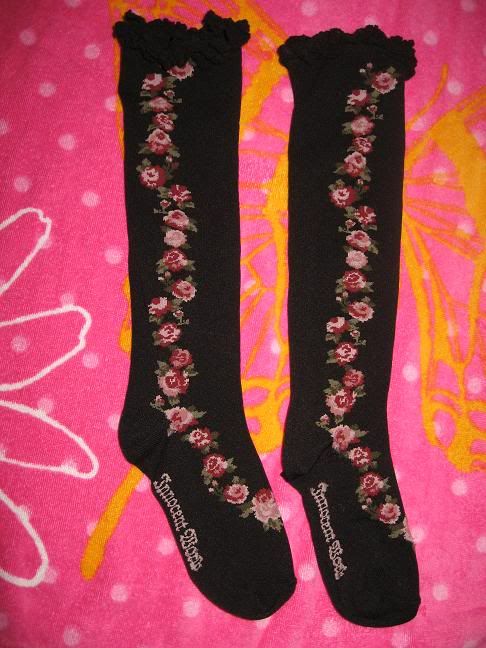 Condition: Never worn
Size: Probably no more than 15" calf? They're not extremely stretchy
Description: Black socks with flower design knitted in and black crochet lace at the tops

Price: $10
SOLD
Fanplusfriend Black Ruffled Corset Skirt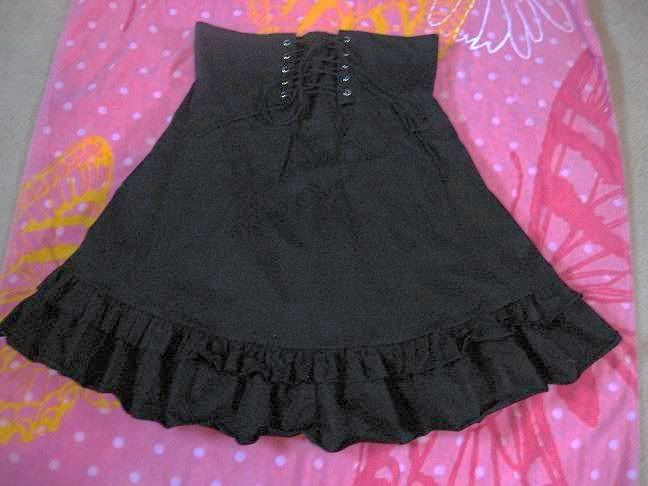 Condition: Worn a few times and washed, very good condition
Size: ~28" waist, can fit smaller due to lacing but will look a bit loose, 22" long
Description: Black thick cotton/cotton blend material, two layers of ruffles at bottom, corset ties with black cord lacing

Price: $22
SOLD
Red Plaid In the Starlight (?) Skirt
(Bought off the community years ago and not exactly sure, but it appears to be an In the Starlight skirt)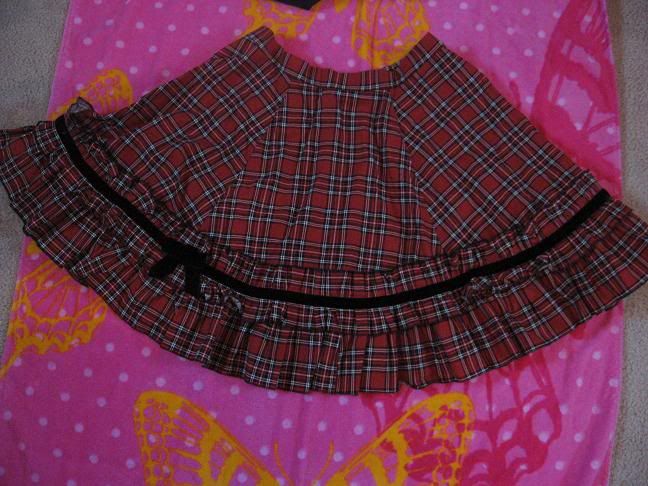 With flash: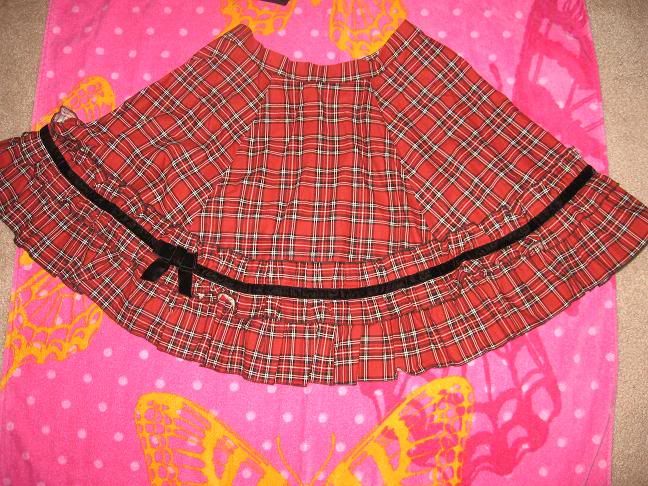 Condition: Worn a few times, good condition (ruffles are a bit wrinkled; no stains or damage)
Size: ~28" waist (mine is 26-27" and the skirt was a bit loose), 19" long
Description: Light cotton material, very full skirt with two layers of ruffles at bottom and black velvet trim and bow

Price: $25
SOLD
Bodyline Black JSK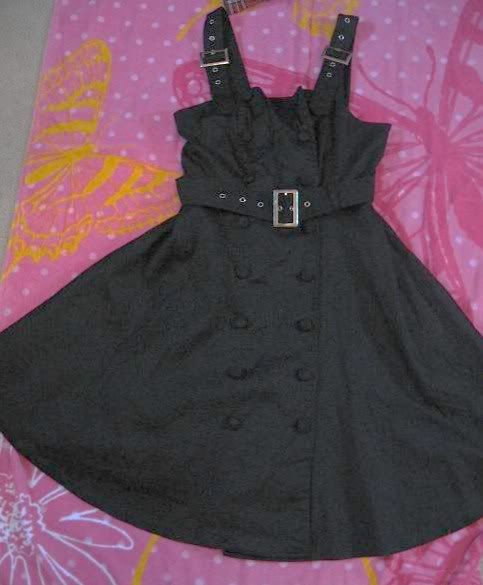 Condition: Worn once, like new condition
Size: Up to 36" bust, 30" waist, can fit much smaller due to waist belt and corset ties in back
32" long from top of bodice to hem, straps can be adjusted to fit a range of sizes
Description: Heavy black fabric (fabric has some stretch to it), attached waist belt and shoulder straps with metal buckles, shirring and corset ties in back, working buttons in rows down the front, very full skirt.

Price: $20
SOLD
Bodyline White Blouse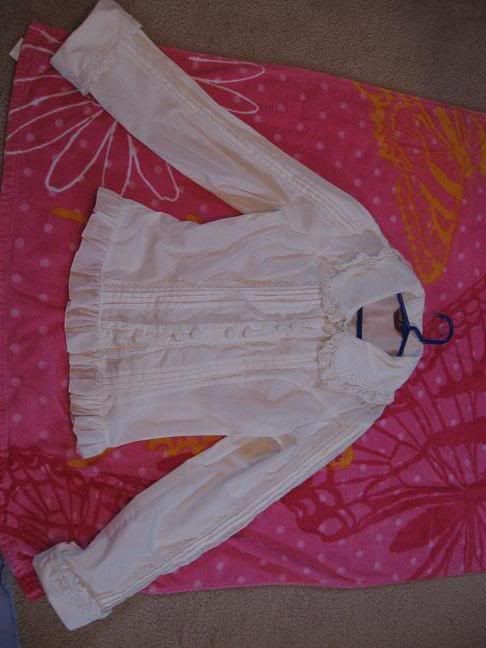 (Don't know why Photobucket tilted the picture, I'm sorry)

Close up of sleeve detail: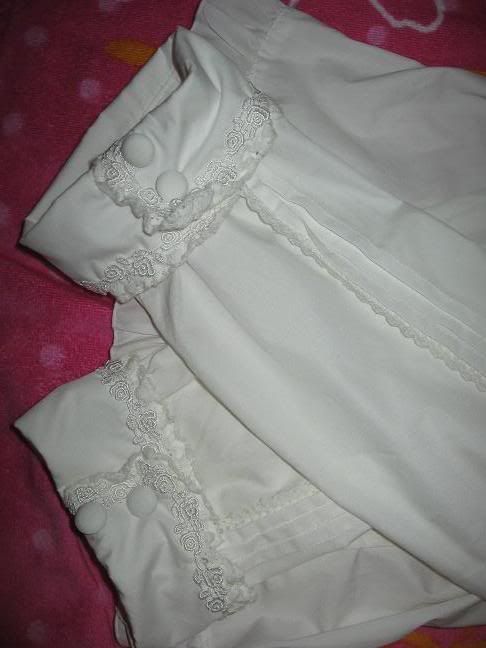 Condition: Worn a few times, very good condition
Size: 32-34" bust, 25-28" waist (laces up the back so is somewhat adjustable)
Description: Light fabric, peter pan collar, very soft flower lace and pintucks all over, laces up with ribbon in back, buttons on sleeve cuffs. LOTS of detail on this blouse.

Price: $15
SOLD
Bodyline Round Black Headdress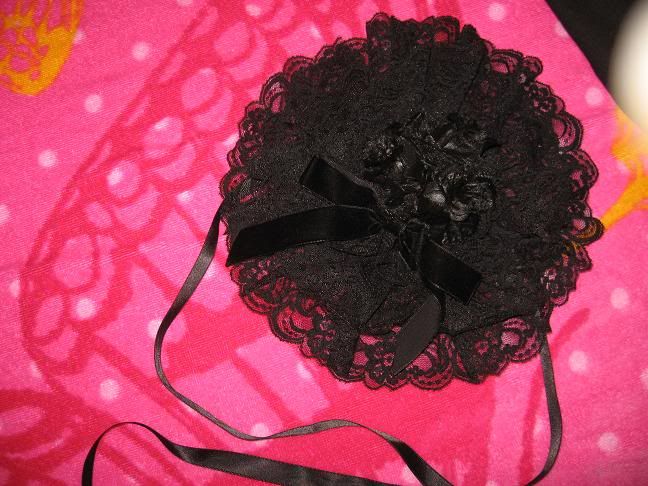 Worn: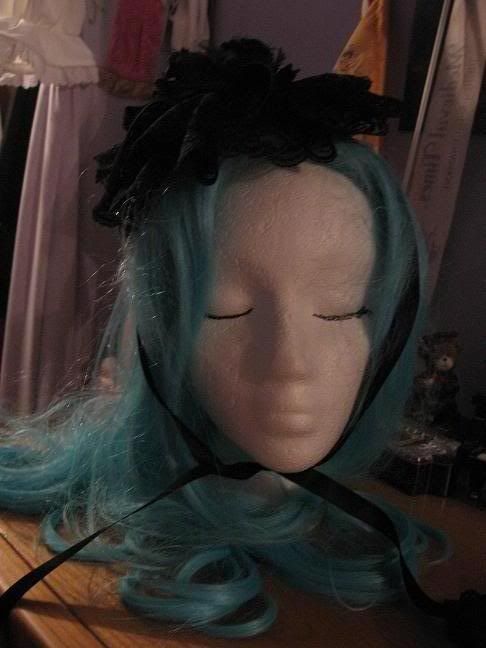 Condition: Worn once, like new condition
Description: Two layers of soft synthetic lace surround a group of tiny black flowers, ribbon ties. This headdress is pretty HUGE, which is why I'm selling it. XD If you happen to have a, er, larger head or wear huge hairstyles, this would be great.

Price: $5


Thanks for looking, and don't hesitate to ask if you have any questions!