ITEM 1: Angelic Pretty Miracle Candy Replica Skirt
Length: 19.5 inches
Waist: 26-32 inches
Comes with detachable waist ties, a haircomb, and a detachable bow
Additional photos:
Stock photo
Print
$60 shipped in the USA - SOLD




ITEM 2: Offbrand Chiffon Pink and White Skirt
Length: 21.5 inches
Waist: 25-39 inches
Additional photos:
Print
$20 shipped in the USA - PENDING




ITEM 3: RARE OLDER PRINT Metamorphose Old Bouquet Skirt in Blue
Length: 19 inches
Waist: 22-34 inches
Comes with detachable waist ties, has a small built-in petticoat.
Additional photos:
Damage - previous owner stained the lace. Very difficult to see when worn. Priced for the damage.
Print
$65 shipped in the USA




ITEM 4: Bodyline Simple Red Skirt and Matching Red Headbow Set
Length: 21 inches
Waist: 22-34 inches
This came from a bodyline set that I ended up only liking for the blouse. Comes with the headbow. Bodyline stock photo is most true-to-color.
Additional photos:
Bodyline stock photo - blouse not included.
$35 shipped in the USA




ITEM 5: Handmade Piano Keys Skirt

Waist: 25-39 inches
Handmade skirt that's in a very so-so condition. The lace/buttons were sewn on very well, but the fabric has begun to discolor. I tried to take photos of the damage. Originally paid quite a lot for this, pricing it for the discoloration.
Additional photos:
Detail
Detail
Damages
$20 shipped in the USA - SOLD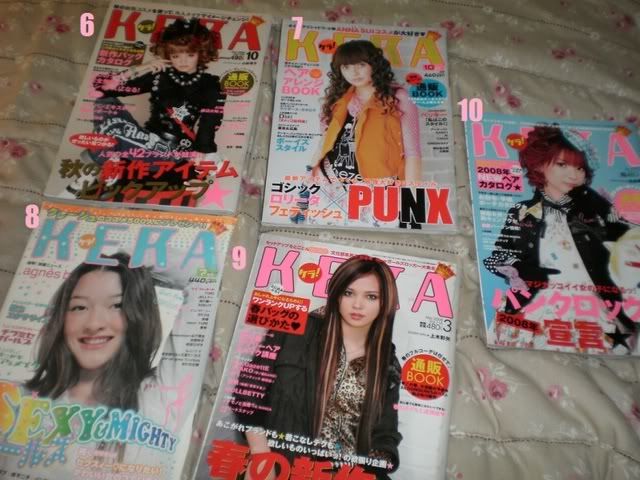 ITEM 6: KERA magazine Vol. 134, October 2009
ITEM 7: KERA magazine Vol. 79, October 2004
ITEM 8: KERA magazine Vol. 46, July 2002
ITEM 9: KERA magazine Vol. 116, March 2008
ITEM 10: KERA magazine Vol. 114, January 2008

$10 shipped in the US each




ITEM 11: Handmade Red Hairbow
Secures with an alligator clip. This is my final price reduction.
$4 shipped in the USA




ITEM 12: Antique Pink Long Wristcuffs
They go up to the elbow on most arms. This is my final price reduction.
$4.50 shipped in the USA




ITEM 13: Gingham Sweets Bodyline Headbow
Missing the original headband that came with it. It can be worn with either another headband slid into it or a ribbon, such as with hairbows. This is my final price reduction.
$4.50 shipped in the USA - SOLD




ITEM 14: Sax Blue Bodyline Headbow
New with tags, does include the headband (not pictured). This is my final price reduction.
$7 shipped in the USA - SOLD

xx

* Feedback: http://community.livejournal.com/eglfeedback/644311.html
* I ship Tuesdays and Thursdays. I live on a college campus, and our post office is closed on Saturday and Sunday.
* I use USPS only.
* I use first class mail for items under 13 ounces, priority for items over 13 ounces, and media mail for publications. If you want a different shipping method, or want tracking, ask for it.
* I will ship internationally, inquire for rates.
* I combine shipping.
* I don't do holds.
* I do trades/partial trades! Show me what you have :)
* I don't smoke or live with any pets.
* Prices don't include paypal fees, which the buyer pays. To avoid them, you can send the payment to me as a gift if you'd prefer.