RULES:
1. Paypal ONLY (Paypal fees are included)
2. Shipping is $10 with in the USA
3. any holds will only be for 1 days max.
4. if payment isn't received with in 1 day I will sell it to the next person in line.
5. Trades: I'm not currently Interested in trades
6. I do ship International, please double the shipping cost.
7. You have 6 hours to act on your Interest in an Item. After 6hr. it will go to next in line.
8. Priority goes to who ever can pay first.
9. I reserve the right to add or amend any of these rules at any time.


My Feedback: http://community.livejournal.com/eglfeedback/857038.html http://manmadememories.livejournal.com/11258.html


I'm selling an Angelic Pretty Sugary Carnival Skirt in Black.
I bought this new from Mbok and never wore it. It has both wist ties and the pin on bow. The "angelic pretty" is perfectly centered on the waist band.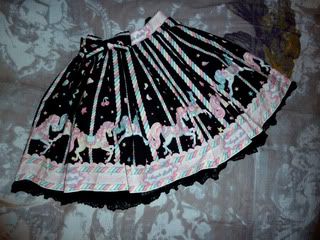 Back: http://img.photobucket.com/albums/v227/muninn/SC2.jpg
Waist: http://img.photobucket.com/albums/v227/muninn/SC3.jpg
Quality: ****/**** (NWOT)
Price: $400
size: Waist: 25"- 28" (maybe 29")
Status: Available

Insurance must be added it's $6.50 (for domestic)