+ No holds; no trades. Priority goes to whoever can pay first.
+ Paypal only. CC or non-CC fine; no eChecks, please.
+ I have dogs. Allergies beware.
+ I am not responsible for any damages or losses if you do not purchase insurance.
+ All prices include shipping within the US. International, please ask for quote.
+ Additional photos available upon request. Some measurements taken flat and doubled.
+ Feedback: http://community.livejournal.com/eglfeedback/404690.html

Please feel free to make offers! If there is multiple interest, item will go to the highest offer auction-style.

Also, please don't tell me to send you an invoice as a way to "hold" your items. If your item isn't paid for within a timely manner at my discretion, your invoice will be canceled and given to the next interested party. Thanks!




La Vie En Rose vol. 1 & 2
+ the first lolita mag for the western world! circa 2007. (more info here and here)
+ this was a short-lived fan-produced mag by christina banta + a team of her choosing.
+ mags are in english and contain content similar to online lolita magazines found today.
+ wear found on vol 2 inevitable due to the nature of the stapled binding. mag itself not hindered.
+ magazines will be mailed in a bubble mailer via media mail.
$13 ea.
$25 for both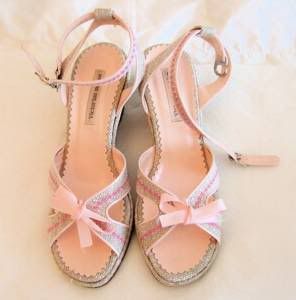 Pink Victorian Maiden Sandals
size M; 23-23.5cm; EU 37-37.5. heel height is 3in (8cm).
worn a few times, still in excellent condition.
additional images: 1; 2; 3; 4; 5; 6; 7
none are noticeable when worn.
$60




AP Rose Princess JSK
measurements:
max bust: 86cm
max waist: 74cm
length: 89cm
photo of the back. there are no waist ties or shirring.
unfortunately, when this was taken to the dry cleaners, they didn't use the proper chemicals and the colouring's actually washed out.
ironically, it looks more true to stock photo haha.
the construction of the jsk itself has not been impeded in any way.
coordinate 1; coordinate 2.
$230 $184


http://i837.photobucket.com/albums/zz298/dearmrcollins/DSCF6169.png
Swimmer Carousel Bag
never used. about 8 1/2 x 6 x 2 inches
snap button closure.
SOLD

http://img.photobucket.com/albums/v509/Zwllyn/sales%20stuff/IMG_2440.png
Kera and Gothic & Lolita Bibles
all in like new condition.
GLB 23: carnival ad; GLB calendar (on cardstock or something? xD)
GLB 24: ichigo millefeuille ad; trevor brown stickers
GLB 27: unknown princess line ad; AP stickers
GLB 29: strawberry ribbon ad; AP stickers
GLB 30: royal poodle ad; innocent world stickers
boudoir: macaron ad; classic alice in wonderland stickers
(all have patterns/stickers/etc attached)
shipped media mail within the US.
i would prefer not to ship them overseas as these are heinously heavy and not really worth the shipping rate.
ALL SOLD

http://i837.photobucket.com/albums/zz298/dearmrcollins/tTIhXxRsFSsQ.jpg
White Engineer Boots
purchased from CUBE shop on rakuten. worn a few times. cleaned. there is a mark,
but it's very faint and a bit difficult to photograph.
size M (23 - 23.5 cm). would best fit a US6.5 to 7 (EU37).
SOLD


Thank you for looking!