♥ Payment: Paypal ONLY
♥
PRIORITY GOES TO:
First one to leave paypal addy!
AND
Feedback link from EGL.
♥No haggle
♥ Trades are open : I'm seeking mostly Baby the Stars Shine Bright Items or MMM
♥ I shipp from China useing China Express.
I supply tracking: Use tracking service here:
http://www.track-chinapost.com/ ( works ONLY when package is in china)
THEN
USPS Tracking( for usa) or your countires own mail tracker service.( this is for when package has left china)
♥
Takes 7-20 working bussness days to recieve.* not including weekends, or holiday.*
♥Not responsible for lost or stolen packages.
♥ I live in a smoke free home!
But have Two cats! But I keep them away from clothes.
♥
SHIPPING INCLUDED on all items WORLDWIDE!
♥Paypal ONLY
NO PAYPAL FEES.
I shipp within 48 hrs of recieved paypal payment.
I EMAIL you tracking!
♥ Phone Number is REQUIRED for all purchases.
♥ I include a small free gift with every purchase! =^.^=
♥Feedback
here
View my other sells( Btssb jsk: btssb replicas: bags: totes: westmend blouse and bag: harajuku lovers:)
here
More sells
Here


WestMend Kodona Velvit Shorts+Borleo:
VERY lovely!
Soft veltiv outside, silk/ satin inside.
Brand new with tags:
Crown button details! super cute!
WILL NOT SPLIT THE SET UP:
Top:
Bust: 32-34 max
$120 shipped for top and shorts:



Shorts:
Size: small:
Waist:23-24
Hips: 30-32



White West Maiden Blouse:
White short sleve blouse: with tags:
brand new never worn
ruffle ( super soft) coller: removable ribbon
Great lace and stiching detail
Size: small
Bust: 34-36
Waist:24-26
$55 shipped


White West Maiden Blouse:
White Long sleve blouse: with tags:
brand new never worn
ruffle ( super soft) coller: removable ribbon
Size: small
Bust: 34-36
Waist:24-26
$55 shipped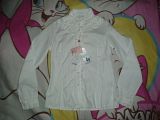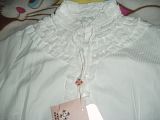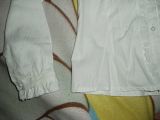 GLP:Chocker chain bracelt
brand new never used:
no flaws:
one size fits most: has 2 snap for size adjustment:
$15 shipped



criss cross socks:
brand new never worn
over knee
$10 shipped each

1
2


square socks
over knee:
brand new never worn:
$13 shipped



Black detail socks
brand new never worn:
$13 shipped



Black corset socks:
brand new never worn
corset sides lace up: beautiful details:
$13 shipped



Black frill:
frill lace tops with a ribbon:
brand new never worn
$13 shipped



Lace wrap socks:
Over knee:
brand new never worn:
( 2 in stock)
$15 shipped