PLEASE READ: Basic information
1) Shipping and Paypal fees are not included. I expect the buyers to pay for the Paypal fees. I do accept money order and concealed cash although concealed cash is only from American buyers.
2) Shipping within the US is about $15~$25 and shipping internationally is between $25~$50 for dresses. For smaller items, shipping should range from $2~$10. FOR INTERNATIONAL ORDERS, I WILL ONLY SEND YOUR PACKAGES USING EMS WITH THE PACKAGE FULLY INSURED. For domestic buyers, I will charge for insurance and will not send dresses out without it being insured. If you buy a smaller item that isn't a dress, please tell me what method of shipping you would prefer.
3) All prices are in USD.
4) I will sell the dress to whomever offers the higher price.
5) Please do not offer a price lower than what I put.
6) I AM NOT INTERESTED IN TRADING FOR ANYTHING ELSE OTHER THAN WHAT I ASKED FOR. Please do not ask me for trades unless it is the item that I want.
7) When bidding, please do increments of $1.
8) Paypal fee domestic (USA): 3.1% + $0.30 (from my calculations with invoices) / Paypal fee international: 4.1% + $0.30

Have anymore questions? Feel free to comment!

FEEDBACK: http://community.livejournal.com/eglfeedback/183713.html

SELLING
F21 headband


I love this headband because it's so big!!! It's quite elegant as well and perfect for gothic coordinates. I accidentally bought two and shipping out the one that is new and still in the bag.
Price: $7

Jewelry Jelly JSK in mint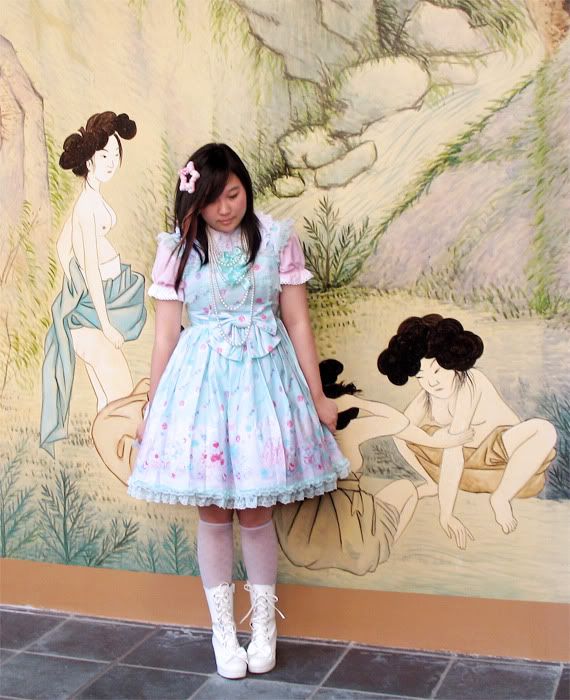 I really love Jewelry Jelly and fell in love with the mint version but decided to sell it since I want some more spending money. I've worn it probably 3 times max.
Price: $230 → $220

Measurements:
Bust: about 82~92 cm
Waist: about 68~78 cm
If your measurements are smaller than given, it's alright since there are ribbons on the back that can help you make it smaller.


---
DIRECT AUCTION

I am REALLY reluctant to let this go but I will be willing to sell this dress for $250 or more. Please give me your offers if you are interested. When giving me a price, PLEASE TELL ME THE PRICE YOU ARE WILLING TO PAY SANS PAYPAL FEES AND SHIPPING. I will not accept offers that combine Paypal fees and shipping.

HIGHEST BID: $310
SOLD

IF YOU OWN THE OTHER JSK VERSION IN BLACK, I WILL TRADE IT WITH YOU.

Measurements:
Bust: 80~100? cm
Waist: 68~80 cm

---

It pains me to sell this dress but due to my recent weight fluctuations, I can't fit into it anymore. The dress is great for casual wearing, gothic coordinates, great with boleros or a blouse underneath, and looks great without a blouse as well! It's a beautiful dress and very versatile so I hope it goes to an owner who can give it tons of love!
I would consider this dress "new without tags" since I only tried it on the day I got it and never wore it out.

Measurements:
Bust: 86 cm?
Waist: Free?
Underbust: 75 cm?
These are approximate max measurements. There is no shirring but there are some ribbons in the back that can make the dress fit people who are under the max measurements.

Starting price: $300
Highest bid: $357 - sold
Auction will end September 7th, 1:00 pm Pacific Standard Time


---
Bodyline Carousel JSK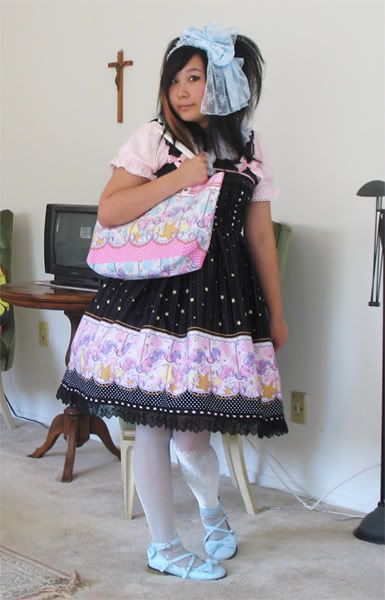 I only wore it once and feeling a bit disenchanted with it. I bought it when the price of it was pretty high so sorry for the somewhat high price >_<

Highest bid: $60 -sold
Auction will end September 7th, 1:00 pm Pacific Standard Time

Measurements:
Bust: about 80~98 cm
Waist: about 70~??? cm
The shirring is pretty stretchy in the back so it fits a wide range.

WHEN BIDDING FOR ANY OF MY ITEMS, PLEASE DO NOT SEND ME PMs ON THE LAST DAY OF THE AUCTION. PLEASE COMMENT WITH YOUR BID. I WILL TRY TO CHECK THIS POST RIGHT ON TIME BUT IF I CAN'T, WHOEVER COMMENTED LAST WITH THE HIGHEST BID WILL END UP WITH THE ITEM.

I expect payment within 24 hours unless you have told me otherwise. The longest I can wait is 48 hours for the payment. Your dresses will be shipped on a Tuesday so depending on when I receive the payment, your dresses will be shipped the day of the auction ending, the upcoming Friday, or the Tuesday after at the latest.