♪ Paypal only, unless you're in Norway.
♪ Paypal fees and shipping is not included in the price.
♪ My feedback page is here: community.livejournal.com/eglfeedback/839670.html
♪ If you want more pictures or more information about an item, please ask.
♪ I ship from Norway.
♪ I'm not responsible if your item gets lost in the mail.
♪ All items will be cleaned before sent out.
♪ I live with 2 "non-allergic" dogs, and I keep my clothes away from them.
♪ Nobody in my house are smokers.


HMHM Black Chandelier JSK
I bought this JSK about 3 months ago, but it's to big for me, so I'll have to sell it.
It's in very good condition, the fabric is velveteen so it's perfect for fall/winter.




I would say it fits an 73-76 cm waist
And an 94-97 cm bust.
If you are unsure about the measurements/want more measurements, please ask me!
Picture of it worn: i296.photobucket.com/albums/mm163/ChibiAhiru/Buys/697dcae9.jpg

I paid 100$ for this one, and would prefer 70-80$ for it, but prices are very flexible, I'm open to any offer =)

HMHM Chandelier Skirt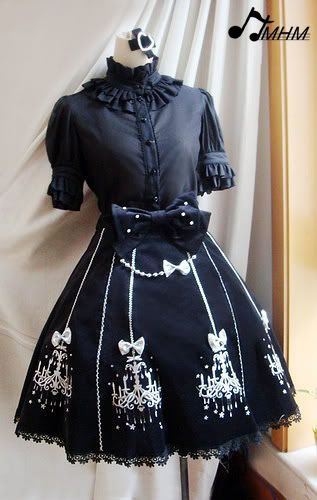 Waist measurements: 73-76 cm waist.
Proof of ownership: i296.photobucket.com/albums/mm163/ChibiAhiru/Buys/3b93746b.jpg

I paid 77$ for this, and would prefer 50-60$ for it, but once again; I'm open to any offer as long as I get rid of these items =D

Thanks for looking! ♪