Feedback here: http://community.livejournal.com/eglfeedback/310295.html
and here: http://feedback.ebay.co.uk/ws/eBayISAPI.dll?ViewFeedback2&userid=akai_senshi&ftab=AllFeedback
I'm in the UK and will ship internationally
I have a bunny,but I do endevour to remove any stray fluff!
All measurements are approximate, but I do my best to be as accurate as possible

1) Metamorphose partially shirred black JSK - £125 £108 (will also consider reasonable offers)
Shipping: UK, £7. Worldwide , please comment and tell me which country you're in.

Worn but in excellent condition. Can be worn with or without straps (you can unbutton them at the back and tuck them in). Detachable waist ties at the back. Partially shirred at the back, so can fit larger sizes, one invisible zip to the side. Built in petti, fully lined. Sorry the photos aren't fantastic, I do struggle to photograph black...there is lace all around the top, buttons down the front of the torso with lace on either side and lace about 3" up from the bottom.

Bust - Min 32", max 40" (but it can fit up to 45" ish on the bust, you just get flattened 'pancake' boob!)
waist - Min 26", max approx 34"
torso length - 10"
waist to hem - 20.5"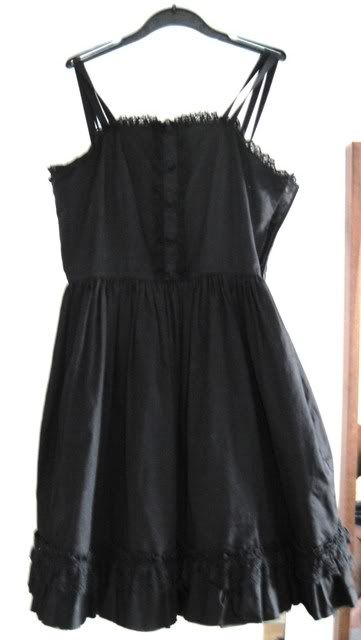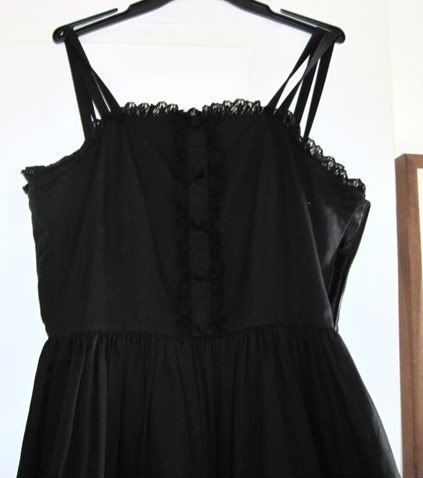 Worn with no pannier/petti
Worn with a low poof pannier
With skirt held out

2) Black knee high socks, ACCEPTING OFFERS

I've got 6 pairs of black knee high socks. Brand new and never worn because I was sent the wrong size...these are for people with UK size 7 feet or above. I'm happy to sell these individually or as a set.

Shipping depends on how many pairs you require.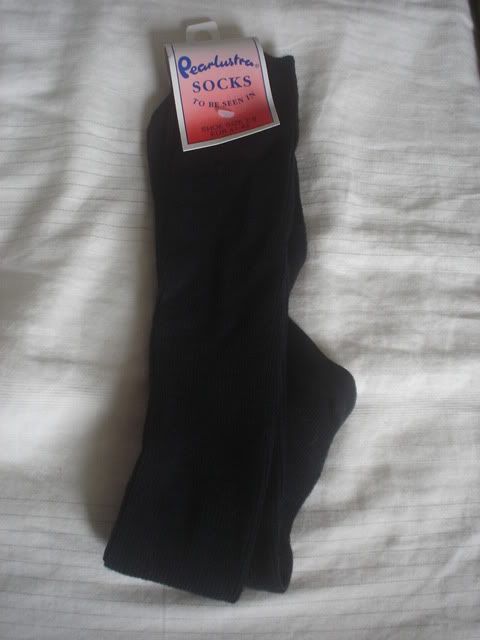 3) White eyelet lace ankle socks, ACCEPTING OFFERS

I've got 4 pairs of these socks available. I think I may have worn one pair of these once. I'm selling them because I never wear them. They fit a UK size 6 or below. They're designed for children to use so the opening at the top of the sock is big enough for someone with a 'normal' or narrow foot width, but not for someone who required wide fit shoes. I am willing to sell the pairs individually or as a lot

Shipping depends on how many pairs you require.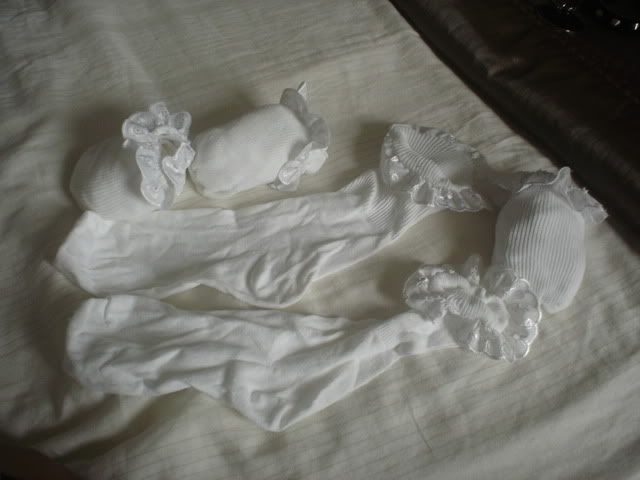 TRADES:

I would trade/partially trade the jsk for a brand skirt or brand jsk. I am particularly interested in Meta's swan lake skirt (will consider any colour) or a brand classic skirt, preferably brown. I will however consider anything. My waist is 30".

Other things I'm looking for (partial trade) are:
a KKJJ petti (or similar)
a black or pink cutsew/black shirred blouse to fit larger sizes (preferably brand, 40" bust)
pink or black shoes, size 24.5
pink and/or black handbag