FEEDBACK, 100% Positive:
http://community.livejournal.com/eglfeedback/427184.html


RULES:
I take Paypal only.
THERE IS NO LINE! First person to leave a Paypal gets priority.
Prices do not include shipping UNLESS indicated.
Shipping includes tracking for domestic sales.
I DO ship internationally! Just tell me where your item is being sent to so I can calculate postage.
Additionally if you are in the US gimme your zipcode so I can calculate postage depending on the item(s) you want.
Smoke free, pet-free home.
Items will be mailed out the day after I receive your payment. UNLESS the item is in my other home, my dad will mail it for you!
No refunds. All sales final. :)
PLEASE MAKE AN OFFER if you feel my price is unreasonable. But please, do not offer $20 for a brand new Baby JSK. D:
I WILL DO TRADES FOR

INNOCENT WORLD

ITEMS

ONLY!

!! Must fit B36", W28", H40", Height 5'5"!

Any questions or requests for more pics/measurements, just ask!!! But SERIOUS BUYERS ONLY.


Angelic Pretty Blue OP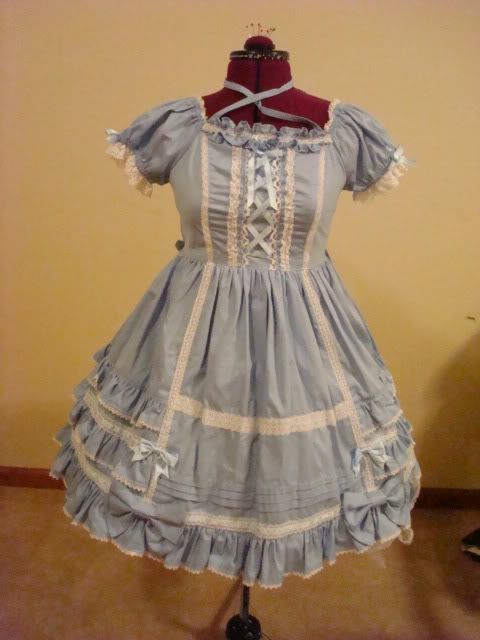 Back

Bought this aaages ago on Yahoo Auctions Japan. I paid well over $200 for it and some other stuff.

Measmurements: waist ties can make it go down pretty small, FULLY SHIRRED BACK can stretch pretty far I'd GUESS about a max of 40" bust. waist max about 34" because of stretch. HOWEVER I recommend this dress for a girl shorter than 5'5. I am 5'5 and I feel like it's a little too short on me, needs OTK socks or underskirt for taller girls!!

$150 - OR BEST OFFER! -
I have had this for ages and I really want to sell it. REALLY want to sell or trade it.


Innocent World Brown Bunny Gobelins Skirt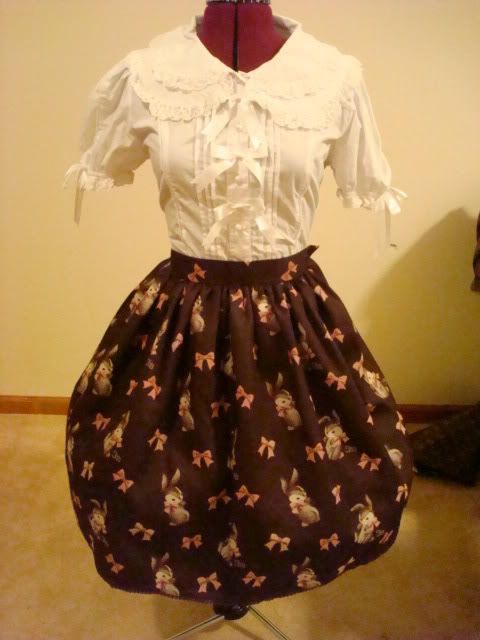 Another Pic
26" waist MAX. I am about a 27.5" right now and it really does not fit me. Definitely recommended for a much smaller waist than mine maybe like 25" even. There is a tiny bit of elastic in the back of the skirt but it only stretches to about 26". You could probably have it altered to fit a bigger waist though.

Make an offer. I really don't know what it's worth....and I really want to sell it!


BtSSB Pink JSK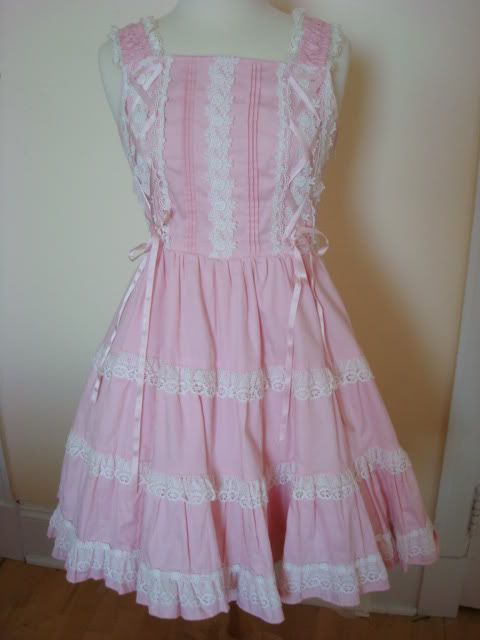 Back
Lace Close-up

This was my first ever brand dress. I got it at Kinokuniya in NYC in about Spring 2007. I originally paid a little over $250 for it. It is the first generation run of this JSK, so therefore it is Baby's "standard" one size before they released the L's and stuff.
I love it dearly but I never wear it so it must go!
It has a tiny bit of lace discoloration on the JSK strap, and the zipper stitching is kind of worn too but not broken!

Measurements: Max bust about 38" Max waist about 34" can go smaller in back due to ribbon lacing but it DOES NOT HAVE WAIST TIES!!!! (just so you know, it never came with any) the front lacing can be made tighter as well.

$130 shipped within US
$150 shipped International
-or best offer, this needs to GO-


Bodyline Yellow Gingham Strawberries JSK SOLD

Back
Yoke Closeup
Closeup to Show color


Back

Worn about once, and since washed. Nothing wrong with it, I just never wear it!!


$35 shipped in US
$45 shipped Internationally
-or best offer-
Anna House Black x Black lace OP
TRADED!!!!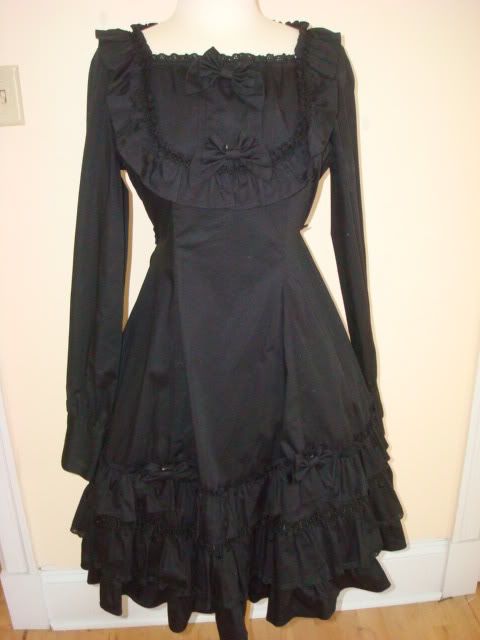 Back


$75 + shipping ... I originally paid over $100 for this beautiful dress!
The little bows on the front and bottom are removable!
Was made for B36" and W31" and height of 5'5.
But has a waist tie to make it smaller....I am currently B36 and W27 and it fits me fine.

Anna House Brown x White Lace OP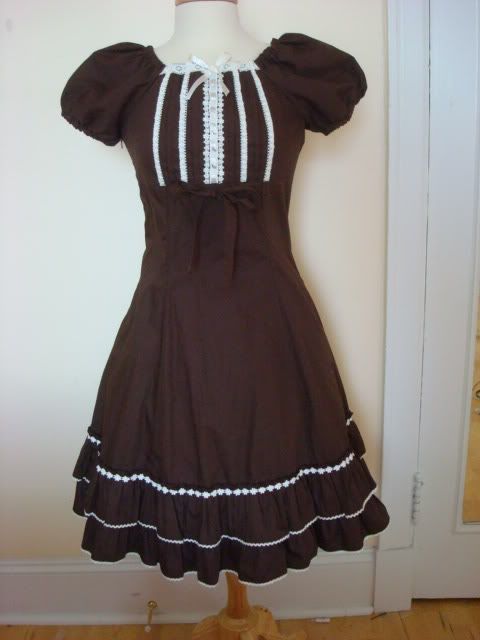 Back
Bodice Closeup
Lace Closeup
Hem Closeup

BEAUTIFUL dress! Great for classic lolita! Only tried on a few times, never worn. I since lost weight and it's too big on me. There are NO waist ties, just panel of shirring in the back. The front has a mini tie that can be used to make it fit more snugly. I paid more than $100 for it.

Measurements: I had it made for me when my waist was 32" ish. I'd recommend B36" and W32" but can stretch up to 40" for bust, and probably to 34" for waist, maybe more b/c of shirring panel in back. Anything smaller than B34 and W28 it will be way too big on you!

$70 shipped in the US
$75 shipped internationally


Classic Sailor JSK SOLD!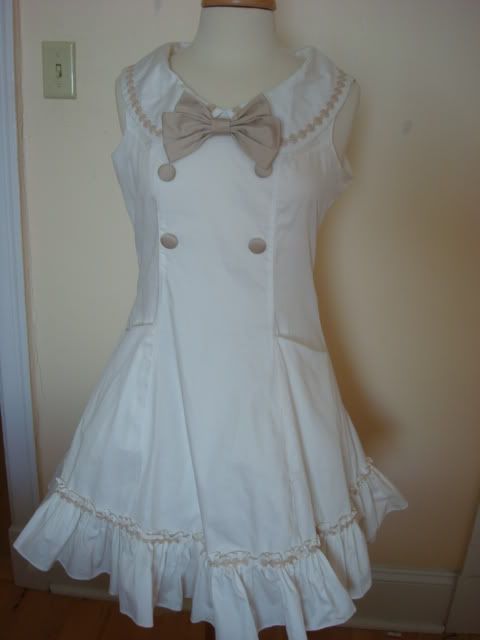 Back
Loose button
Tags
Price Tag


Beautiful dress. Bought from now defunct Mashimaro Girl store front. I paid $90 for it. Brand new with tags, never worn! NO lining but great for summer/warm weather. Back has ties to make it smaller. It is by the Chinese TaoBao Brand "Sweet Angel"...one of the buttons is kinda loose so I took a photo....it is very easy to fix, I just can't find my thread and needle anywhere. >_<;

Measurements: About 38" Bust MAX, 34" waist max. Has ties in back to go smaller. I am about 28"W and it fits me fine with the ties tightened. Min waist is about 27". Min bust is prolly 34" but that's a GUESS.

$80 shipped in US
$85 shipped internationally
Innocent World Black Skirt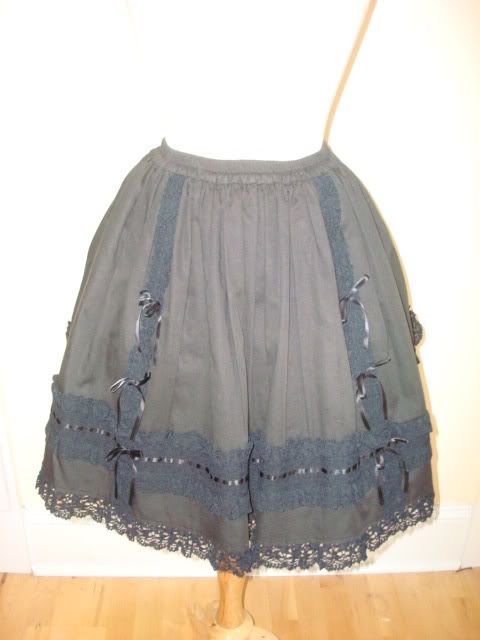 w/ Flash to show details
Another pic w/ no flash to show color: Extra pic

$60 shipped in US
$65 shipped International
- or best offer-


Waist: 30" MAX (is kinda uncomfy at anything higher than 27" so I'd recommend this skirt to a smaller waist.)

NO WAIST TIES!! Minimum waist measurement is probably around 23" or so.


Pink Sailor Skirt (AP Marine Heart Pocket Replica???)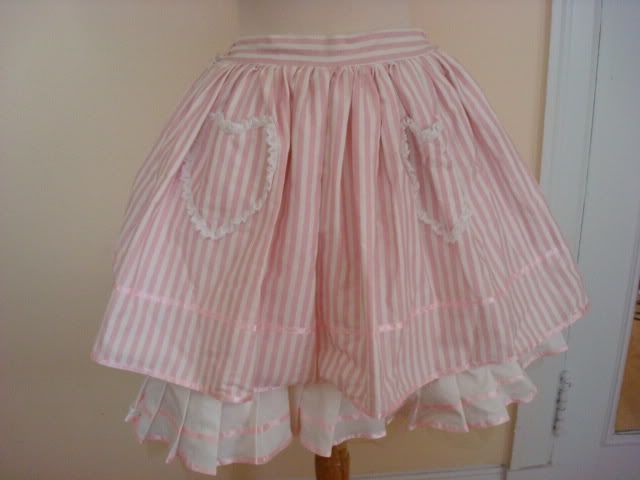 Back
Close up of trim on hem.

Super cute, bought from the now-defunct Mashimaro Girl physical store when it was still in business.

Never worn! Made by a Chinese brand, I think called "Sweet Angel."

Measurements: It's a little big on me and I have a 28" waist. I'd recommend for over a 32" waist. It has elastic in the back and could probably stretch up to 38" or maybe 40" waist!!

$60 shipped in the US
$65 shipped overseas


Pink Lace Coin Purse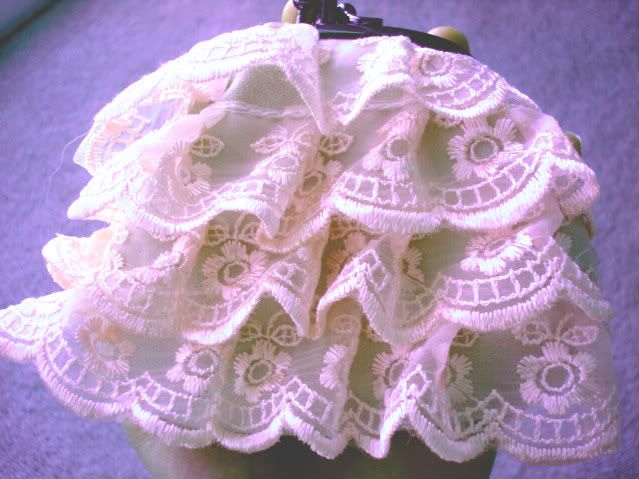 Holds a lot of loose change. Inside has blue gingham fabric lining.

Photo adjusted a bit so you can see the pink color lace.

$15 shipped in US
$18 shipped Internationally



Berry Print Socks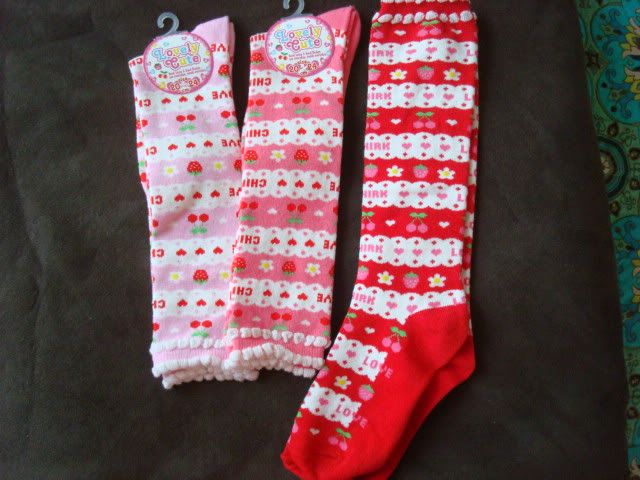 Three pairs available, light pink, cherry pink, and red.
RED IS SOLD

$15 for 1 pair or $25 for two pairs or $40 for all three + shipping

This is what the socks look like WORN. They are NOT knee high or OTK. They are midcalf.


Also my calves are like 16" diameter so these might go higher/look nicer on smaller legs!! :)



Red Strawberry Change Purses: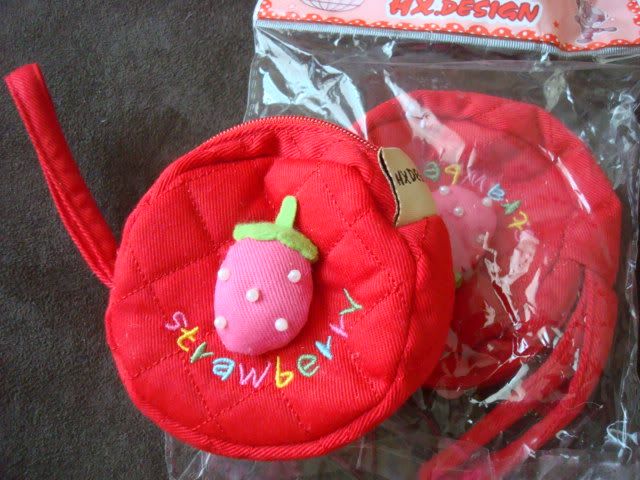 One comes in original packaging, the other has no packaging. Can hold a small quantity of loose change.
$10 each + shipping


Sweet Candy & Sweet Ice Cream pouch/bags: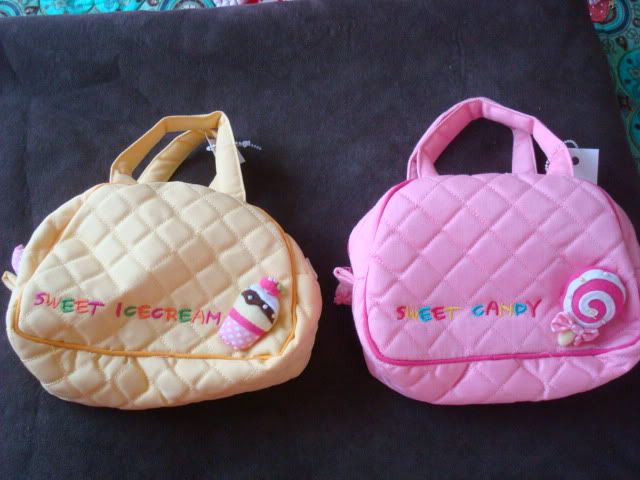 Yellow or Pink
Inside
Close-up of zipper charm
$15 each + shipping or $25 for both + shipping


Cute LOVE Bunny Bag: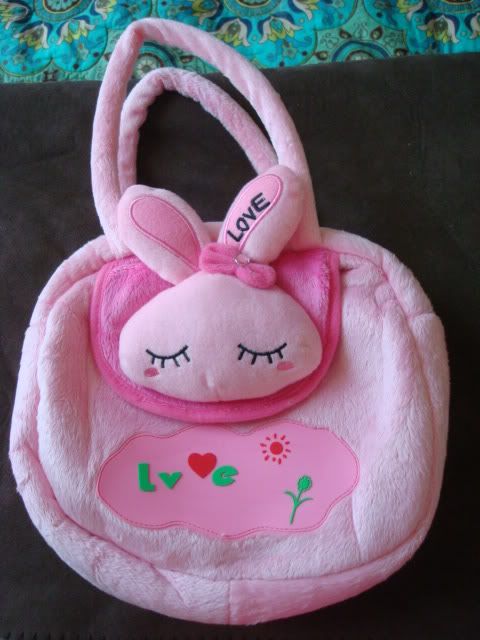 $20 + shipping, made of a nice soft material, can hold a LOT like a camera, makeup, keys, cell phone, and more! :3


Cute Wallets: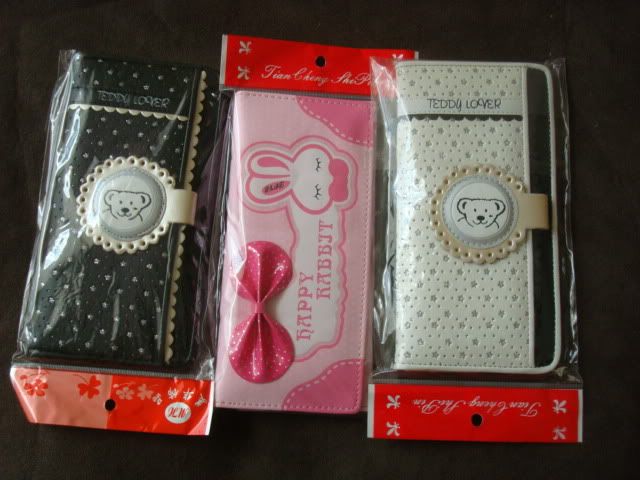 Black with bear, pink with bunny or white with bear. I can take photos of the insides if you are interested.
Another pic.
$25 shipped US
$30 shipped Intl


Pink vinyl pouch: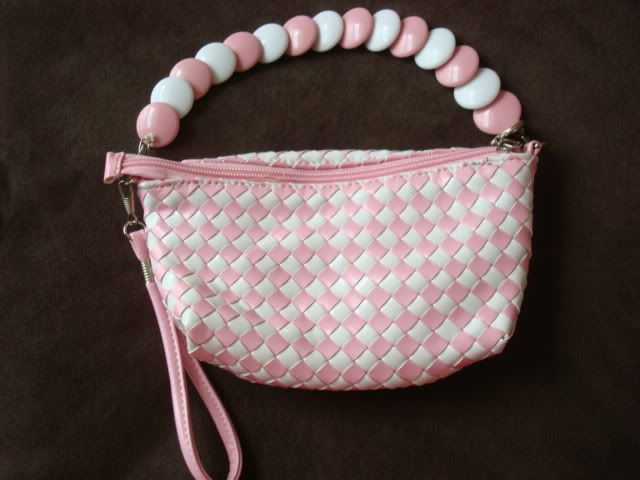 Can take a photo of inside upon request. Would hold a cellphone, some makeup, keys, or a camera and small misc items.

$7 shipped US
$10 shipped international


Sweet Earrings: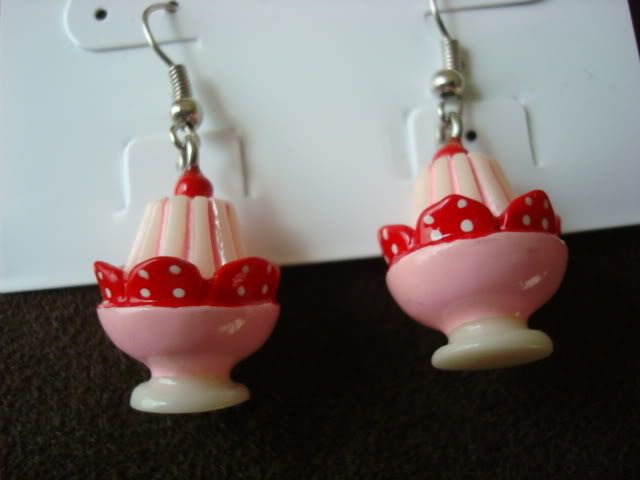 $10 + shipping for the pair, these are SO cute and SO well made!! I really wish my ears were pierced. D:


Metal Necklaces: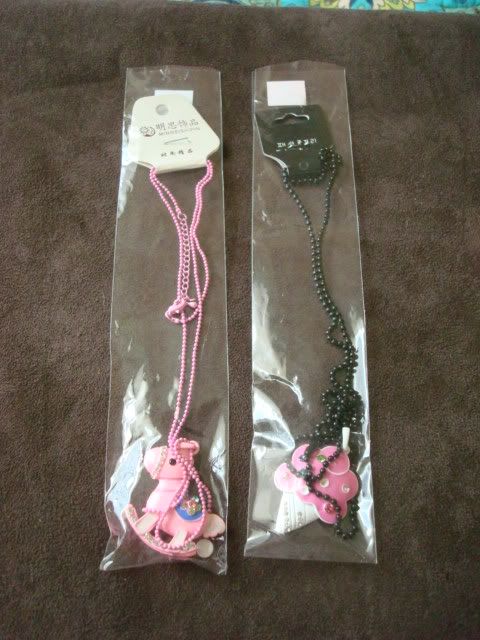 Rocking horse or Ice Cream Cone
Pink chain is metal, black one is plastic, and both charms are made of METAL.
$18 each + shipping


Thanks for looking!