♥ Please Read ♥
[FEEDBACK] I have feedback at my personal LJ Feedback Page, eglfeedback and Den of Angels.
[LOCATION] London, United Kingdom
[PAYMENT] I accept PayPal only. Fees will be added on top of item price

[TERMS] Once item has been claimed, payment must be made immediately. No holds. If you've committed to buy the item and have paid for it, I cannot make any cancellations, refunds or exchanges. All sales are final.
[CONTACT] You may contact me at the following email address:
. Feel free to send me a PM, or comment in this post. Thanks!

NOTE: PRICES DON'T INCLUDE POSTAGE, PLEASE ASK. IF YOU'D PREFER TO COLLECT IN PERSON, THAT CAN BE ARRANGED. (LONDON, UK RESIDENTS ONLY)


♥ Angelic Pretty Light Blue Tartan Heart Pocket JSK + Headbow ♥
Stock Photo
(Photo of JSK & Bow being worn)
[Price]
£165.00
£155
[Condition]
Worn once in excellent condition. I heart this dress so much, it's cute and the colour is perfect but I can't see myself wearing it again since the style is too Sweet for me.
♥ Putumayo Black x White Skirt ♥
(Photo of skirt being worn)
[Price]
£45.00
[Size]
Waist: 23.5-35.5 inches (60-90 cms) could stretch to 38 inches
Length: 20 inches (50 cms) the length is a tiny bit longer with the white underskirt
[Condition]
Worn a couple of times in excellent condition. The white underskirt is separate and can be worn by itself or under other skirts. The waist is elastic on both skirts and can fit a wide variety of sizes. The skirt is currently sold out on the Putumayo website.
♥ BODYLINE Bow Flats (Black) ♥
[Price]
£20.00
[Size]
Japan 24.5cm / UK Size 6
[Condition]
Bought from egl_comm_sales as new tried on but have not actually used them myself. It was sold to me without the ankle straps, so please bear this in mind if you purchase this pair.
♥ H&M Jade Green Cardigan Size 'S' ♥
[Price]
£10.00
[Size]
Flat measurements:
BUST: 41cm
SHOULDER: 37cm
SLEEVE: 60cm
LENGTH: 55cm
[Condition]
New with tags, never worn. The cardigan is more of a vintage mint/jade green so would be ideal for working into more Classic style coords! Am selling because it doesn't actually match anything in my wardrobe.
♥ Offbrand White Laced Eyelet Top ♥
(This is a bright white top, but in order to show the detail better I haven't done any lighting editing)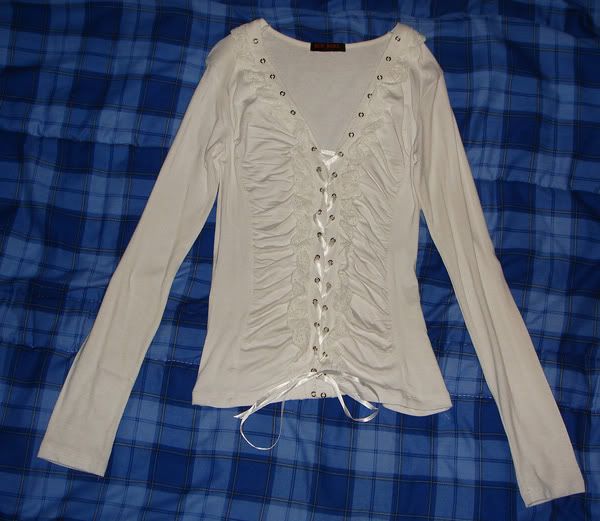 [Price]
£10.00
[Size]
Flat measurements-
Bust: 30cm (can stretch to 35cm - 40cm)
Sleeve: 57cm
Length: 51cm
[Condition]
Never worn. In excellent condition. The material is extremely stretchy, and is too big on me. Eyelet rings enable you to readjust the ribbon to how you like.
♥ English Ver. Gothic & Lolita Bible Volume 4 ♥
[Price]
£15.00
[Condition]
Used in good condition. There is slight creasing on the corners but other than that it's fine. Was bought in this condition.
♥ Chocomint Strawberry Milk Chocolate Ring (Pink x Choco) ♥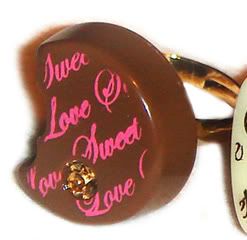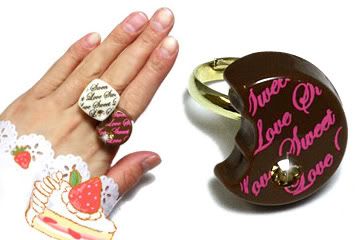 [Price]
£8.00
[Condition]
New without tags. The colour is more of a "milk chocolate" like in my proof photo rather than the stock photo.
♥ h.NAOTO x Hello Kitty Figure Keyring ♥
[Price]
£7.00
[Condition]
New in HK capsule. Am selling h.ANARCHY (punk).
♥ Fake Nails with Glue ♥
[Price]
£5.00
[Condition]
New, never worn. Bought from egl_comm_sales, has been sitting in box ever since so decided to sell these.
♥ Kana Clip-on Cat Ears (Official merchandise) ♥
[Price]
£10.00
[Condition]
New, never worn.
♥ Crimson / Deep Pink Rose Corsage ♥
(Can be worn as hair accessory or brooch)
[Price]
£5.00
[Size]
7cm in diameter
[Condition]
Brand new without tags. Never worn, because it doesn't match anything.