My EGL feedback page: Here
Ebay feedback:Here
Etsy feedback:Here


~~PayPal only
~~Willing to trade for: Brand, Kidsyoyo, Dear Celine, and Rose Melody only
~~Items ship from San Diego, CA USA
~~Prices are in USD
~~I'm more than willing to accept reasonable offers :)
~~Priority goes to those who leave their PayPal addresses first
~~The clothes are smoke-free, however, I do have a dog and a cat. They don't usually come into contact with my clothing, but please be aware of this if you have allergies.

My proof: Mr. Kitty

Kidsyoyo Mary Magdalene Replica Blouse in White-
$48 + Shipping or Best Offer


Stock Photos: (note stock photos show off-white version)


My photo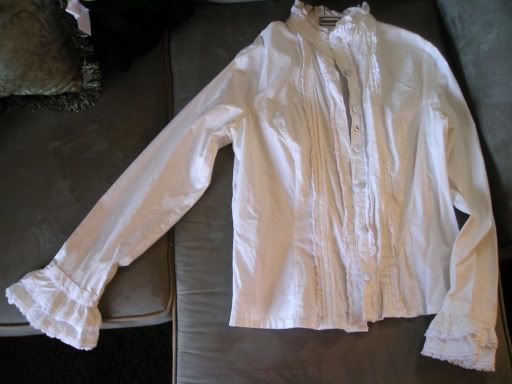 Stain 1
Stain 2
Bust- 97 cm max
Waist- 77 cm max
I love this blouse dearly, but the arms are just too short for me to be comfortable. I have longer arms and I sent them my measurements but for some reason the arms are still a bit too short on me. As a result I've only worn this blouse 2-3 times. The detail is beautiful and they even put a snap along the bust to keep the buttons from separating. It comes with a detachable bow that isn't shown in most of the pictures, but will be included with the blouse. This has sold out on Qutieland's website and is no longer sold by Kidsyoyo. There are two light black stains under the arms from where my black and white carousel JSK rubbed off on the blouse. They aren't really noticeable when worn, but I've included pictures of them.


FanPlusFriend Baby the Stars Shine Bright Riding Hood Replica OP in Emerald Green-

$85 + Shipping or Best Offer ( I Paid $145 + shipping)



Stock Photos:


My Photo


Back
Detachable things
Underskirt
Altered bow and broken clip
Overlapped stitching

Length- 105 cm
Bust- 91-98 cm
Waist- 73-80 cm
Although I'm the first owner of this JSK the hood was missing when F+F sent the dress to me and I never got around to asking for them to send it. It's not really my style so I haven't worn it much. It comes with detachable sleeves, 4 detachable bows, and an underskirt. The underskirt has some overlapped stitching that appears to be a defect from production. The original neck bow that F+F sent was somewhat lopsided and limp so I modified it to resemble the stock photos a bit more. Also note that the back of one of the detachable bow clips has come off, normally I just use a safety pin to clip it on, but if you like I can include a new pin with the bows when I ship it.

Offbrand Trump Socks-$12 Shipped in the US or Best Offer (please check for international shipping)


Size- OTK
Brand new. I only tried on one sock briefly to see how it looked with a coordinate. They still have the sock clips on them.