PLEASE READ FIRST!!

My feedback can be found here: http://community.livejournal.com/eglfeedback/621265.html
*I only accept Paypal. No exceptions, sorry.
*Buyer pays the Paypal fee, unless they send the money to my acc. as a gift!
*Those who leave their paypal address first gets the item!
*US Buyers preferred. Priority will go to them if there is more than one person interested. Apologies!
*Please allow up to 5 days for me to ship out your items, as I don't have access to transportation every day.
*I stay in a house with a dog and a cat, but they are NOT allowed near my clothes. I will always lint roll to try remove every single hair, but those with allergies might want to stay away.
*I cannot do any holds, sorry, unless you don't mind waiting until I settle into my dorm to send your item out.
*Shipping is included for US Buyers. US Tracking please add $0.80.
*I am willing to do trades/partial trades for any of my DREAM items!



DREAM ITEMS


Angelic Pretty Milky Candy Headbow in Black X Pink

BTSSB Bunny Earmuffs in Black

Metamorphose LP Hearts Leopard Skirt in PINK. I may consider Grey if it's a reasonable price.




SALES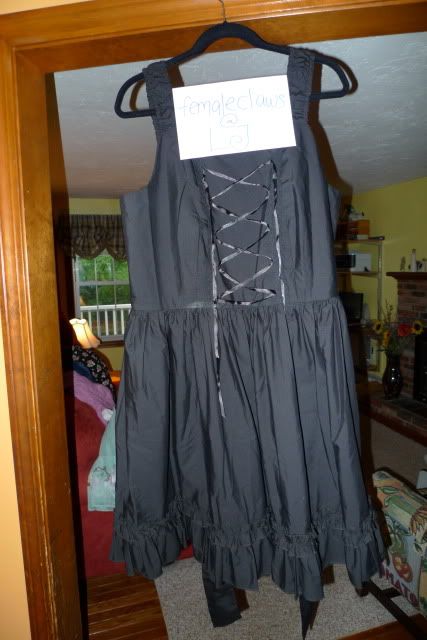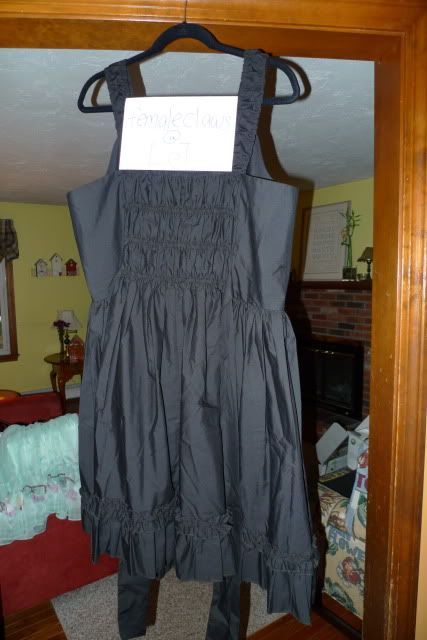 ITS Black Jumperskirt
Description: Ruffled skirt hem, Shirred back and straps, with lace corsetting on the front.
Size: It's a tad too big for me - I think someone with a bust of at least 47" would fill it out nicely.
Condition: I am the second owner. The first owner used it many times, but it's still in very good condition. I have only tried it on for 30 seconds. The price is a little high because of what I paid for it, and I'm sending it to be drycleaned before sending it out. It's not dirty, but I'm a little paranoid. If you would like to clean it yourself, you can offer a lower price.
Price: $100 OBO



Mint Dolly Berry Powdery Bunny JSK (Detail pic here and DB's pic here)
Comes with waist tie, headband and barrette. Pics here and here.
Description: Fully shirred top. Made of chiffon, with a silky lining inside. Very light, perfect for tropical/summer weather! EDIT: I just realised this picture shows the back of the JSK, not the front. Only the back is shirred.
Size: Up to 120 CM bust and waist though I recommend smaller bust size - at least 40" and below - to prevent the dreaded boobloaf, and waist 105CM and below for comfort.
Condition: Tried on once by me, and once by a friend. I would offer to steam this before shipping but folding it to ship and such will crumple it again =/
Price: $105 shipped.



ITS Black headdress
Condition: Brand New - Tried on once. Picture with flash to show details better here.
Price: $14


BABY Doll
Condition: Brand New, never taken out of packaging.
Price:SOLD



BABY LP Scarf + Gloves in Kinako/Cream (Gloves have been sold)
Condition: Brand New, never taken out of packaging.
Price: SOLD



BABY LP Pink with pink lace Headbow
Condition: Brand New, taken out once to look at the lace, haha. Never worn, as I wasn't interested in this type of headbow.
Price: $22

BABY LP White Knee High Socks
Condition: Brand New, never taken out of packaging.
Price:SOLD

Handmade Black Tie with Charm by Jolie Chose
Condition: New, never worn. Doesn't have a "set" neck width - you would have to do this yourself. I had received this for free in one of my past packages, so I don't know the price for this tie.
Price: SOLD

Handmade White Bloomers
Condition: I am the second owner, but have never used it nor tried it. Used multiple times by the first owner.
Size: Fits waist 32"-39" and hips up to 43"
Price: $6 OBO SOLD

Offbrand/Handmade? Pirate Lolita Vest
I added this here because I though this would be great to wear for Pirate Lolita! I'm the second owner, and this item came to me with a few flaws, most notably a broken loop to help hang up the vest, which you can fix easily if you're good with a needle. Comes with the string to lace up the vest, which is a little frayed on the ends. Price reflects the flaws. I have shown pictures with the measurement tape here, and I feel comfortable recommending this for someone who has a around 36" underbust, and with a bra cup size no bigger than a C or D cup.
Condition: I am the second owner, and only tried it on once. Used by previous owner, with flaws as shown in photos.
Price: SOLD



Little Twin Stars Alice in Wonderland Mirror
Condition: Brand New, never taken out of packaging.
Price: $6 OBO I got this as a gift but I don't like Little Twin Stars



FREE GIFT!
You can pick one item from the picture if you buy something from me!

Winged Heart Ring
Rose & Key in resin