- My feedback can be found here (+30)
- I ship from Hungary, EU
- EU buyers preferred, but if you are willing to pay extra costs of shipping, just ask, I can calculate it for you
- I make photo proof of shipping and tracking, so if you do not choose the EMS option wich is insured I'm not responsible if the package is lost.
- first paypal address comes first
- I'm open to reasonable offers
- items will be shipped next Monday
- paypal fees are included!


1. Heart Marble Chocolate and Sugar Coated Cookies Skirt, bow, and Ribbon Kingdom socks set SOLD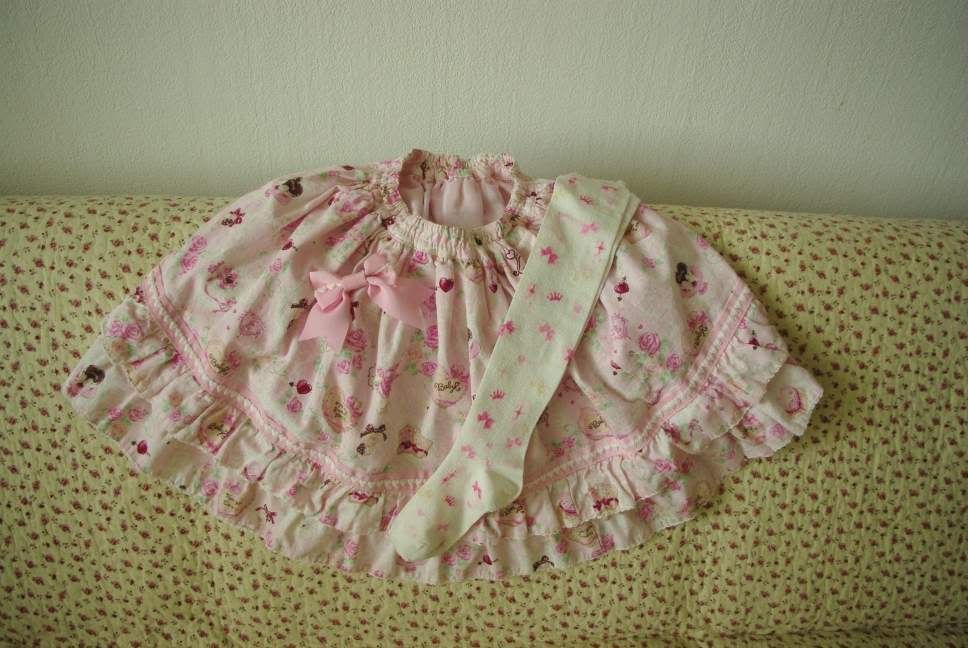 I just so fell in love with this print that I bought the L-size JSK version, so I don't need the skirt any more. It's beautiful, and also very comfortable (even if you are petite, the minimum waist is 58 cm).
It's made of high quality cotton, the fabric is not thin at all, but it's not that warm either - it's durable and good for all season.
The print is lovely, I personally think it's the more modest version of AP's Melty Chocolate - BABY letter cookies, doves, chocolate cakes, "princess drops", angels and roses cover the pale pink base color. The waist is fully shirred, can be fit a 100 cm waist without problem, the bottom part has a grosgrain ribbon and heart lace decoration over two rows of ruffles.
Can be coordinated with pink, white, cream, cherry pink and mint as well!




It comes with the matching bow and a pair of Ribbon Kingdom OTK socks, wich are great for taller lolis as well, because they are balancing the skirt's shape. Would look lovely with a marshmallow petticoat and a bit longer bloomers!

Close-up from the print: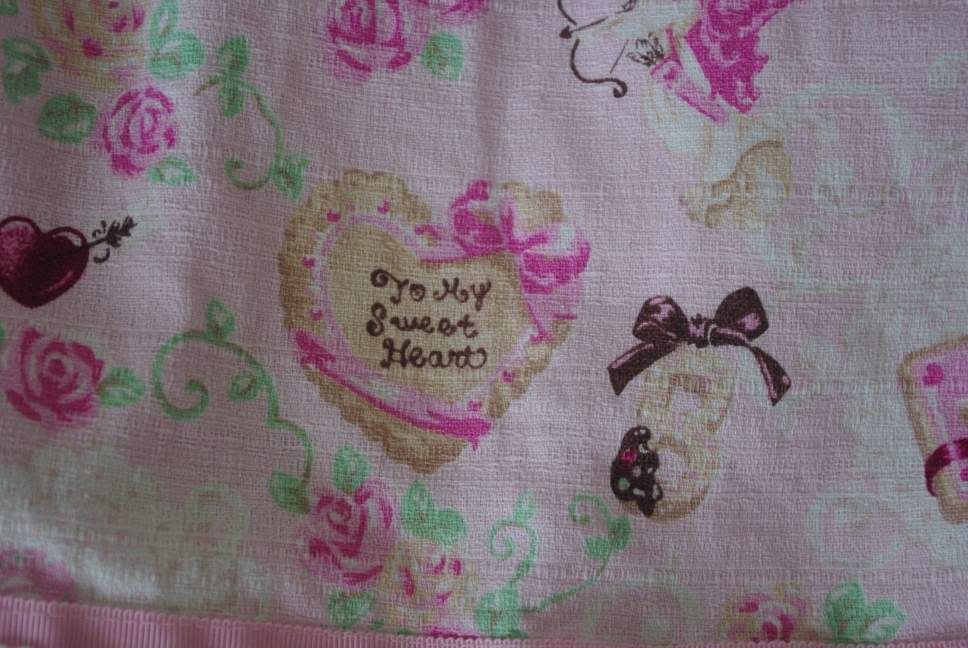 Both the skirt and the socks were worn only once, professionally dry-cleaned.

Price: 150 USD paypal fees included
Shipped within EU countries: 10 USD
Shipped anywhere else: 15 USD
2. Bodyline sailor / punk coat



Very stylish Bodyline coat wich can be either worn as a sailor coat, or a dress by itself. The fabric is strong cotton, I think it's still okay to use as a coat till mid-autumn.
The front is a bit shorter than the back, the tie in the front is removable, so are the chains, cuffs and the belt.
It was worn twice, professionally dry-cleaned.

Measurments:
Length: 90cm
Sleeve length: 58cm
Shoulder length 35cm
Bust 89cm
Waist 74cm

Price: 35 USD incl. paypal fees
Shipped within EU: 12 USD
Shipped anywhere else: 17 USD
(because of the thickness of the fabric it's a bit heavy)




3. Alice and the Pirates Marine Rose JSK in black with matching socks SOLD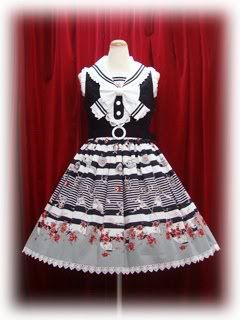 It was one of my dream dresses, I owned one in blue before. Bought directly from Baby's online store, it was brand new with tags, worn twice by a friend of mine, professionally dry-cleaned, but needs an ironing because it was sitting in my closet for a while. I gave up finally to ever fit into this dress, so I hope I can find a loving home for it.

Details of the print: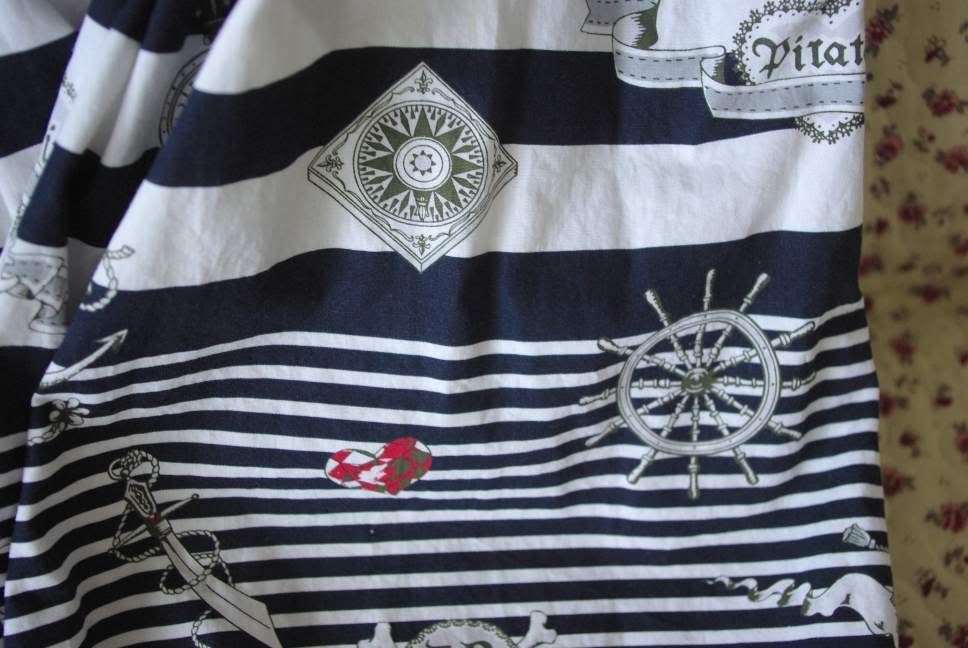 It's a classic piece from the period when Alice and the Pirates was still a sailor/pirate brand - you can't find these emblematic and unique prints any more. Beside Meta it was probably the only sailor dress with a print. The details are amazing, see the bodice embroidery with a tiny Swarowski crystal: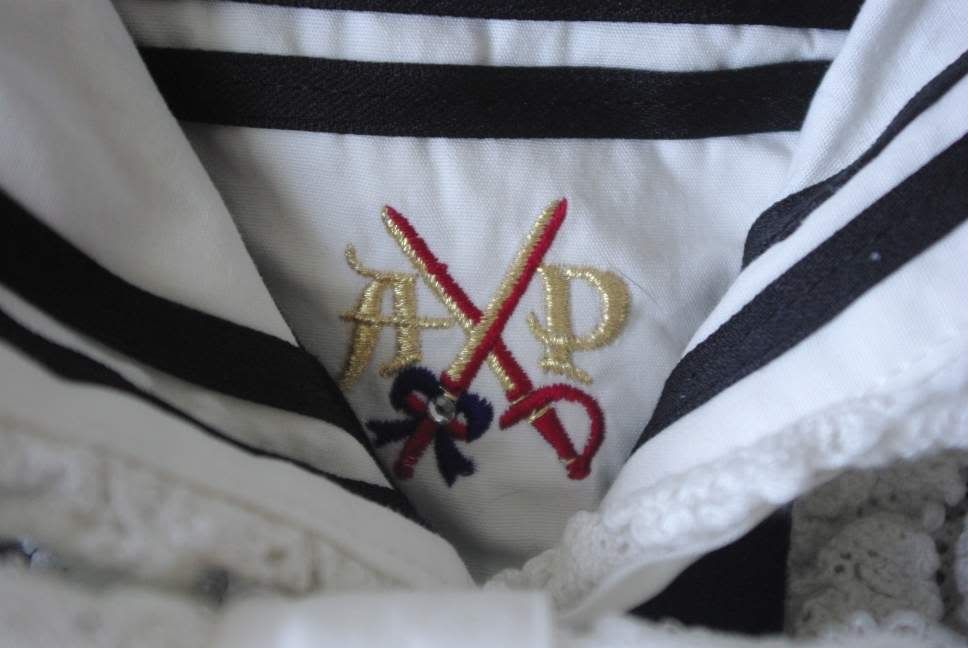 You'll recieve a matching pair of socks wich were originally in set with the dress (decorated with a Swarowski crystal as well); also you can wear the front neck bow as a hair ribbon (the string is adjustable):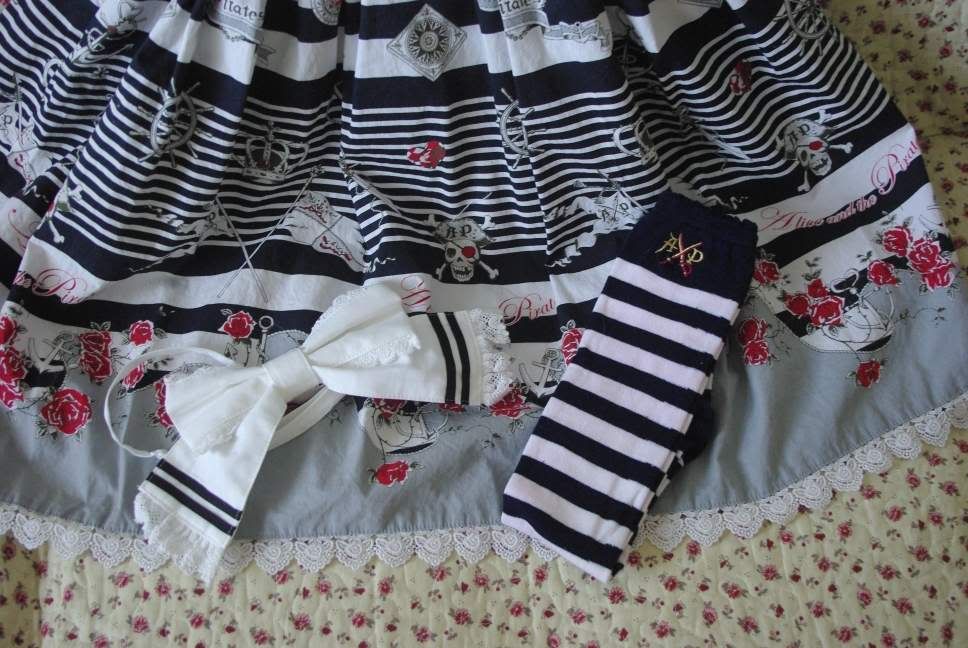 Measurments:
Officially it's bust - 86 cm, waist - 76 cm, but my friend has 90 cm in bust and she could wear a blouse under it, so if you have a smaller back and bigger cup size it's still okay.

Price: 150 USD inclusive paypal fees
Shipped within EU: 12 USD
Shipped anywhere else: 17 USD


Please feel free to ask any questions, I'm also willing to consider serious offers, but no trades now.

Thank you!