Information (Please read!):
- Shipping price is fixed, but if shipping price ends up being at least a dollar less than initially paid, I will refund the difference (e.g. If you paid $10 shipping and it actually was $7, I will refund you $3).
- Shipping within the US will include Delivery Confirmation
- Please specify if you want insurance or tracking, and I'll try my best to calculate accordingly.
- I am not responsible for items after they are shipped.
- Paypal only
- Priority goes to the first person that leaves their PP address or states that they will take it.
- I live in a smoke and pet free home
- All positive feedback here : http://community.livejournal.com/eglfeedback/171603.html
- No price negotiations or trades, sorry!
~*~*~*~*~*~*~*~*~*~*~

Hallo~
I am selling this set on behalf my friend. She got this set from Baby's recent Lucky Pack; however, it was not the color she was looking for. I hope you can give it a good home!

BTSSB Bunny Milk and Snow Strawberry JSK (Size L) + Bonnet: $180 SOLD
Measurements:
*I apologize about the measurement changes! I remeasured a final time and the numbers following should be the most accurate*:
Length: 37"
Bust: 17" Flat, ~38" Max
Waist: 15" Flat, ~33" Max

The set is brand new, never worn. This print is from last winter. The color is like a milk-chocolate brown and has super cute bunny-tail looking balls on the waist ties, bottom trim, and on the bonnet. The waist ties are detachable, and there's partial shirring in the back.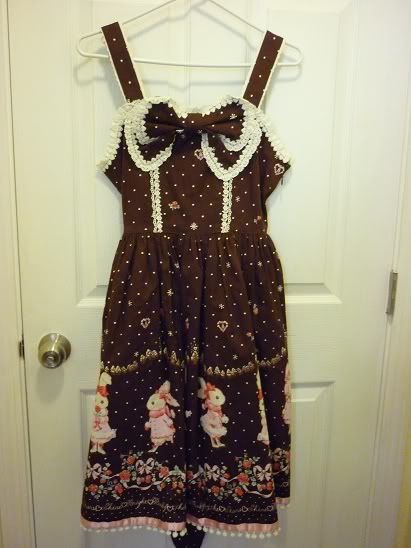 [Back]
[Print Detail]

Matching Bonnet:


[Inside]
[Outside]

Thanks for looking! If you'd like any additional pics please don't hesitate to ask.