Terms of sale:

If you are interested please leave a comment below. Priority will be to the first person to leave their paypal address.

I will consider offers so if the price isn't right, try to negotiate!

I ship first class or priority in the US with tracking, and 1st class international unless requested otherwise. MY SHIPPING DAYS ARE FRIDAY AND MONDAY!

Smoke and pet free home!

54+ and 1 neutral on EGL feedback
Feedback on my journal
On EGLFeedback
100% + on ebay (as a buyer mostly)

PRICES DO NOT INCLUDE SHIPPING! I will combine shipping and may give discounts for multiple item purchases. Please help me get some room in my closet!!!

I will do holds, but you MUST make a non-refundable deposit of at least 10% so i know you are serious about a purchase.

Hair Accessories:
All hair accessories come with a clip back unless stated otherwise. Bows are all interfaced :). Pin backing can be added to any bow for free (some already have it).








Cream corsages with glass pearls (hair comb)- 10.00 each 18.00 for the pair
Pair of cream x sax cameo clips - 5.00

Bows:





Small Pink Pearl and Dot Tulle Bows (comes with pin back)- 5.00 each 8.00 for the pair
Medium Pink and lace bows- 7.00 each 13.00 for the pair
Cupcake and Lace bow- 6.00
Hound Doggy Bow- 7.00








Antique Beast replica Mini Witch hat (hair comb)- 5.00

Bodyline Punk Over Skirt:SOLD




ATTP Tripp replica Vest:




Overall Great condition, worn 5 times? (original owner) I've just been moving away from punk and boystyle and this doesn't look good on my BF. Size Large, fits up to a 38" bust and 31" waist, material is stretchy, so will fit smaller about 2-3" as well.
Price- 35.00 OBO + shipping

Purple Corduroy JSK: (PENDING SALE)






New, Worn once for photos (about an hour) and that is all. Handmade by me, but i've lost some weight, so i'd like this to find a home with someone who will wear it ^^;, Dress size 8, max 39" bust, 31" waist. Length from waist to hem 21" shoulder to hem is 38".Has buttons for removable waist ties which have been misplaced -_-; (if you really want i can make a new pair for 5.00).
Price 40.00 (OBO) + shipping

Dear Celine Ballet JSK:(SOLD)







Black Offbrand JSK:(SOLD)




Meta Chiffon Milky Way Cut-sew OP:


Original owner (well, first one to wear it. i got it NWT from the sales comm), Worn 4 or 5 times. I have all the pieces (underskirt, bow, waist ties). Soft, and very stretchy, but it is just so short in the bodice, I don't much care for how it looks on me. Max 38" bust, 31" high waist, has waist ties. Skirt length is 21" shoulder to hem is 34"
Price 70.00 + shipping

Betsy Johnson Sky Roses Silk Spandex Dress:






Original owner NEW WITH TAGS! I got this on clearance (original price was 170.00, i got it at 85.00) praying it could stuff myself into it. No dice ;_;. US size 2, bust up to 34" waist up to 26" with stretch in the fabric, will fit smaller.
Price- 70.00 + shipping (ON HOLD UNTIL FRIDAY for a friend, please comment if you are interested!)

Black Cherry BodyLine JSK:(SOLD)




Brown and White Retro Skirt (4 week re-post):

Original owner, worn once. Made this for myself, but i don't have anything to match it, and it is too big for me now. Will fit up to a 31" waist, reduces 2" with corseting in back.
Price- 25.00 + shipping

Dark Red Blouse:






Origiinal owner, well worn. No flaws, only that it has SHRUNK past my wearing :(. I LOVE THIS SHIRT! Cute heart buttons, and great color. Will fit up to a 34" bust and 28" waist.
Price 10.00 OBO + shipping

Grey Skull Blouse: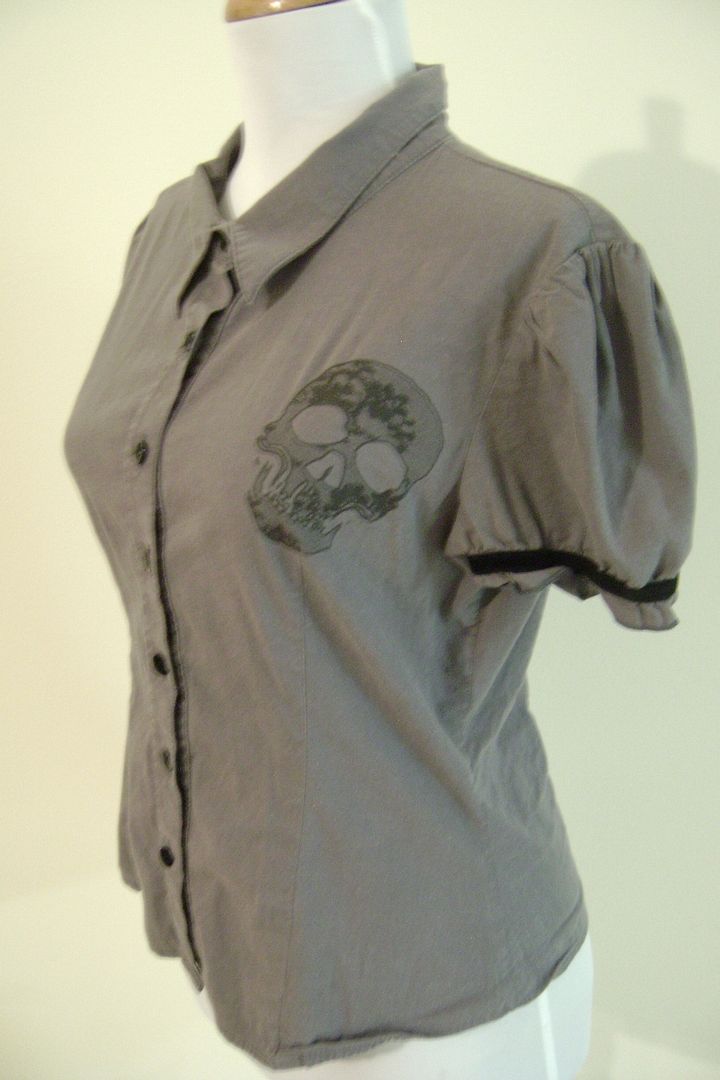 Original owner, well worn. Skull print is slightly faded, no other flaws. Moving out of punkier goth stuff... fits up to a 36" bust 30" waist.
Price 10.00 OBO + shipping

White basic blouse (4 week repost):(SOLD)




Cherry mini bloomers:

Original owner, worn 4 times, good condition no flaws. Just too small for my tastes. No elastic in legs, but are supposed to fit more like boxers. Low rise waistline so fits more like on your hips at max 41" inches.
Price 5.00 OBO + shipping

Pink and cream Sleep set: (SOLD)




Choco Mint Heart Ring:


Original owner, new! Small, maybe a size 6 or 7? very cute!
Price 3.50 + shipping