Hi people!
=D
I need to sell some stuff to try to raise money for my dream dollie~
It's a limited edition and I want it badly so I'm scrambling for money.
=3
She just popped out of nowhere!
I've managed to find a dealer who does layaways for my doll so I'm removing the Dream In A Midsummer's Night JSK and my other Baby JSK.
Going to wear the JSK out soon! =D

Feedback (empty) XD: http://community.livejournal.com/eglfeedback/732367.html

First up, I reserve the right to withdraw my items from sale~
(I might not sell the Midsummer's Night JSK as I have fallen in love with it, or my Cherry Gingham Ribbon Ribbon JSK.) REMOVED.
Secondly, all items will be sent by registered post.
Price of shipping+packaging:
Shoes-> 30USD
JSK/skirt-> 20USD
Hair Corsage -> 10USD
Socks/Letter set-> 8USD
Except for the Midsummer's Night JSK, which I will only send by EMS, 40USD.
I do combined shipping and lower prices for more items! =D
ALSO, PLEASE NOTE THAT I WILL TAKE UP TO TWO WEEKS TO SEND THE ITEMS OUT AS I AM A VOLUNTEER IN THE YOUTH OLYMPIC GAMES, WHICH EAT UP ALL MY TIME NEXT WEEK.
I will also ask for a small fee if I need to travel to meet you. =)
Third, I have a dog, as you will see later. =D
Lastly, paypal fees are already included in the price! =)

Oh, and local lolis get priority, =)
Prices may seem a little high due to the fluctuating USD right now (or so I heard on local news).
Sorry about the thumbnails, I hate them too, but I can't seem to get the images resized.
>_<

Montreal: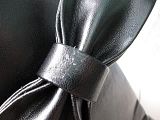 30USD
Worn out only once and I realized that it was the wrong size then. =(
Will fit larger thighs.
35cm, otherwise a US size 6, but it fits me really snugly, and I'm a 35.5cm.
My feet are kinda slim.
SOLD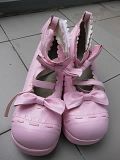 Brand new and never worn as it's too big for me.
Should be a US size 8.
25USD

Offbrand boots: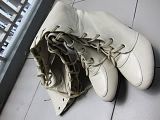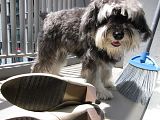 It has a zip on the side! =)
Size 23.5, otherwise 6.5. =)
Brand new!

Retroscope skirt: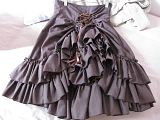 I bought this from another local loli earlier this year.
=) I don't really wear it any more, so I figured it's time to sell it.
The color is more like chocolate than this, but I could not seem to replicate it in-camera.
Postage is the same as the JSKs as it has a lot of fabric and is slightly heavier.
It looks like it could be the Gothic Mini Bustle on the Retroscope site.
My waist is 26" and I have to tighten it to the maximum when I wear it.
D= So I'm assuming the measurements are 28" to 32" to be conservative.
35USD
Sold!

Fan+Friend Sailor Dress: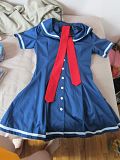 I bought it brand new earlier this year from the comm, and I've only worn it once to HK Disneyland. XD
The blue in the dress has ran into the white trimming-thingy, but it should be easily fixed.
35USD

Socks:
I store my socks in ziplocs like this: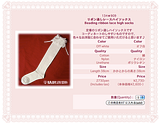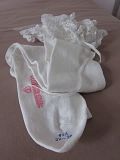 Worn once with the above black boots.
Condition 9.5/10 for being used. Tags available.
38USD



Worn twice, condition 7.5/10 cos my grandma was pretty rough when she washed it for me.
Photo below!
Tags available, 34USD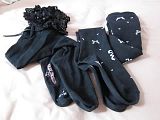 Innocent World Ribbons & Embossed Hearts Overknee.
No stock photo, tags available.
Worn around 4 times.
Condition 9/10, 36USD.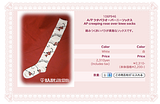 Creeping Rose Overknee
Brand new, has never even been removed from the plastic wrapper.
With tags
44USD



5USD or free with purchase, just ask for it.
Never removed from package.

BabySSB Letter Set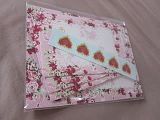 Brand new and never opened.
20USD Pending

<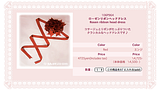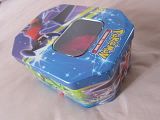 Item will be sent in tin shown to protect it.
=)
65USD Sold!


And lastly, the one everyone wants to see,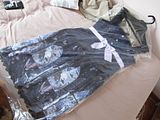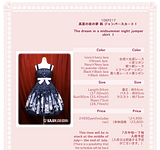 <<--- Click here for measurements. =)
It has not even been removed from the plastic yet, so it's brand new, untried, with tags and everything you can think of.
It's gorgeous, but I want my doll just marginally more.
This will be an auction, which starts at the price of 300USD.
Please bid in $10 increments.
Buy it now price would be 650, which I doubt anyone would pay.
But that's the price of my doll, so, =D.
Please remember that I have the right to withdraw my items at any time unless the BIN price is met, in which I definitely will let it go.

Both bids end on 17th August, 6pm (my time) or when the BIN price is met, whichever is earlier.
The winner will have 24 hours to pay.
I myself will only have less than 2 hours to pay for the doll, so please make it quick!
Bids may be withdrawn till 16th August, 6pm, otherwise I expect the person who wins to pay up.
=)
My time is GMT+08.
Removed from sale!
Off to go try on the JSK! =D
Worn it out already! It's awesome!

Thanks people!