Payment Method:
Paypal & Paypal CC
Prices and payment in USD

PLEASE READ:
-Please keep on top of communication. If others are in line for something and you don't respond in a timely manner (48 hours from when my last message was), I'm going to move on to the next person.
-Shipping is whatever is the cheapest. For items over 13oz, this means Priority. For items under 13oz, this means First Class Mail USPS, typically takes 5-10 business days (so that's like anywhere from a week to two and a half weeks).
-If you would like shipping by USPS priority mail, or any additional services, please specify (it will be an extra charge). Insurance is a buyer's responsibility. I ship it out as carefully as possible but what USPS does with it is out of my hands.
-If you need the item within a certain time frame, please specify, but the shipping will be higher.
-International buyers welcome, but please be aware of higher shipping costs.
-If you live within the USA, Delivery Confirmation is automatically added to the cost of shipping (it's $0.80). If you live outside the USA, I understand tracking is very expensive, so it will be optional with the implicit agreement that I am not responsible if your package gets lost without tracking. I ship these out, but what the postal system does with it is not up to me. The exception: Italy. Under no circumstances will I ship to Italy without tracking.

I have +2 feedback at the comm: here (http://community.livejournal.com/eglfeedback/317335.html if the link refuses to work)


Hair Corsages

All hair corsages are made with silk flowers, like the kind you would find from Michaels. I have confidence in the quality of my work, or I wouldn't be selling it. However, I realize that my idea of quality may not match up with someone else's expectations (who might be expecting a Victorian Maiden-esque corsage, which uses fabric flowers), and I hope the price reflects that.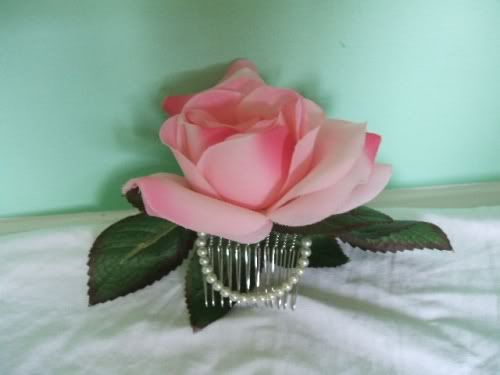 A. Single Tea Rose
Price: $8



B. Single Garden Flower
Price: $8



C. Tulip with bud and pearls
Price: $8



D. Tulip with two large buds
Price: $8



E. Garden Flowers with two small buds (the buds are on the ends)
Price: $9



F. Garden Flowers with three small buds (2 buds on the ends, 1 in middle)
Price: $9



G. Purple bud clips
Price: $4 for set of two; please specify set 1, 2, or 3 (ordered by size - set 3 has the largest buds)


Anna House - Red Classic OP



Stock photos: click here
Proof of ownership:



Size: Small (Bust: 32-34in Waist: 26-28in)
Never worn. Tried on once. Bows are detachable. Gorgeous OP! Perfect for autumn and winter, which is coming soon (in the northern hemisphere).
Price: $70 - this dress is in pristine condition and has never been worn except for about 5 minutes when I tried it on.

Straw Boater Hat

Size: 23.5 inch CIRCUMFERENCE on the inside of the hat
Price: $5
SOLD! THANK YOU!

Black Rose Ring


Size: 2 inch CIRCUMFERENCE measured on the inside of the ring. I'm a small ring size 6 (sometimes size 6 can be too large, sometimes just right). This ring is a little small, even for me.
Price: $1

Homemade JSK


JSK is a replica of the Victorian Maiden Amelia JSK, only in blue corduroy (the original never came in blue). Perfect for autumn and winter, which is (in the northern hemisphere).
Larger Image and JSK Hanging

Size (These are absolute maximums)
Bust: 34 inch / 86.36 cm
Waist: 32.25 inch / 81.91 cm
Length from waist to end of JSK: 20 inches / 50.80 cm

Features
-Detachable bows
-Detachable waist ties
-Couduroy material

Flaws/Quality concerns
-I made a mistake when sewing the top to the bottom and had to take out the stitches. Near where the bottom meets the top, you can see where the stitching was. It's really noticeable up close, but not when taking a picture. =((
-Mysterious red stain the size of a penny on hem of JSK (see here)

-Not really a flaw, but the inside seams are mostly zigzagged, not serged. It won't fall apart on you; it just doesn't "look" nice and neat like serged seams.
-Partially worn before. Bodice and bows have been replaced completely before selling; the only part of the JSK that has been worn before (once) is the skirt part + waist ties.

Price: $30 + shipping; your purchase acknowledges that you understand the flaws in the JSK


Yellow flower fabric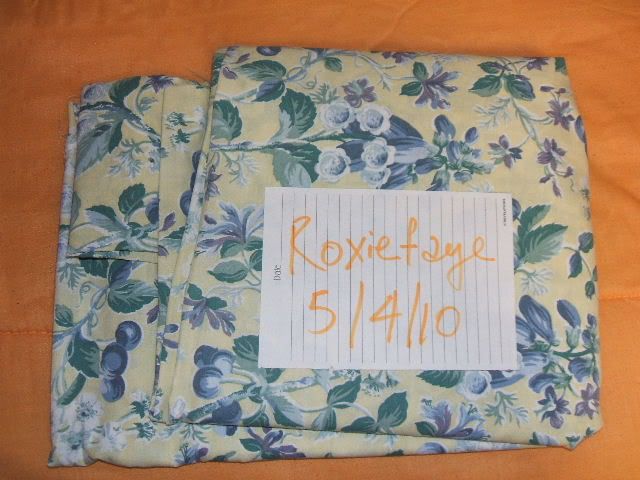 Additional photos:
img.photobucket.com/albums/v440/RoxieFaye/2009_0821Image0013.jpg
img.photobucket.com/albums/v440/RoxieFaye/2009_0821Image0014.jpg
Sorry for the old date on the picture - it's from an older sales post. These are supposed to be bedroom curtains - you can either use them that way, or seam-rip them open for use as skirt/JSK/OP/whatever you'd like to sew!

Each piece of fabric is: 99"l (2.75yd) x 45"w
As a curtain (with seams folded up) each measures: 87.5"l x 40"w
Quantity: 2 left
Price: $4 each piece + shipping (please include zip code for shipping and e-mail for invoice)


Questions? Please don't hesitate to ask. Thanks for looking!