Please read everything carefully before commenting! :D





Bow detail ♥ Band detail ♥ Pink paint spot

Angelic Pretty Tokimeki Plastic Headband [Black]
Details: This headband is so pretty! The band is a glittery black plastic while the bow is a giant sparkle overload with adorable holographic hearts and embedded pink rhinestones! This would probably fit and look best on smaller heads (which I do not have). I purchased this on Y!JA and while it was used by the previous owner, it's still in perfect condition with the exception of a small pink paint spot (probably a manufacturing error) on the back of the bow.
Condition: Used, in like new condition minus a small pink paint spot
Price:$45 (incl. First Class shipping) SOLD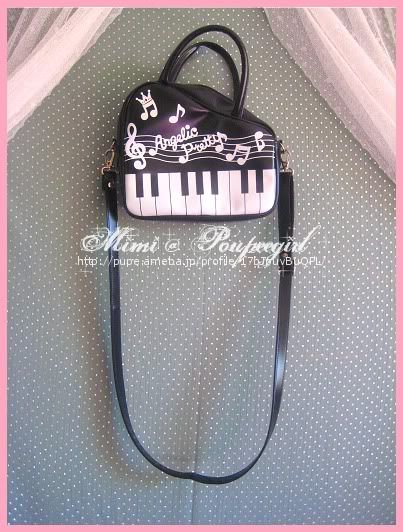 Print detail ♥ Back of the bag ♥ Inside compartment
Broken zipper pull

AP Piano Pochette
Details: This bag is shaped like a grand piano and has an adorable design that matches both the Melody Doll and Fancy Melody prints! It features one small pocket on the inside of the main compartment and another on the back of the bag, a detachable long strap, and little hearts where the long strap attaches to the bag (see picture). I purchased it on Y!JA in perfect condition, however, the zipper pull was broken on its way to Crescent Shop. This is a very small fix and upon the buyer's request, I can even replace it for you with a small choice of charms.
Condition: Used 1-2x by previous owner; never by me
Price: $50 (+ $12 Priority shipping w/ D/C)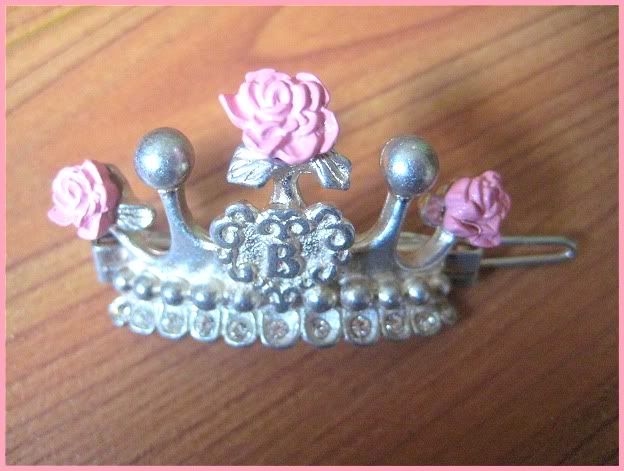 BTSSB Rose Crown Barrette
Details: Cute little silver crown barrette adorned with pink roses and tiny clear rhinestones.
Measurements: Length: 1", Width: 1.5"
Condition: New
Price: $15 (incl. First Class shipping)
SOLD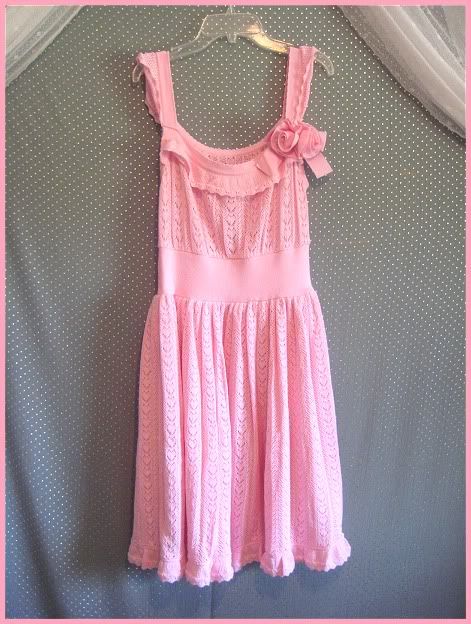 Rose pin detail ♥ Knit close-up

BTSSB Pink Heart Knit Dress
Details: This is a pretty old dress that I've been lusting for since it was first released, but as much as I love pink, it's definitely not the best color for me to wear. The dress is made up of a gorgeous heart pattern pointelle knit with a solid ribbed knit waistband and it comes with a removable self-fabric rose pin. This dress is lined, but only at the skirt.
Measurements: Bust: 32-38", Waist: 25-32", Length: 40"
Condition: Unsure of previous owner's usage, never worn by me. Looks brand new.
Price: $80 (+ $7 Priority shipping w/ D/C) SOLD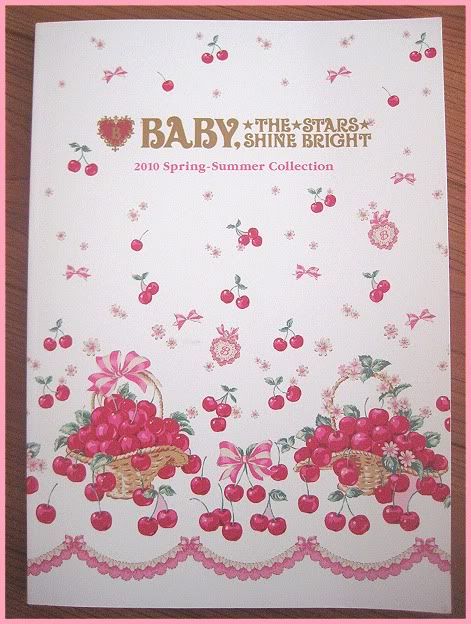 Peek inside 1 ♥ Peek inside 2 ♥ Front cover wear

BTSSB Spring/Summer 2010 Catalog
Details: Includes prints like Alice's Portrait, Cherry Cherry Fallin' Cherry, Sleeping Beauty, and Beauty and the Rose Promise.
Condition: Flipped through a couple of times, front cover corner is showing slight wear
Price: $8 (incl. First Class shipping) SOLD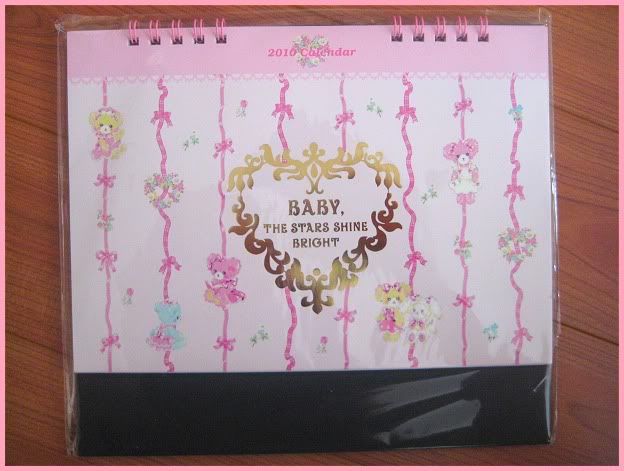 BTSSB 2010 Calendar
Details: Adorable desktop calendar
Condition: New in packaging
Price: $8 (incl. First Class shipping)
SOLD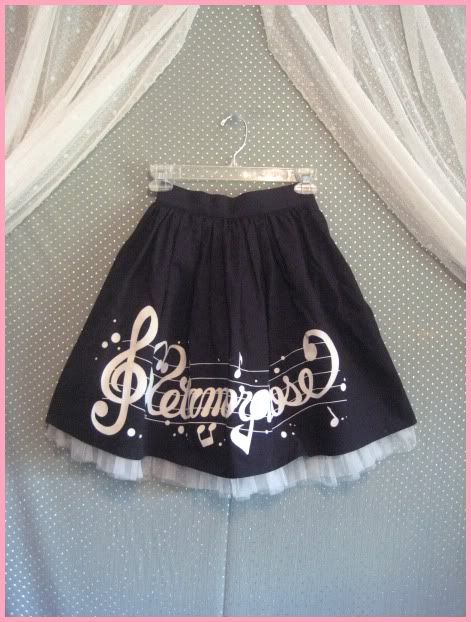 Full print ♥ Print close-up

Metamorphose Flocked Musical Logo Skirt
Details: I think this must be one of Meta's older designs as the waist on this one is tiny! I was hoping to alter the waistband with the waist ties, but alas, it didn't come with any. ): The Metamorphose logo print is flocked (has a velvety feel) and there is a ruffly layer of tulle at the bottom hem. It is a very pretty skirt on the plainer side, but if you like things a little bit more OTT, it would also be gorgeous with some added rhinestones and bows scattered around the print! I purchased this on Y!JA but even though it's used, it still looks to be in near-perfect condition. Since the fabric of the skirt is black, it probably wouldn't be too hard to replace the waist ties (especially if you already have a black skirt with detachable waist ties).
Measurements: Waist: 23-26", Length: 20.5"
Condition: Worn a couple of times by previous owner; missing waist ties.
Price: $55 (incl. Priority shipping w/ D/C) SOLD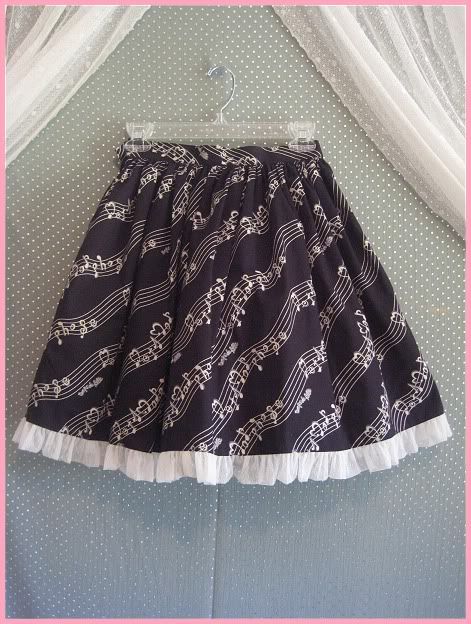 Back view ♥ Print close-up ♥ Tulle close-up

Metamorphose Musical Print Skirt
Details: Cutecutecute music print skirt with "Metamorphose temps de fille" cleverly worked in. The bottom is trimmed with an off-white Swiss dot tulle ruffle and it comes with detachable waist ties.
Measurements: Waist: 24-26", Length: 20.5"
Condition: Worn 1-2x by previous owner, never by me
Price: $65 (+ $6 Priority shipping w/ D/C)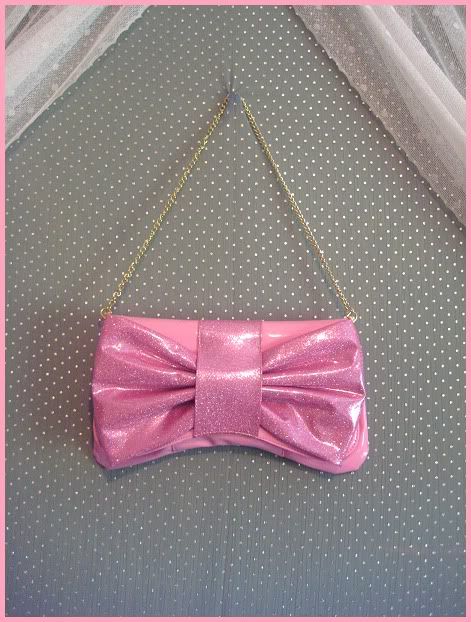 Glittery bow detail ♥ Inside pocket close-up

Pink Glittery Bow Purse
Details: I purchased this purse from this community on a whim but never ended up using it. It's made of a patent pink material and the bow is an awesome glittery vinyl material. The short gold chain strap is removable (so it can be used as a clutch) and there is a small zipper pocket inside. The purse closes with a magnetic snap.
Measurements: Length: 7", Width: 12.5", Handle drop: 11"
Condition: New
Price: $35 (+ $5 Priority shipping w/ D/C)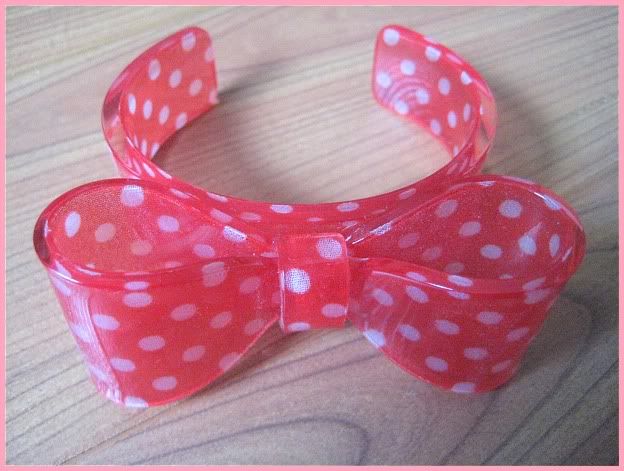 Bow close-up
Chocomint Polka Dot Bow Bangle
Details: Super cute plastic bangle that was purchased directly from the Chocomint website.
Measurements: Circumference of the inside of the band: ~6.5"
Condition: New
Price: $7 (+ $2 First class shipping)
SOLD



PLEASE READ THE FOLLOWING BEFORE COMMENTING...
♥ No holds! Priority goes to those who leave a PP address.
♥ Prices are listed with PayPal fees in mind. PP has charged me fees for the last few gift payments I was sent, so please note that this is no longer an option to bring down the price.
♥ If several people are interested in the same item, I will accept the highest offer.
♥ I am not currently looking for trades. If you comment with a trade offer, I will probably ignore it.
♥ I accept Paypal - CC or non-CC is fine, but NO E-CHECKS. I expect (cleared) payment within 24 hours after I send an invoice.
♥ All items have shipping prices listed to the US. If you would like to add insurance, there will be an added cost and you must let me know before I invoice you. If an item has first class shipping listed, you may request that the item be shipped Priority for $5-13 (depending on size). For international buyers: I will ship internationally, but you must cover the shipping cost. Please also note that because the cheaper international shipping options do not come with tracking, you are buying at your own risk. Once I drop the package off at the post office, I am no longer responsible for what happens to it.
♥ You can see my feedback here.
♥ When you comment, please let me know which item you're interested in, your Paypal address, and your country.