Hello there!
So I've looked through my closet and figured out there's a lot of sweet lolita I don't wear enough to justify keeping. Boo.

RULES! RULES.
I. Shipping is for within the U.S. If you want something shipped internationally, please ask. I will happily combine shipping, as well.
II. I'd prefer to do the transaction over Paypal.
III. I'm very much open to trades, so please show me what you have if you'd like to do a trade or partial trade. I love sweet and classic lolita. Reasonable offers are also considered.
IV. I have a cat at home, and I store my clothes there right now. They're clean and cat-hair free (of course!), but should probably be avoided if your cat allergies are very severe.
V. Here's my EGL Feedback Page: community.livejournal.com/eglfeedback/593169.html I'd like to do everything I can do to be a good seller. If you'd like more detailed measurements, photos being worn, or anything else, let me know!

THE THINGS.
Baby, the Stars Shine Bright Alice in Funfair Print Pink Skirt SOLD


I got this skirt in the 2008 Summer Lucky Pack and have worn it a couple of times, but hand-washed it the last time I wore it--therefore, it's squeaky-clean and proven to be colorfast! It's got gorgeous lace, lots of red, brown and sage-green tones that give it plenty of coordination potential, and a lining nicely puffed-out by stiff tulle.
Standard BABY skirt sizing... waist 24 inches plus a few shirring inches, length around 21 inches with lace.
DOWN TO $64 from $80, plus $7 shipping.

Baby, the Stars Shine Bright Gingham Skirt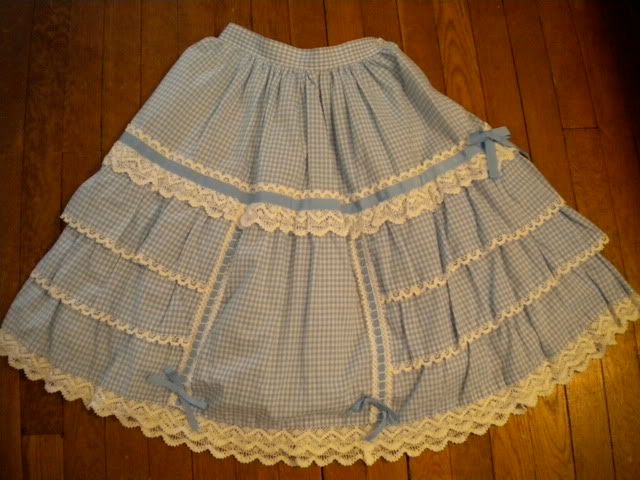 This is a nice example of old-school sweet/country lolita, I think. I bought it off Yahoo!Auctions, but I have never worn it and it looks new, with its pastoral Rococo side frills and crisp grosgrain ribbons.
Length around 23 inches, waist 24 + a few extra shirring inches.
DOWN TO $64 from $80 plus $7 shipping.

Have a beautiful day!