Some quick information before the items:
Shipping: Prices do not include shipping; where possible I've listed shipping estimates. If anything costs less to ship than I have charged, I will immediately refund the difference. I can ship Monday through Saturday. Shipping prices are for international airmail from New Zealand, hence the slightly higher prices.
Payment: I accept Paypal and greatly prefer to use the sale option since it provides the buyer with protection. I do not charge Paypal fees. All prices are in US dollars.
Feedback: I have feedback here at
eglfeedback and at my commissions journal,
hearts_princess.
All prices are negotiable, please feel free to make an offer! No holds unless I know you or you leave a non-refundable deposit, first to list Paypal address and pay full price has highest priority.

Trades: I will look at trade or partial trade items, I'm interested in old-school sweet prints from Baby, less OTT-sweet items such as Innocent World, ETC, BtSSB, some AP but show me what you have. No handmade or off-brand items please. Very interested in mermaid or other fairytale prints.

On to the sales!

Metamorphose Apple dress with detachable collar and bows - SOLD




This is a lovely retro-style dress from Metamorphose, printed with cute apples. It comes with two detachable bows on pins and is made out of soft corduroy, so perfect for the coming fall/autumn. It is fully lined and has a layer of tulle in the skirt for poof even without a petticoat. Does not include the belt - it got lost in a move, unfortunately. I have accounted for this in the price. Has been worn two or three times, still in like-new condition (bought new from Meta). The collar is also detachable on buttons and has cute little diamantes attached with the Meta embroidery. Fits up to 36" bust, 30" waist comfortably - has a line of shirring at the waist.

Metamorphose Apple hairbow clip - $30




This hairbow was bought along with the dress above but is still new without tags since I've never worn it (I preferred to wear the detachable dress bows in my hair). It has a hairslide clip on the back and a cute apple-shaped buckle.

Angelic Pretty pink Imai Kira Secret Garden print skirt - SOLD




This is an older print from Angelic Pretty, featuring Imai Kira's Secret Garden artwork on the front and back of the skirt. It's in quite thick drill cotton with a cute ruffle and lace trim, perfect for a simple lolita coordinate. Has waist ties and a fairly generous back shirring so will fit up to around 28" waist. Bought second-hand off the sales comm, worn once by me - I still have the tags and fabric sample.

Angelic Pretty pink velveteen skirt with bustle back - $95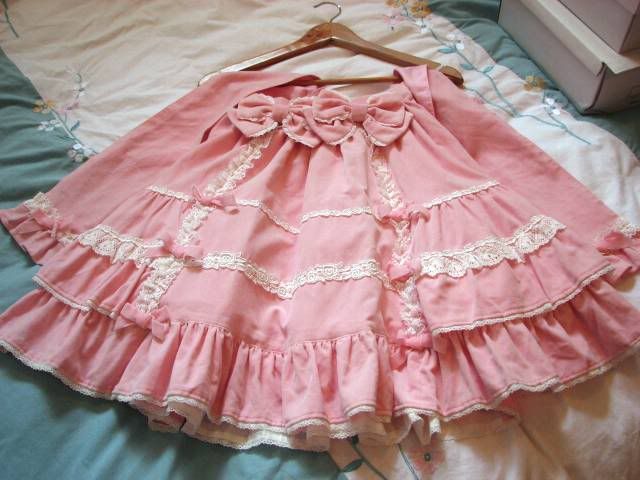 This is an amazingly cute pink velveteen skirt from Angelic Pretty, with a white bustle-back panel. The velveteen is soft, with no crush marks, and the waist bows are on detachable pins so can be worn as hair accessories as well. It has a built-in tulle petticoat to help give it support and fluffiness. Was traded for another skirt but I have never worn it and it still looks near-new. Has two small sections of shirring so will fit about 24-26".

Hearts Princess white tiered ruffle skirt - $90




This is a handmade skirt which can be worn either on its own or as an underskirt for a bustle-back overskirt. It is made out of thick white poplin cotton and trimmed with embroidered net lace and is lovely and full - could even be used as a soft, fluffy petticoat for extra volume. I made this for myself and have worn it a couple of times and gently handwashed it, still near-new and extremely well-made. 20" long not including the waistband, has a half-elasticated waist (flat in the front, two channels of elastic in the back) so will fit between around 29-35" comfortably.

Hearts Princess mint floral print bustle overskirt - $50 or $40 if bought with underskirt




This is a mint-green and pink print cotton overskirt with ruffled hem and venice lace trim - I made it for myself but have worn it only for about half an hour for photos so it is like-new. Includes a detachable bow on brooch pin with glass pearl trim; detachable back waist ties with ruffle and lace trim. Made to be worn over a tiered or detailed white underskirt such as the one above - if purchased together, I'll discount this skirt but if bought separately you will need an underskirt to wear with this. Fastens with hook and slide at back waist. More photos are available here. Fits 28-30" waist.

Hearts Princess blue rose stripe bustle skirt and headdress - $60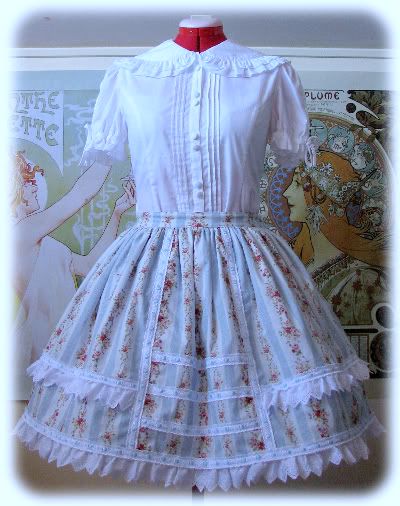 This is a pretty rose stripe print skirt in blue, with a ruffled bustle back and detachable bow. More photos are available here. It has been worn a couple of times by me but is still in near-new condition and will be gently hand-washed before sending. It is handmade by me, fully lined and with beautiful embroidered cotton lace. Includes the matching flat headdress.
Size: Fits between 28-30" waist. 19" long not including waistband.

I'm happy to haggle on these, so please feel free to make an offer if you're interested. Please also feel free to make an offer on anything in my Pupe wardrobe (some things have been sold) since I'm clearing out a lot of my lolita wardrobe.